A Few Final Words from the Graduates………………………………………………………..Page 2
Faculty Chats: Identifying a Compelling Scientific Question…………………………………Page 3
Build Your Brand: Highlights from Beer and Branding………………………………………..Page 4
Interview with an Expert: Epidemiologist……………………………………………………….Page 5
Team Effort: Dual Job Searches…………………………………………………………………Page 6
Internship: Licensing & Ventures Group………………………………………………………..Page 8
Science Hot Topics: Zika…………………………………………………………………………Page 9
Science In Review………………………………………………………………………………..Page 10
GBS 2016 in Review……………………………………………………………………………..Page 11
Acknowledgements……………………………………………………………………………….Page 12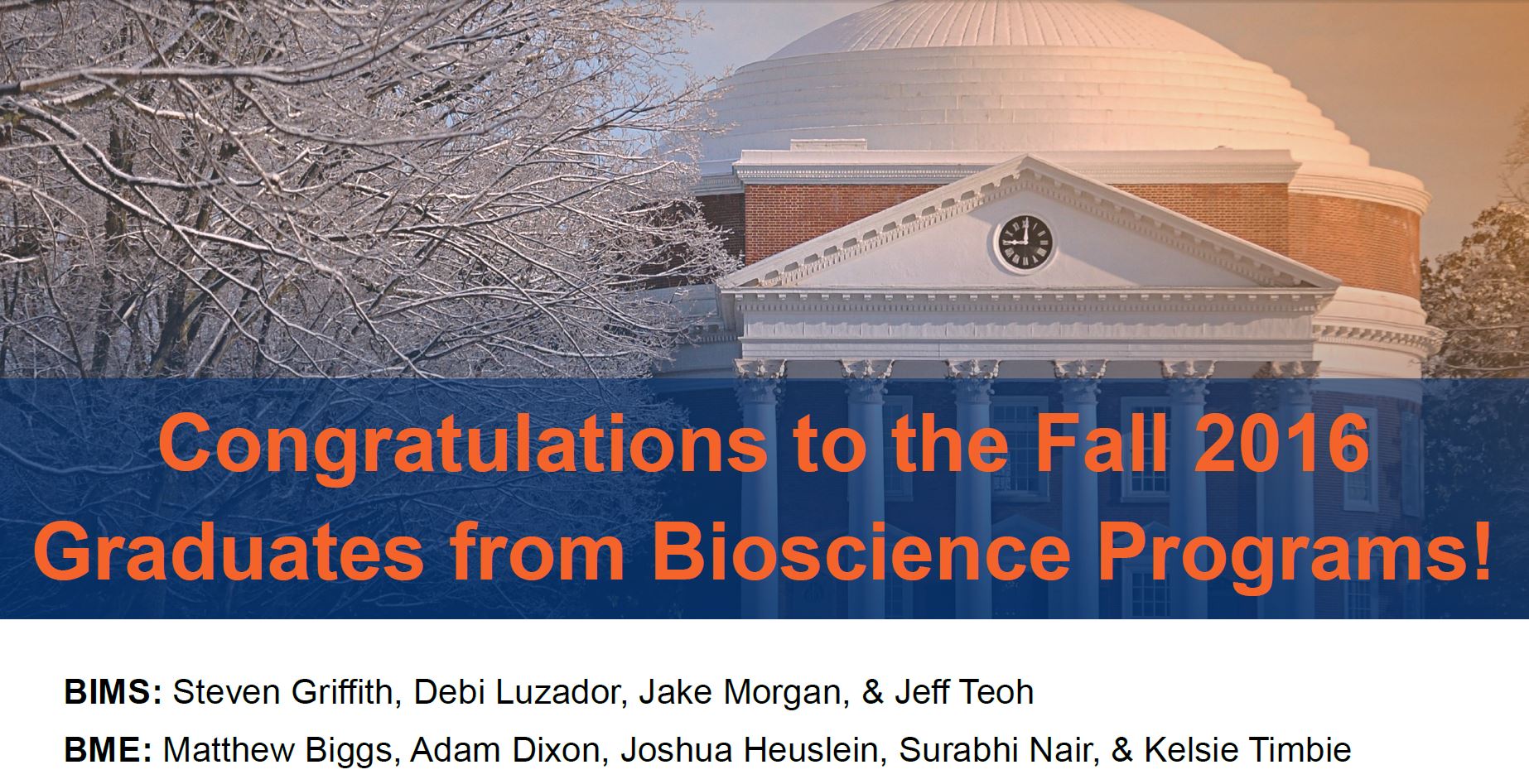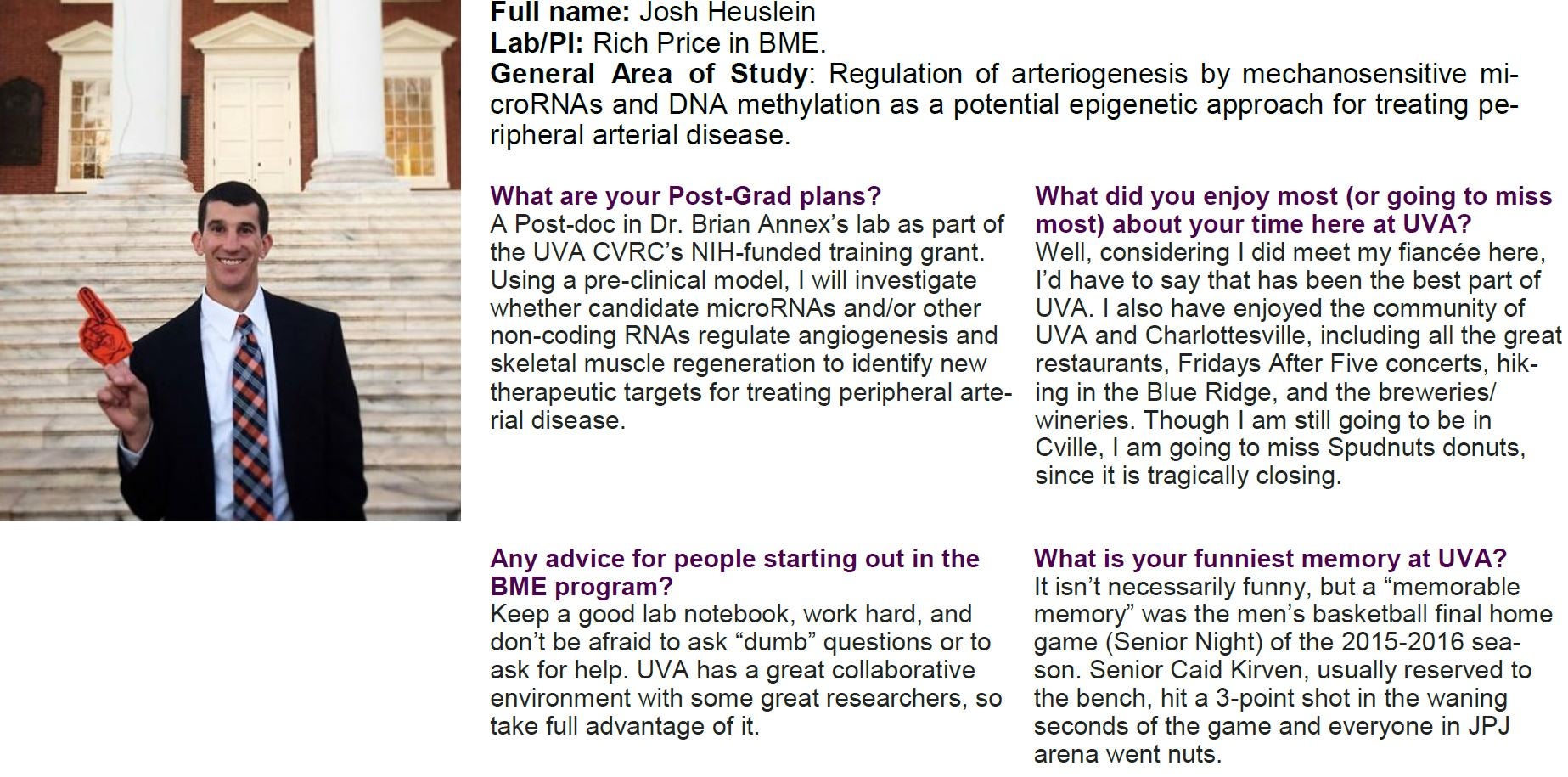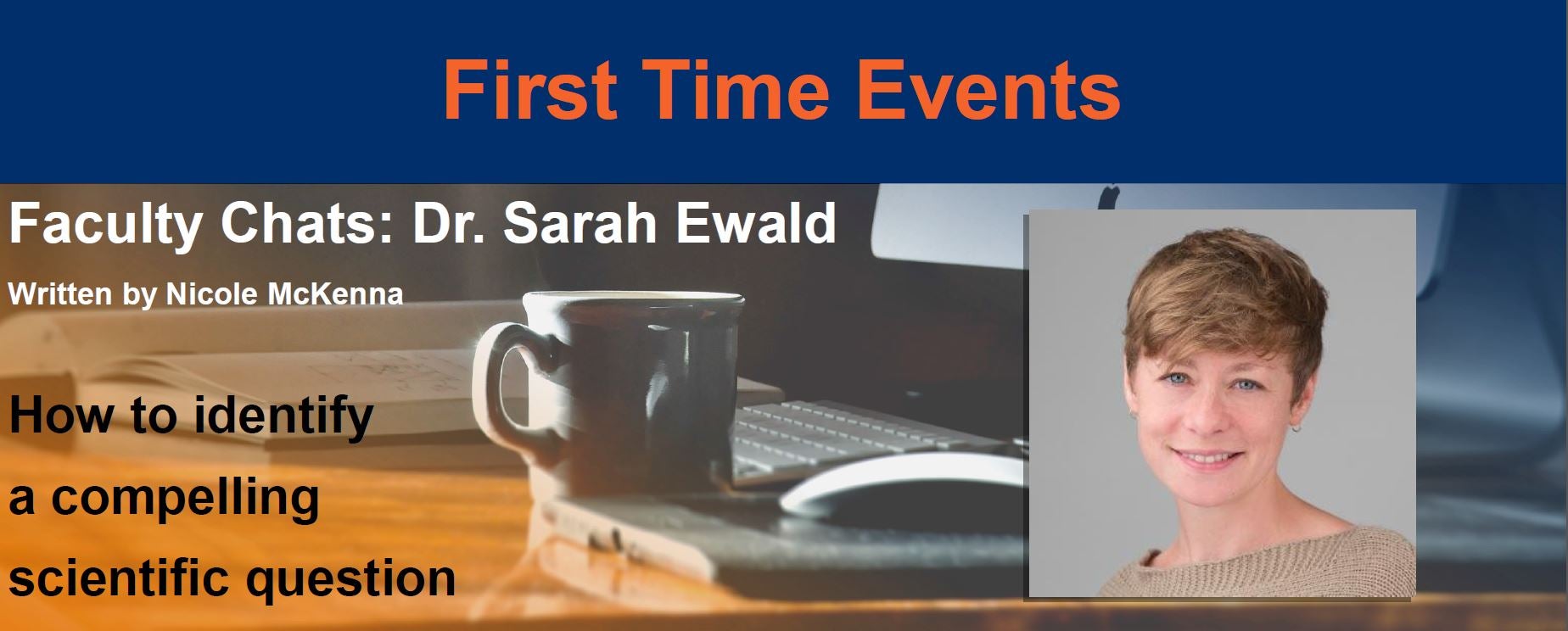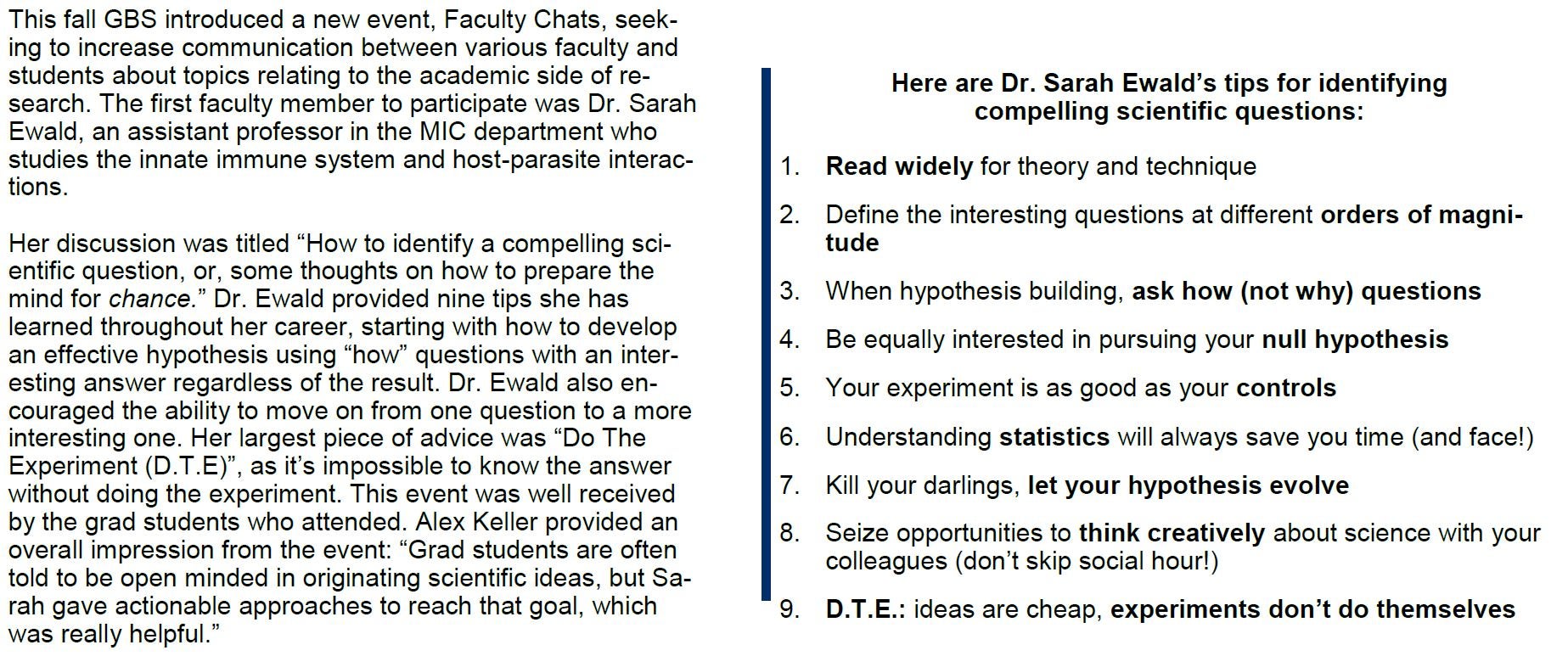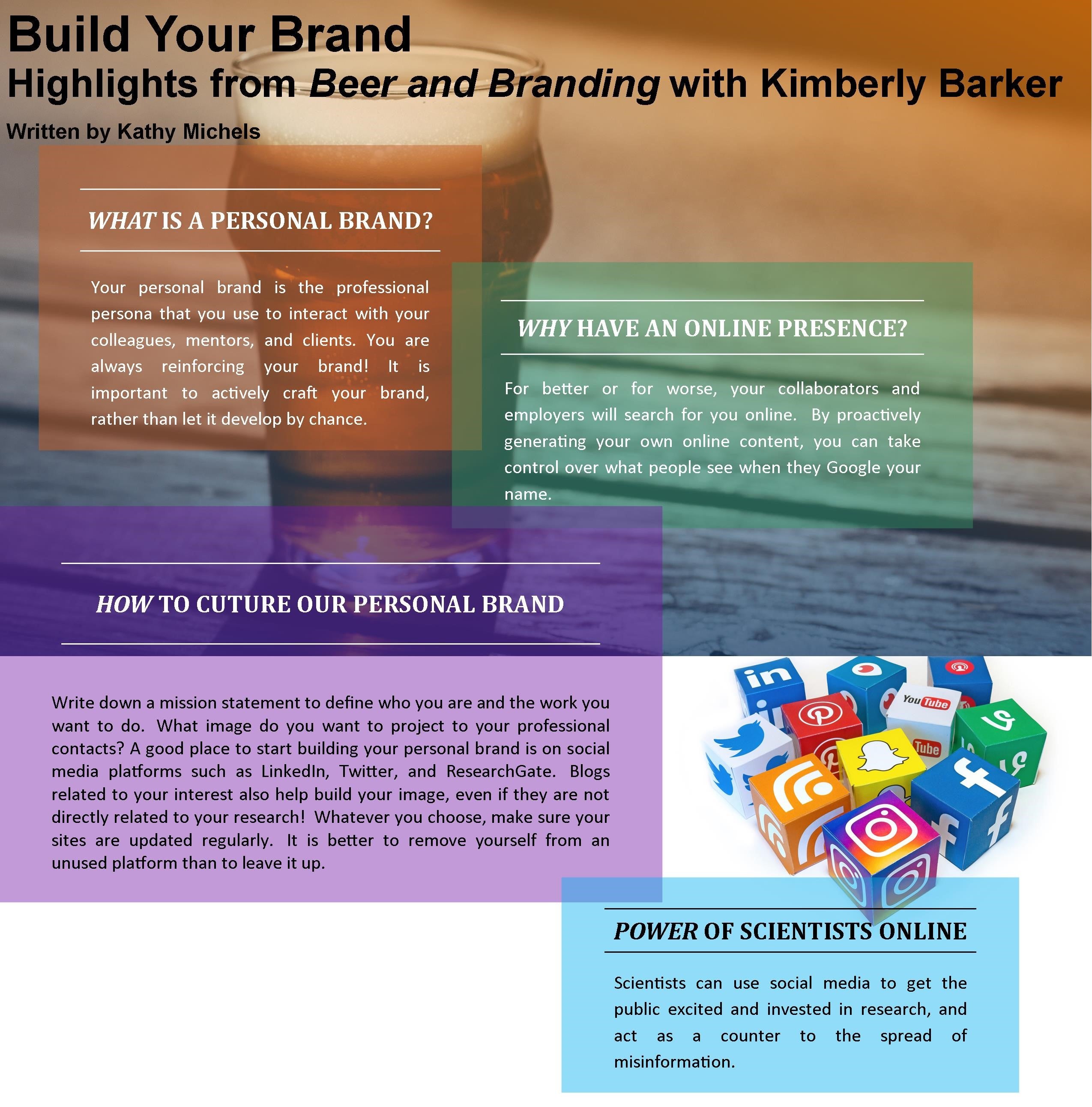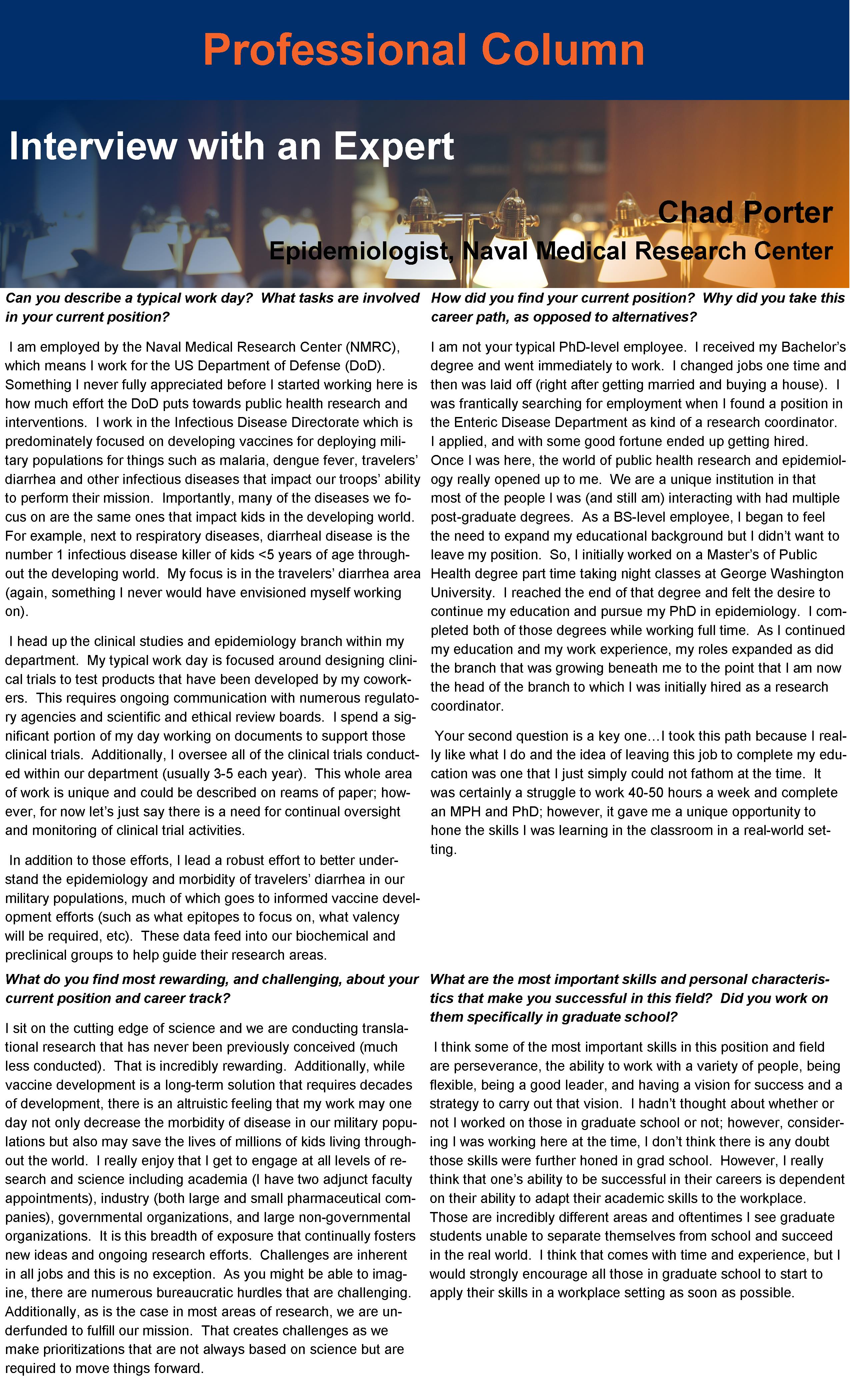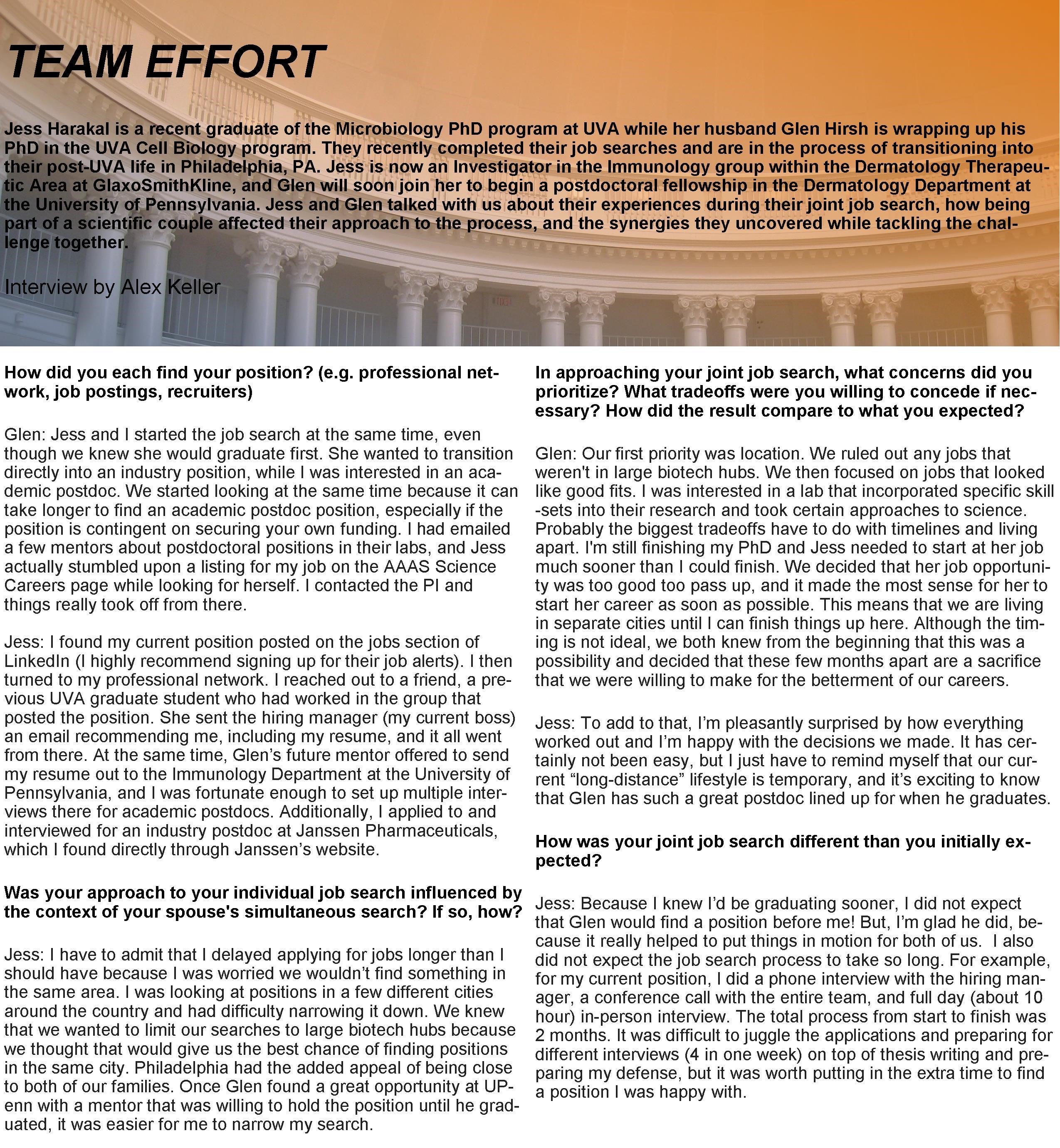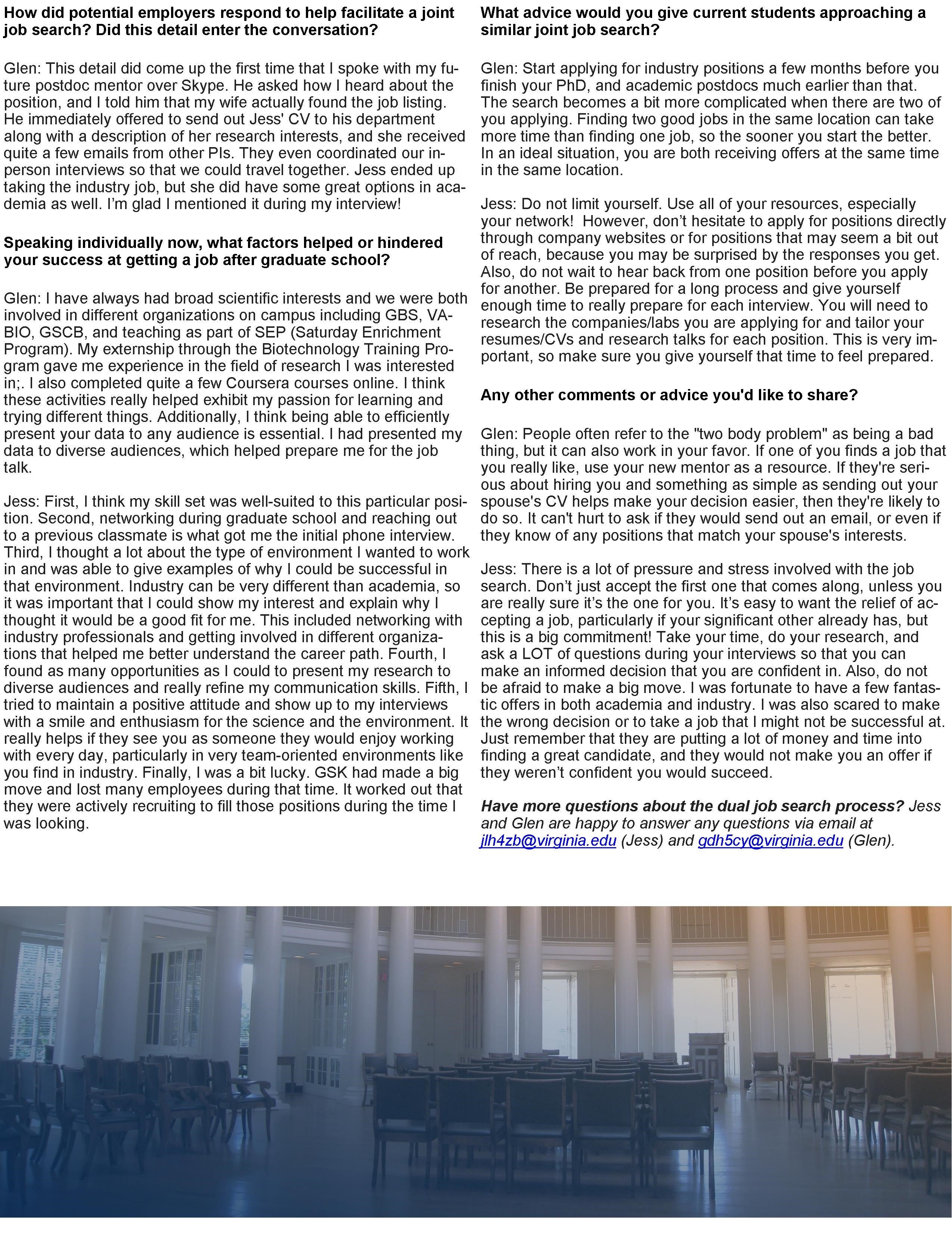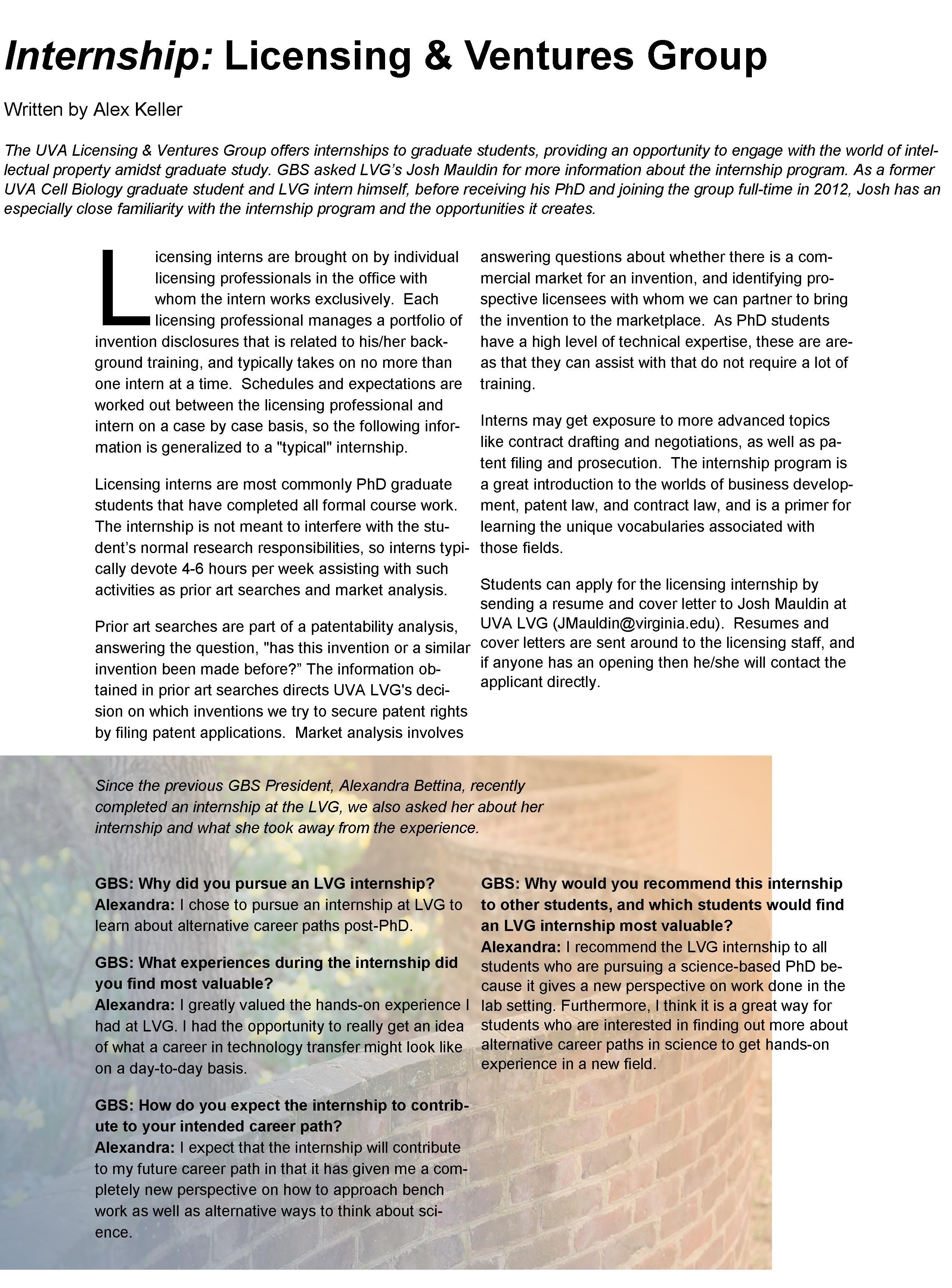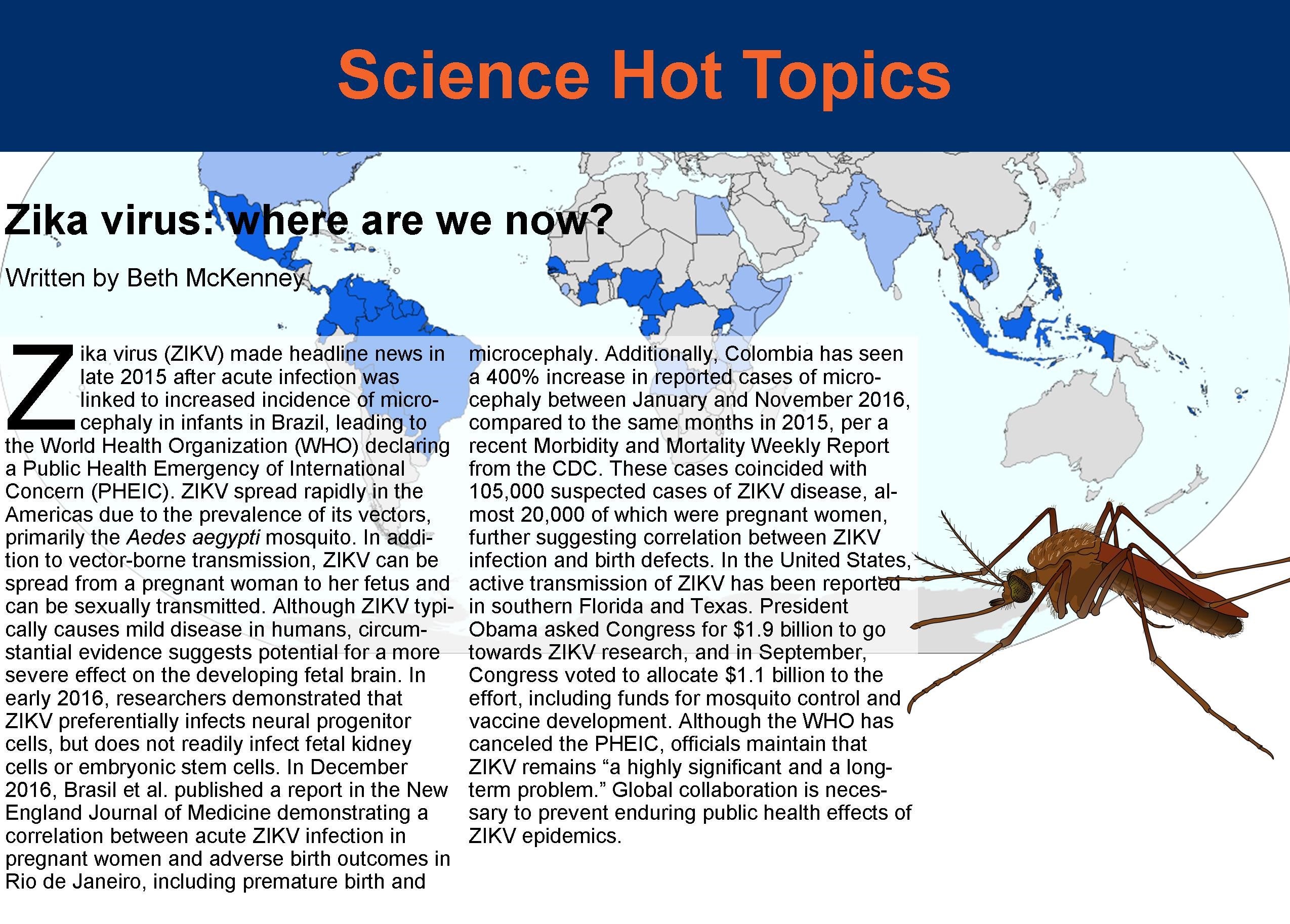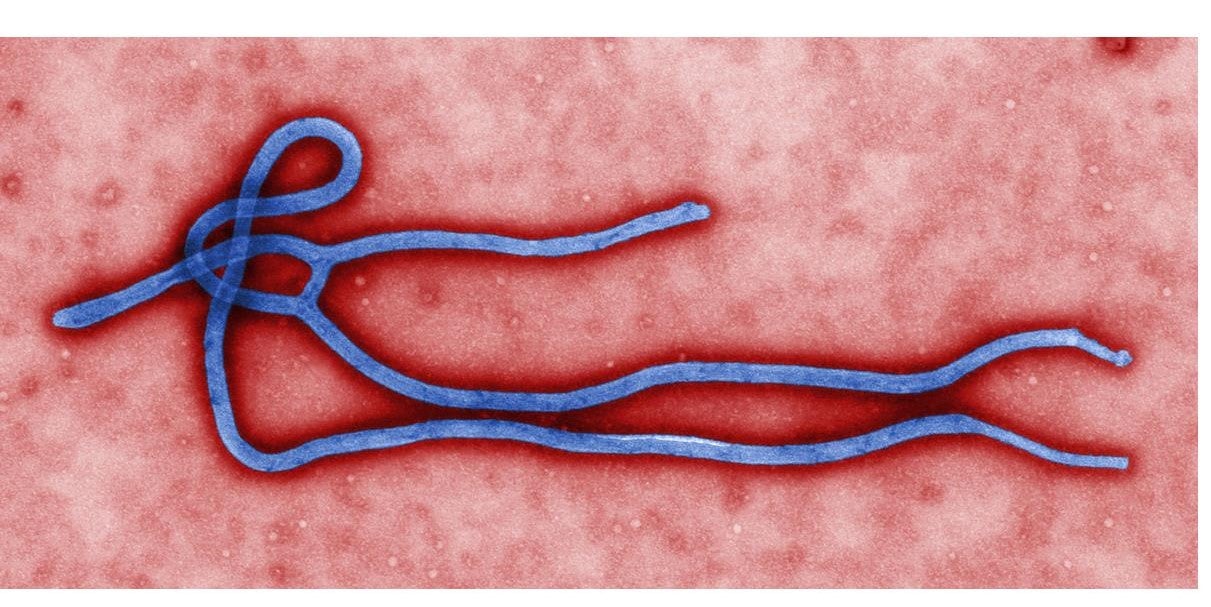 Theranos lays off 150+ employees
The beleaguered blood-testing company Theranos Inc. recently made additional layoffs in efforts to "re-engineer" the company, cutting 41% of their staff. Once valued at $9 billion, the company originally promised comprehensive blood test analysis from only microliters of blood sample. However, after difficulties with their technology and fabricated test results, CEO Elizabeth Holmes (who founded the company at age 19) is facing multiple lawsuits and a two year ban from owning or operating a laboratory. Theranos is committed to developing its new "miniLab" testing technology. The company currently has one-quarter the employees as it did in August 2016.
Source: https://www.bloomberg.com/news/articles/2017-01-06/theranos-to-fire-41-of-workforce-in-second-round-of-cuts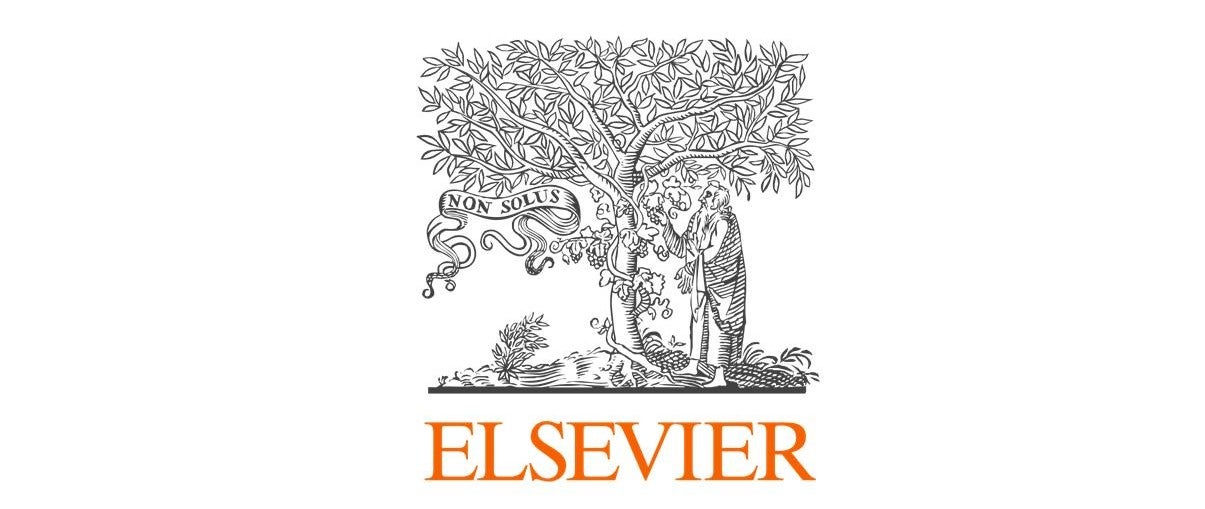 German Researchers lose access
to Elsevier journals
Beginning on January 1st, researchers across Germany no longer have access to Cell, The Lancet, ScienceDirect, and hundreds of journals published by Elsevier. Negotiations are ongoing between the Dutch publishing company and a German consortium of universities, libraries, and research institutes (known as "Project DEAL"). In a separate deal brokered with Elsevier, Dutch universities will pay Elsevier slightly more than the past w ith open access articles increasing to 30% by 2018. However, the German DEAL group believes this offer "doesn't go far enough" and allows Elsevier to "double-dip" by forcing institutions to pay for access and publishing. DEAL seeks a single fee for access and publishing and that all German articles to be open access. Negotiations resume in late January.
Source: http://www.sciencemag.org/news/2016/12/thousands-german-researchers-set-lose-access-elsevier-journals
Merck's Ebola vaccine shows 100% efficacy
Results of a recent trial, led by the World Health Organization (WHO), provide a "silver lining" to the Ebola virus disease of 2015. In a randomized trial of over 4000 contacts, a Merck-produced vaccine demonstrated 100% efficacy in those tested, including children. "The vaccine has yet to be approved by regulatory authorities, but funding from GAVI, the Vaccine Alliance has allowed Merck to produce a stash of 300,000 doses for emergency use should the virus resurface. One drawback: It was designed specifically for the strain that hit West Africa and has not been tested against other Ebola strains."
Original Article: http://www.thelancet.com/journals/lancet/article/PIIS0140-6736(16)32621-6/fulltext
"Science Advocacy: Get Involved"
(originally published in Nature)
Summary: With science-based challenges impacting the world more-so than ever, there is an increasing need for those who can present science in a way policy makers can understand. Nature talked to three scientists (a Dean and Cell editor, a physicist, and an ecotoxicologist) about their experience shaping scientific policy and how others can learn from their experience. These scientists briefly share their stories about how they got involved in scientific policy, specific challenges they face, and the major lessons learned. In the "Related Links," this article also links to stories on scientific activism, "policy" as the art of science-to-government, and bringing science to political parties.
Source: http://www.nature.com/naturejobs/science/articles/10.1038/nj7634-611a


"How scientists use Slack"
(originally published in Nature)
Summary: Slack is one of silicon valley's hottest companies, and one of science's rapidly adopted communication tools. Slack is a free-mium messaging platform, designed for teams to share files, chat, and organize their work. Given that email is "generally awful," Slack provides a robust alternative, with more than 3 million users worldwide. This article profiles how labs are using Slack to synthesize research papers, prep for conferences, monitor experiments, and integrate their labs. Check it out for your lab at slack.com.
Source: http://www.nature.com/news/how-scientists-use-slack-1.21228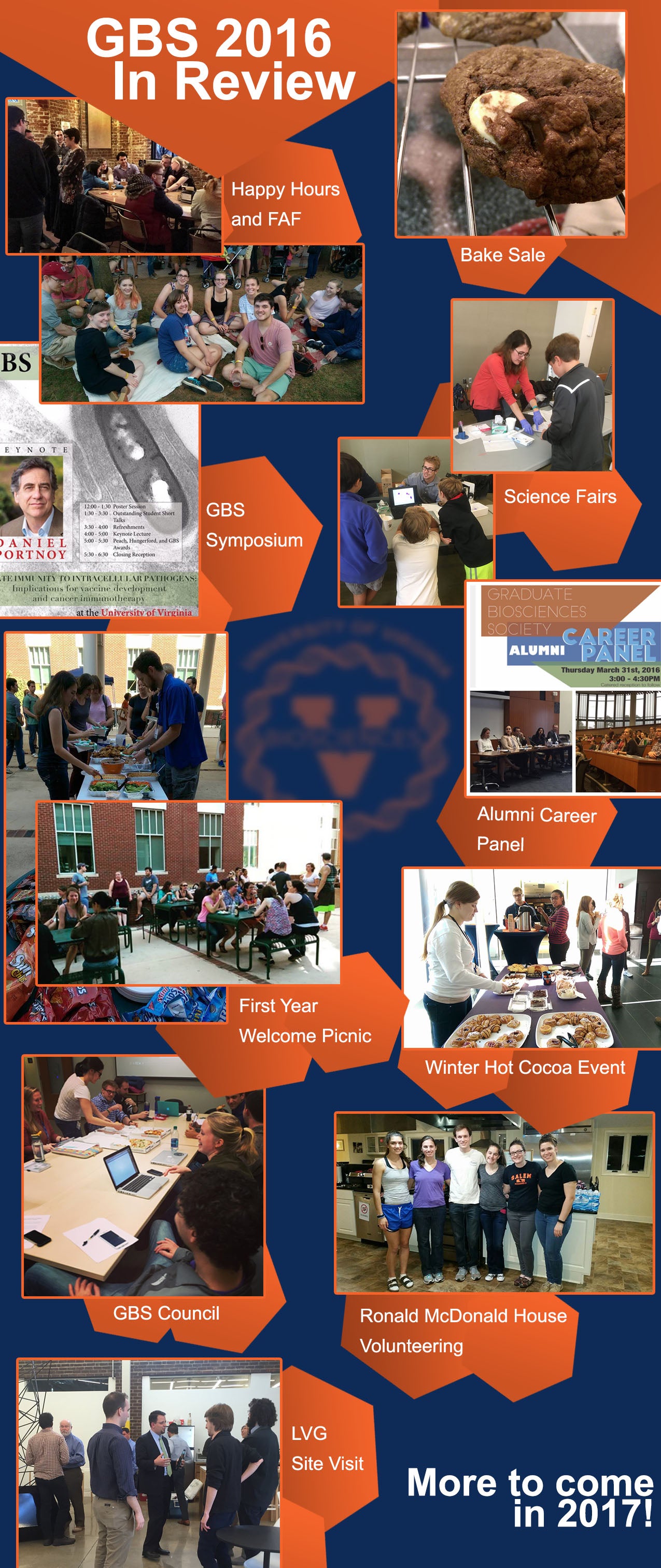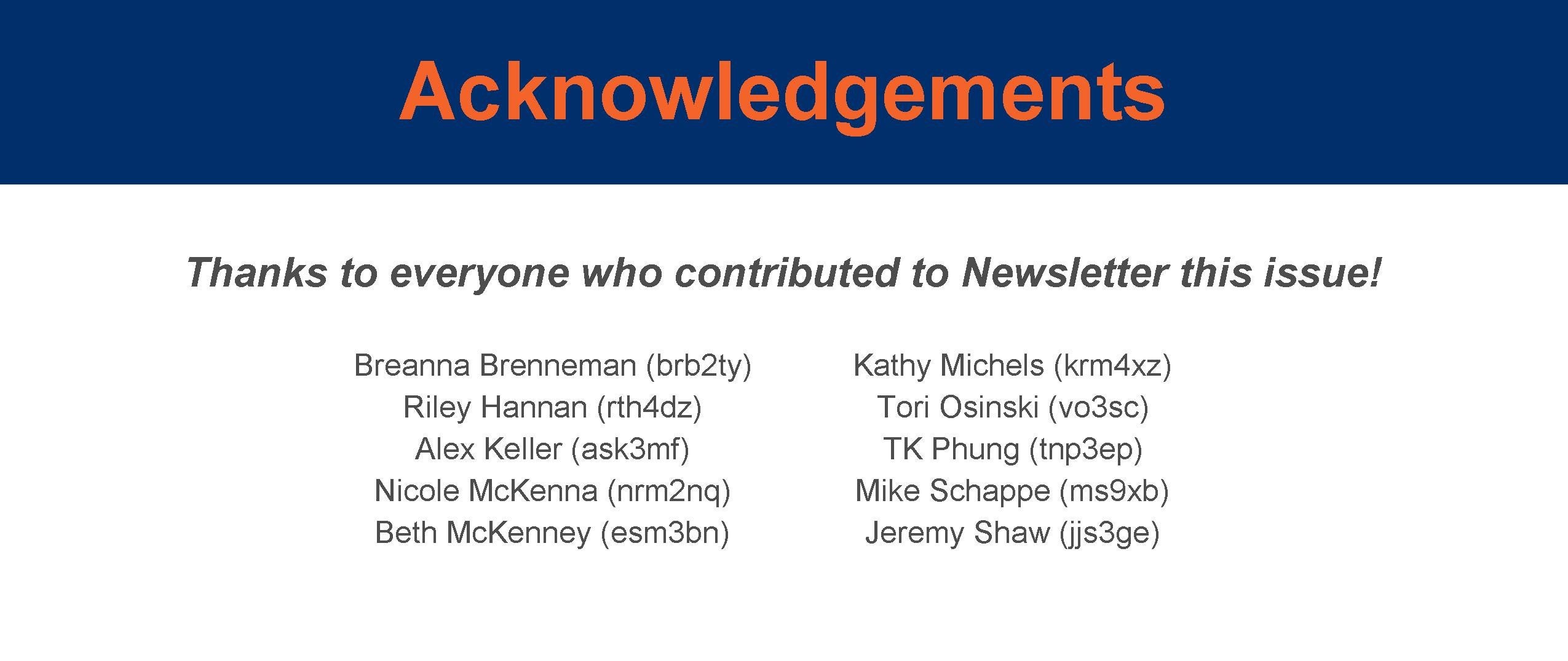 Any questions, concerns or opinions? email Tori Osinski at vo3sc@virginia.edu
Tags: Branding, Dual Job Searchs, Ebola, Epidemiologist interview, How to, Internship, Scientific Questions, Slack, Spouse job searches, Zika