Charles E. Chalfant, PhD
PRIMARY APPOINTMENT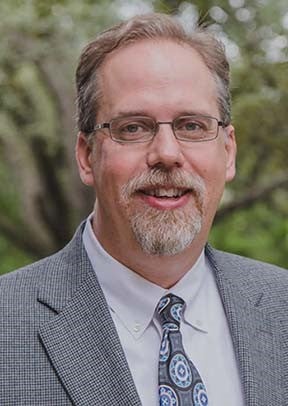 Professor of Medicine, Division of Hematology & Oncology
Secondary Appointment: Cell Biology
Contact
UVA School of Medicine
Aurbach Medical Research Building (Aurbach 2313)
450 Ray C. Hunt Drive
Charlottesville, VA 22903
Telephone: 434-982-1055
Email: krj2sf@hscmail.mcc.virginia.edu, cechalfant@virginia.edu
GS15 Research Microbiologist
Senior Research Career Scientist
Richmond Veterans Administration Medical Center
Central Virginia VA Health Care System
Research 151
1201 Broad Rock Blvd
Richmond, VA 23249
Telephone: 804-675-5000 Ext. 3862
Email: charles.chalfant@va.gov
EDUCATION AND TRAINING
PhD, University of South Florida College of Medicine, Tampa, FL
Postdoctoral Fellow, University of South Florida College of Medicine, Tampa, FL
Postdoctoral Fellow, Duke University Medical Center, Durham, NC
Postdoctoral Fellow, Medical University of South Carolina, Charleston, SC
ACTIVE FUNDED PROJECTS
Veteran's Administration, 1IK6BX004603-01, (Senior Research Career Scientist Award) PI, 04/01/2009 -03/31/2026
Veteran's Administration, MERIT I, BX001792, (The role of RNA Splicing in NSCLC) PI, 10/01/2001 -09/30/2024
National Institutes of Health, R01AI139072, (The roles of ceramide and its derivatives in A. phagocytophilum pathogenesis) PI (MPI) 06/01/18 – 05/01/23
National Institutes of General Medical Sciences, R01#R01GM137578, (The role of ceramide kinase in mitophagy) PI, 9/30/20 – 09/30/24
National Institutes of General Medical Sciences, R01#R01GM137394, (The role and mechanistic regulation of cPLA2a in eicosanoid biosynthesis and wound healing) Lead PI (MPI), 01/01/20 – 12/31/24
National Institutes of Health, NIDDK, R01# R01DK126444, (Lipid-regulated Bcl-x splicing and b-cell death: implications in type 1 diabetes) PI, 05/01/21 – 04/30/25
Juvenile Diabetes Research Foundation, 2-SRA-2022-1210-S-B, (Novel Combination Regimen Therapy to Modulate Pro-and Anti-inflammatory Lipid Signaling to Counter T1D) Co-Investigator,06/01/22 – 05/31/24
R01 DK085259 (Sphingolipids in Acute Kidney Injury and Disease Progression)
R01 DK123248 (Neuroimmune Regulation of Acute Kidney Injury)
T32 DK072922 (Kidney Disease and Inflammation)
RESEARCH INTERESTS
Cancer Cell Signaling, biochemistry, molecular biology, cell biology.
Specific research areas: Bioactive Lipid signaling and RNA Biology related to disease states.
RESEARCH SUMMARY
The Chalfant Laboratory has historically focused on two major but diverse areas of basic science Biochemistry, Biophysics, and Molecular Biology. Specifically, the Chalfant Laboratory studies mechanisms of cell signaling associated with both bioactive lipids and RNA splicing with a focus on both basic science mechanisms related to cancer, wound healing, and inflammation, in many cases, to clinical translation. Regarding our bioactive lipid research, these studies have recently exploded into numerous sectors with clinical applications.
The Chalfant Laboratory has historically focused on two major but diverse areas of basic science Biochemistry, Biophysics, and Molecular Biology. Specifically, the Chalfant Laboratory studies mechanisms of cell signaling associated with both bioactive lipids and RNA splicing with a focus on both basic science mechanisms related to cancer, wound healing, and inflammation, in many cases, to clinical translation. Regarding our bioactive lipid research, these studies have recently exploded into numerous sectors with clinical applications. For example, the Chalfant Laboratory initially described the lipid: protein interaction of the sphingolipid, ceramide-1-phosphate (C1P), with the phospholipase, cPLA2a. This initial basic research finding has now advanced to a possible new therapeutic target to treat sepsis and a therapeutic target to drive rapid wound healing for both acute and chronic wounds. The Chalfant Laboratory began a global lipidomics initiative through this research area to rapidly analyze the downstream bioactive lipids associated with this lipid: protein interaction and various human disease states. Through this initiative, clinicians were brought together with basic scientists to determine new biomarkers for placental and wound healing dysfunction as bioactive lipids are most proximal to clinical phenome (Fig.1). We also continue our strong basic research in this area by exploring additional lipid: protein interactions as well as a new temporal paradigm for eicosanoid biosynthesis.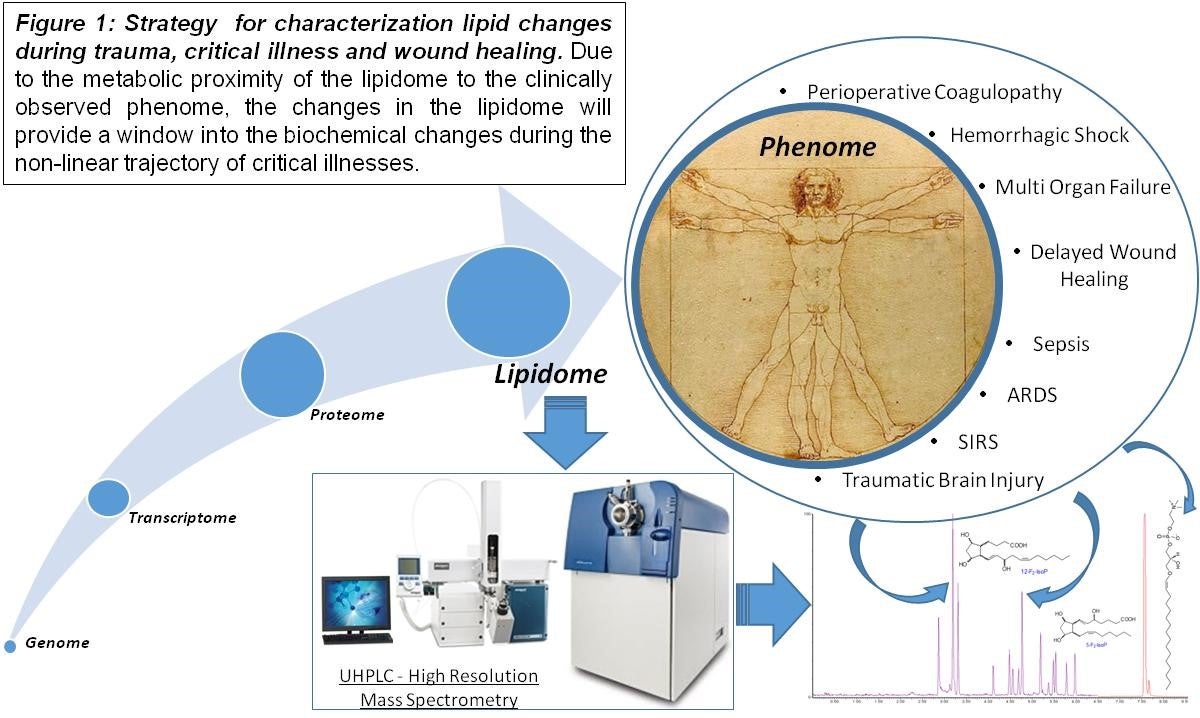 Regarding RNA splicing research, the Chalfant Laboratory has identified key RNA splicing events and signaling mechanisms mediating the tumor maintenance of non-small cell lung cancer (NSCLC) cells. The Chalfant laboratory further merges these findings with novel lipid signaling events linked to cell survival. More recently, we have also examined the function of specific splice variants upregulated in NSCLC to determine the reason for our observed dysregulation of RNA splicing cascades linked to specific oncogenotypes. For example, we examined the downstream signaling function of modulations in caspase 9 RNA splicing induced by EGFR mutations. Indeed, two splice variants of caspase 9, caspase 9a and caspase 9b (C9b), are derived from alternative mRNA processing via the inclusion of the exon 3,4,5,6 cassette. C9b, the anti-apoptotic isoform lacking the large subunit encoded by the exon 3,4,5,6 cassette, has been reported to augment the anchorage-independent growth (AIG) and tumorigenic capacity of cancer cells, specifically non-small cell lung cancer (NSCLC) cells. Originally, our preliminary investigations suggested that caspase 9b activated key survival pathways via GSK3b and Stat3 (Fig.2). Still, in-depth investigations over the last two years have also shown a key role for C9b in the activation of the canonical arm of the nuclear factor κB (NF-kB) pathway, a major pathway linked to the tumorigenesis in NSCLC.
Further mechanistic studies demonstrated that C9b activates this pathway via direct interaction with a cellular inhibitor of apoptosis 1 (cIAP1) and subsequent induction of the E3 ligase activity of this IAP family member. The C9b:cIAP1 interaction occurred via the BIR3 domain of cIAP1 and the IAP-binding motif of C9b but did not require the proteolytic cleavage of C9b. Lastly, this protein interaction was required for C9b to promote the viability, AIG, and tumorigenicity of NSCLC cells and broadly translate to diverse NSCLC genotypes. Our current studies show that caspase 9b can drive in vitro transformation of human bronchial epithelial cells and cooperate with oncogenic KRAS to induce full transformation and induce tumorigenesis in vivo. Furthermore, we are finding links between the expression of caspase 9b, inflammation, and the tumor microenvironment. Thus, small molecule inhibitors of this interaction may lead to new and effective therapeutics to treat NSCLC, possibly in conjunction with newer immunotherapies.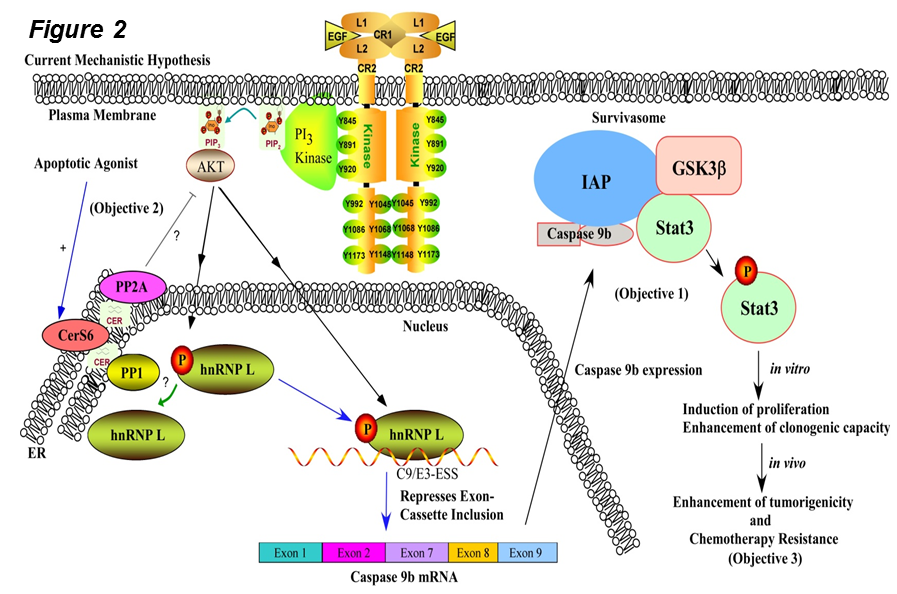 The Chalfant Laboratory has also identified key RNA splicing events and signaling mechanisms mediating the tumor maintenance of NSCLC cells (Fig.3). These findings have been further expanded using deep RNA sequencing to identify specific RNA splicing signatures for individual NSCLC patients, which are linked to therapeutic sensitivity. Even more exciting from a basic science point of view, our mechanistic research has now validated the "unmasking hypothesis." For years, researchers in the RNA splicing field overlooked the presence of multiple RNA binding domains (RBDs) in RNA trans-factors. Essentially, SELEX was used to identify high-affinity binding sites for a specific RNA trans-factor. Then a dogmatic scientific view was founded: One RNA trans-factor, one optimal binding preference. We asked, "Why is the RNA trans-factor, hnRNP L, binding to a non-standard RNA cis-element in NSCLC cells?" The asking of this straightforward question led to the identification of a specific phosphorylation site that "unmasks" C-terminal RBDs in hnRNP L to bind a separate RNA sequence with high affinity. The RNA trans-factor retains its constitutive RNA splicing function but has additional regulatory abilities for a separate set of RNA splicing events important in cell survival and tumor maintenance. These findings are expected to drive a complete paradigm shift in cell signaling and RNA splicing once we publish next year. Importantly, we have extended our RNA splicing research into different cancers (e.g., breast cancer and anoikis resistance) and type 1 diabetes. More recently, we identified cytoplasmic splice variants of an uncharacterized lncRNA associated with CDK2NA mutations, which we are examining for biological functions.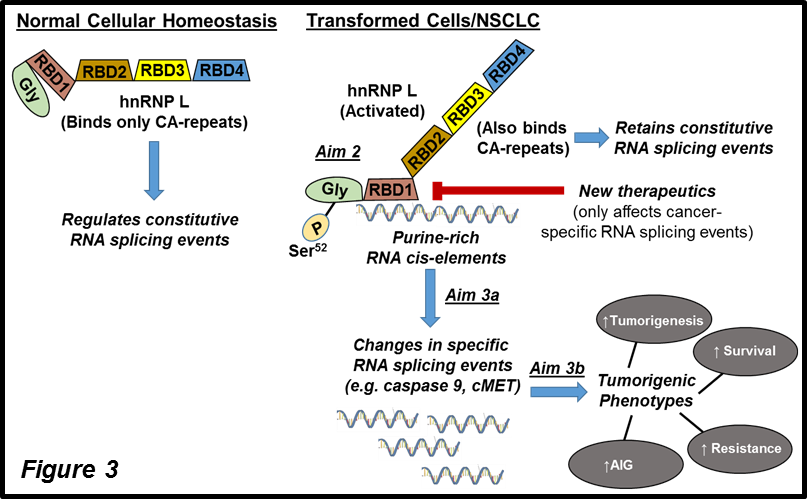 Overall, both research areas described above for the Chalfant Laboratory have proven fruitful in obtaining national funding for the laboratory (20 years continually funded for our cancer research). Furthermore, these research areas and the proven productivity of the Chalfant Laboratory have led to the appointments of Dr. Charles Chalfant to several Editorial Boards and National Committees, which include: the Editorial Boards of the Journal of Lipid Research and the Journal of Biological Chemistry, formal membership on the Cancer and Molecular Pathobiology Study Section of the National Institutes of Health, and formal membership on the Oncology A Study Section of the Veterans Administration. These research areas also led to the communication of the 2011 ASBMB Avanti Junior Investigator Award for Lipid Research to Dr. Chalfant. The applicant, Dr. Chalfant, has also been very productive with over 120peer-reviewed publications (see CV). His current research is supported by multiple extramural grants. He has trained more than 40 trainees at various levels, with a number of them being faculty members at various institutions with funded research programs.
Amraoui F, Hassani Lahsinoui H, Spijkers LJA, Vogt L, Peters SLM, Wijesinghe DS, Warncke UO, Chalfant CE, Ris-Stalpers C, van den Born BH, Afink GB. Plasma ceramide is increased and associated with proteinuria in women with pre-eclampsia and HELLP syndrome. Pregnancy Hypertens. 2020 Jan;19:100-105. doi: 10.1016/j.preghy.2019.12.006. Epub 2019 Dec 17. PMID: 31927322.
Maus KD, Stephenson DJ, Ali AN, MacKnight HP, Huang HJ, Serrats J, Kim M, Diegelmann RF, Chalfant CE. Ceramide kinase regulates acute wound healing by suppressing 5-oxo-ETE biosynthesis and signaling via its receptor OXER1. J Lipid Res. 2022 Feb 24:100187. doi: 10.1016/j.jlr.2022.100187. Epub ahead of print. PMID: 35219746.
Thushara Wickramasinghe Madanayake, Eric A Welsh, Lancia Darville-Bowleg, Charles E. Chalfant, Eric B Haura, Timothy J Robinson (2022) Inhibition of Epidermal Growth Factor Receptor (EGFR) Signaling via Antisense Oligonucleotides as a Novel Approach to EGFR Inhibition. Nucleic Acid Therapeutics, in press
Kim M, Vu NT, Wang X, Bulut GB, Wang MH, Uram-Tuculescu C, Pillappa R, Kim S, Chalfant CE. Caspase-9b drives cellular transformation, lung inflammation, and lung tumorigenesis. Mol Cancer Res. 2022 Apr 12:molcanres.0905.2021. doi: 10.1158/1541-7786.MCR-21-0905. Epub ahead of print. PMID: 35412615.
Mondal K, Porter H, Cole J 2nd, Pandya HK, Basu SK, Khanam S, Chiu CY, Shah V, Stephenson DJ, Chalfant CE, Mandal N. Hydroxychloroquine Causes Early Inner Retinal Toxicity and Affects Autophagosome-Lysosomal Pathway and Sphingolipid Metabolism in the Retina. Mol Neurobiol. 2022 Apr 15. doi: 10.1007/s12035-022-02825-3. Epub ahead of print. PMID: 35426574.
Ngoc T. Vu, Daniel J. Stephenson, H. Patrick MacKnight, Minjung Kim, and Charles E. Chalfant (2022) Ceramide kinase inhibition promotes ferroptosis and sensitivity to cisplatin in mutant KRAS lung cancer by dysregulating VDAC-mediated mitochondria function. Molecular Cancer Research, in press.
Galor A, Sanchez V, Jensen A, Burton M, Maus K, Stephenson D, Chalfant C, Mandal N. Meibum sphingolipid composition is altered in individuals with meibomian gland dysfunction-a side by side comparison of Meibum and Tear Sphingolipids. Ocul Surf. 2022 Jan;23:87-95. doi: 10.1016/j.jtos.2021.11.011. Epub 2021 Nov 30. PMID: 34861426; PMCID: PMC8792295.
Mondal K, Takahashi H, Cole J 2nd, Del Mar NA, Li C, Stephenson DJ, Allegood J, Cowart LA, Chalfant CE, Reiner A, Mandal N. Systemic Elevation of n-3 Polyunsaturated Fatty Acids (n-3-PUFA) Is Associated with Protection against Visual, Motor, and Emotional Deficits in Mice following Closed-Head Mild Traumatic Brain Injury. Mol Neurobiol. 2021 Aug 8. doi: 10.1007/s12035-021-02501-y. Epub ahead of print. PMID: 34365584.
Ali T, Lei X, Barbour SE, Koizumi A, Chalfant CE, Ramanadham S.# Alterations in β-Cell Sphingolipid Profile Associated with ER Stress and iPLA2β: Another Contributor to β-Cell Apoptosis in Type 1 Diabetes. Molecules. 2021 Oct 21;26(21):6361. doi: 10.3390/molecules26216361. PMID: 34770770; PMCID: PMC8587436.
B Gowda S, Gowda D, Kain V, Chiba H, Hui SP, Chalfant CE, Parcha V, Arora P, Halade GV. Sphingosine-1-phosphate interactions in the spleen and heart reflect extent of cardiac repair in mice and failing human hearts. Am J Physiol Heart Circ Physiol. 2021 Sep 1;321(3):H599-H611. doi: 10.1152/ajpheart.00314.2021. Epub 2021 Aug 20. PMID: 34415189.
McGlone CL, Christian L, Schmeusser B, Liu L, Chalfant CE, Stephensen DJ, Sherwin CM, Rapp CM, Sattouf Z, Rohan CA, Morris C, Chen Y, Travers JB. Evidence for Systemic Reactive Oxygen Species in UVB-mediated Microvesicle Formation. Photochem Photobiol. 2021 Jul 29. doi: 10.1111/php.13494. Epub ahead of print. PMID: 34324712.
V Vargas I, Stephenson DJ, Baldwin M, Gaut JP, Chalfant CE, Pan H, Wickline SA. Sustained local inhibition of thrombin preserves renal microarchitecture and function after onset of acute kidney injury. Nanomedicine. 2021 Nov;38:102449. doi: 10.1016/j.nano.2021.102449. Epub 2021 Jul 23. PMID: 34303838; PMCID: PMC8541929.
Nelson AJ, Stephenson DJ, Lei X, Almutairi A, White TD, Tusing YG, Park MA, Barbour SE, Chalfant CE, Ramanadham S. Macrophage polarization is linked to Ca2+-independent phospholipase A2β-derived lipids and cross-cell signaling in mice. J Lipid Res. 2020 Feb;61(2):143-158. doi: 10.1194/jlr.RA119000281. PMID: 31818877; PMCID: PMC6997598.
Hirano, Y., Gao, Y., Simanshu, D. K., Stephenson, D. J., Vu, N. T., Malinina, L., Chalfant, C. E., Pate, D. J. and Brown, R. E. (2021). Purification of Cytosolic Phospholipase A2α C2-domain after Expression in Soluble Form in Escherichia coli. Bio-protocol 11(3): e3906. DOI: 10.21769/BioProtoc.3906
Naimi WA, Gumpf JJ, Cockburn CL, Camus S, Chalfant CE, Li PL, Carlyon JA. Functional inhibition or genetic deletion of acid sphingomyelinase bacteriostatically inhibits Anaplasma phagocytophilum infection in vivo. Pathog Dis. 2021 Jan 6;79(1):ftaa072. doi: 10.1093/femspd/ftaa072. PMID: 33220685; PMCID: PMC7787905.
Alexander J. Nelson, Daniel J. Stephenson, Robert N Bone, Christopher L. Cardona, Margaret A. Park, Ying Gai Tusing, George Kokotos, Christina L. Graves, Clayton E. Mathews, Charles E. Chalfant, Sasanka Ramanadham,# (2020) Elevated Inflammatory Lipid Profile and T1D Incidence in the NOD is Mitigated by Genetic Reduction of Ca2+-Independent Phospholipase A2b (iPLA2b). JCI Insight, 2020 Aug 20;5(16):e138034. doi: 10.1172/jci.insight.138034. PMID: 32814707; PMCID: PMC7455134.
Scott W. Walsh, Daniel T. Reep, S.M. Khorshed Alam, Sonya L. Washington, Marwah Al Dulaimi, Stephanie M. Lee, Edward H. Springel, Philippe Girerd, Jerome F. Strauss, III, Daniel J. Stephenson, Charles E. Chalfant. (2020) Placental Production of Eicosanoids and Sphingolipids in Women Who Developed Preeclampsia on Low-Dose Aspirin. Reprod Sci. 2020 Dec;27(12):2158-2169. doi: 10.1007/s43032-020-00234-2. Epub 2020 Jun 17. PMID: 32557282; PMCID: PMC7606383.
Mishra SK, Gao YG, Zou X, Stephenson DJ, Malinina L, Hinchcliffe EH, Chalfant CE, Brown RE. Emerging roles for human glycolipid transfer protein superfamily members in the regulation of autophagy, inflammation, and cell death. Prog Lipid Res. 2020 Apr;78:101031. doi: 10.1016/j.plipres.2020.101031. Epub 2020 Apr 24. PMID: 32339554.
Stephenson DJ, MacKnight HP, Hoeferlin LA, Park M, Allegood J, Cardona CL, Chalfant CE. A rapid and adaptable lipidomics method for quantitative UPLC-mass spectrometric analysis of phosphatidylethanolamine and phosphatidylcholine in vitro, and in cells. Anal Methods. 2019 Apr 7;11(13):1765-1776. doi: 10.1039/C9AY00052F. Epub 2019 Mar 12. PubMed PMID: 31788037; PubMed Central PMCID: PMC6884326..
MacKnight HP, Stephenson DJ, Hoeferlin LA, Benusa SD, DeLigio JT, Maus KD, Ali AN, Wayne JS, Park MA, Hinchcliffe EH, Brown RE, Ryan JJ, Diegelmann RF, Chalfant CE#. The interaction of ceramide 1-phosphate with group IVA cytosolic phospholipase A(2) coordinates acute wound healing and repair. Sci Signal. 2019 Dec 3;12(610). pii: eaav5918. doi: 10.1126/scisignal.aav5918. PubMed PMID:31796632.