Second-Year Fellows
Nathan Roberts, MD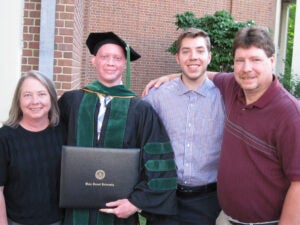 Undergraduate: Virginia Polytechnic Institute and State University
Medical School: Wake Forest School of Medicine of Wake Forest Baptist Medical Center
Residency: Wake Forest Baptist Medical Center
What drew you to UVA for your hematology/oncology fellowship training?
As most resident and fellowship applicants from last year can probably relate, I remember going into the virtual interview season wondering how I would ever get a "feel" for a program through a computer screen. What really stood out to me about UVA was just how welcoming and engaging everyone was all the way from the program director, the faculty I interviewed with, the fellows, and our amazing coordinator, Lisa. Most importantly, it seemed to me that the fellows were genuinely happy and excited to be here and had really bonded to become like family to one another. Of all my interviews I met the most faculty and fellows during my UVA interview, which made it feel like the program had nothing to hide and really wanted you to see what everyone here truly thought of the program. I also cannot say enough about our PD, Dr. Hall, who has been an amazing teacher in my thoracic malignancy continuity clinic this first semester and who is constantly seeking fellow feedback (and actually implementing it too!) on ways to improve the fellowship experience for us. Long story short – I think it was the amazing and diverse types of people here that really set UVA apart for me.
Beyond the incredible people here I think UVA also stood out because of how well-balanced and structured the curriculum and clinical training are. The program provides us with access to all the educational perks/tools of being a heme/onc fellow, including memberships to ASH, ASCO, and financial support to attend national conferences. There are a huge number of opportunities for fellows to explore their clinical and research interests here, and I think the diversity of career paths that recent graduating fellows have taken really speaks to how the program can prepare you for literally any career choice you end up making. There is zero pressure to choose one career path over another, and the fellows' schedules are such that the second and third years of training really become wide-open in terms of electives or research blocks to prepare you for your ultimate career choice, regardless of whether you are someone who is pursing research-heavy career in academia or a more community-based practice in general oncology. The resources and faculty support are here for anyone to achieve their dream job!
What is your favorite thing about living in Charlottesville, VA?
The food scene here is superb – Charlottesville really punches above its size when it comes to the number, diversity and quality of food options that are available. There is also no shortage of things to do outdoors both in town and in the nearby region, whether it is hiking, breweries, wineries, driving the Blueridge Parkway, and checking out local festivals alike. The downtown mall has a number of boutique shops to check out, and the Fridays After Five summer concert series at the downtown Ting Pavillion has been a great way to spend Friday evenings so far. Charlottesville has very minimal traffic and whether you live one mile or several miles out from the hospital the commute will never be something that causes any headaches. Overall it is very comfortable to live here and you can't beat the amazing mountain views that are all around. But, if you ever decide you need to get away to a more urban scene for a weekend, both Richmond and Washington, DC are each a one to two hour drive away.
Chris Thomas, M.B., B.S.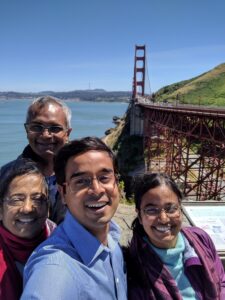 Medical School: St. John's Medical College
Residency: University of Kentucky College of Medicine
What drew you to UVA for your hematology/oncology fellowship training?
After my interview with 11, yes 11 faculty and fellows at UVA, I walked over to my then mentor and program director's office and debriefed. Several weeks later, as I was making up my mind about where I would be going, she reminded me of that conversation and how much I liked the people I met at UVA (and my big smile walking out of that interview). Am happy to report that my first impressions have been accurate so far and that my colleagues at UVA have been dedicated, caring and friendly! It's the people that make UVA Heme-Onc what it is!
Also, being someone that's not exactly sure about the specifics of the branch of Hematology-Oncology to pursue coming in, UVA appears to have a healthy and balanced respect for the various branches of Heme-Onc. The same applies to the clinical as well as the research side of things.  I think such balance is rare.
What is your favorite thing about living in Charlottesville, VA?
Having lived in large cities most of my life, Charlottesville has been a breath of fresh air! Lots of outdoor activities to do all around, being able to get to any point in the city (or work) within 15 mins is a huge plus. Skyline drive in Shenandoah is a must do if visiting.  Have to also mention the orchards, vineyards all around and even getting invited to a Polo game in my first week here. Think I've just started to scratch the surface, but it's been pretty great so far.
John Thomas, MD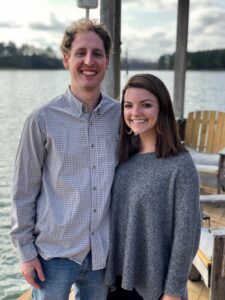 Undergraduate: Wofford College
Medical School: Augusta University/University of Georgia Medical Partnership
Residency: University of Alabama at Birmingham
What drew you to UVA for your hematology/oncology fellowship training?
I was looking for a program that would offer strong clinical training and mentorship in the context of a collaborative and supportive environment. What sealed the program for me was the people I met and feeling I got from my interview day. Zoom interviews were a little different last year, but from the beginning of my UVA interview day I met people who were welcoming and seemed to really know each other and have a great time working together. The fellows seemed genuinely happy to be training here, and the faculty had a great rapport and really wanted to get to know me as a trainee and as a person outside the hospital. In my short time at UVA, I can say all of those impressions of training here have been true!
What is your favorite thing about living in Charlottesville, VA?
I love being outdoors when I'm not at work, and having Shenandoah National Park and Skyline Drive 20 minutes from home is hard to beat. I also love the excitement of training in a college town. There's always something going on from live music on the mall to UVA sporting events to festivals around town. My wife and I have also just started to scratch the surface of the vineyard scene here, but we're looking forward to exploring all the wines and mountain views they have to offer over the next few years.
Philip Young, MD
Undergraduate: Brigham Young University
Medical School: University of Virginia School of Medicine
Residency: University of Virginia
What drew you to UVA for your hematology/oncology fellowship training?           As a prospective fellow, I was looking for a program that offered true mentorship, strong clinical training, and abundant research opportunities. I remember how open, welcoming and transparent the interview day at UVA felt. As an internal medicine resident here, I found the faculty to be very supportive and invested in our learning. As a new fellow, I've been pleasantly surprised by our attendings' dedication to our learning, whether that means scheduling time outside of clinic to review landmark trials or staying late after clinic to squeeze in a few more teaching points. I've found all the faculty, both senior and junior alike, to be very approachable and responsive to my questions. Finally, having trained at UVA through the COVID pandemic, I knew I wanted to continue to work for a health system where I felt supported and my education would remain a high priority come what may.
What is your favorite thing about living in Charlottesville, VA?                                                        I've lived in the West Coast, Mountain West, Midwest, East Coast, and now have lived in Charlottesville for the past 7 years, the longest I've lived in any city. I feel like I've found a new home here. As I visited places around the country for residency and fellowship (virtually), I was reminded why I love it here so much. We have a little bit of everything including a fun downtown scene with an outdoor mall, local music, close national parks including Shenandoah, plenty of family-friendly activities, lots of outdoor hikes and trails, nearby "mountains" (sorry, I'm from the Mountain West), wineries, breweries, great local food scene, four seasons without extreme weather…I could go on. Getting to a bigger city like Richmond or Washington DC is an easy trip. We even get a little bit of traffic weekdays at 5 PM in case you'd miss that. Overall, I think Charlottesville is an easy and comfortable place to live. ​