Educational Curriculum
In addition to the clinical experience, didactic lectures, conferences, and training modules are a vital part of fellowship education. Fellows have direct access to ASCO University and ASH Academy. All fellows take annual in-training examinations in both hematology and oncology to identify areas of improvement in preparation for the board examinations.
Typical fellowship didactic schedule includes:
 Core curriculum teaching conferences (1-2x/week)
Departmental conferences including Grand Rounds and Morbidity/Mortality conference (weekly).
Coagulation conference (2x/month)
Benign hematology case conference (monthly)
Malignant hematology case conference (monthly)
Oncology case conference (weekly)
Journal club (1-2x/month)
Clinical research methods conference (monthly)
Physician wellness lectures and discussion groups (monthly)
Fellows are encouraged to present at tumor boards and departmental conferences. A board review lecture series designed and implemented by the fellows provides an opportunity to teach peers and concentrate on specific topics over the three-year fellowship. Fellows are required to teach residents and medical  students on inpatient rotations.
About the Program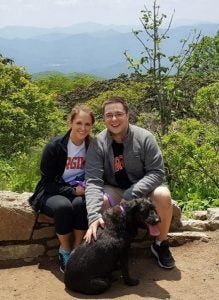 "UVA has been a fantastic place to receive my hematology and medical oncology training! I am grateful for my faculty mentors who are truly invested in helping me achieve my career goals. Our clinical training program has prepared me well to treat a broad array of hematologic and oncologic disorders. Our program provides a manageable balance of inpatient consult/ward services, outpatient clinic blocks and electives, and research time. The program leadership is approachable and receptive to any suggestions for change. I feel supported by my peers and faculty within our department. Please feel free to contact me for any questions about the UVA experience!"
– Carolyn Carrera, MD, 3rd year fellow