Educational Curriculum
The fellowship educational curriculum is anchored in both clinical care as well as a wide range of lectures, case conferences, workshops, and training modules. These activities are a vital part of our hematology / oncology fellowship education. Almost all conferences are conducted with hybrid conference technology to allow fellows at off site locations to participate.
The education curriculum is primarily composed of the following components:
Case conferences
Faculty led didactics
Fellow led didactics
Workshops
Tumor boards
Journal clubs
Board review
Division Grand Rounds
Division M&M conference
Resources
Case conferences
There are monthly case conferences in malignant and non-malignant hematology and 2 – 3 medical oncology case conferences per month. During a case conference, one or more fellows present typically 2 patient scenarios and discuss pertinent imaging and diagnostic information along with the evidence to support a given treatment decision. These conferences are primarily fellow led and well attended by faculty with the goal of facilitating critical thinking.
Faculty led didactics
These are conferences led by faculty, comprising our "core" lecture series.  We follow a general pattern of annual lectures outlined below:
July – August:  orientation, special topics, non-malignant hematology
September – December: breast, GU, GI thoracic
January – April: malignant hematology and transplant / cellular therapies
April – June: less common solid tumors, other topics
Fellow led didactics
These are conferences produced by the fellows and scheduled throughout the year. Fellows typically give 1 – 2 talks per year with faculty invited to attend as well.
Workshops
We have a number of workshops series throughout the year including:
Quality improvement (QI) training lectures and working sessions
Our fellows participate in a longitudinal quality training program. First year fellows are exposed to QI methodology and learn about ongoing projects. Either late in the first year or in early second year, each fellow joins an existing project or creates a project (typically in teams). They continue work on their project through third year with the goal to present and/or publish their work by the end of fellowship.
Resiliency sessions
Practicing hematology/oncology is a rich but often challenging field with respect to our emotional and global well-being. We conduct a mix of journal club activities, book club, and lectures to guide discussions around both our internal and corporate processing of our work.
Clinical and translational research workshop
See our Scholarship link for more information about this workshop
Tumor boards
We have multiple tumor boards each week that bring together multi-disciplinary colleagues from surgery, radiology, radiation oncology, pathology, and commonly other medicine subspecialties to discuss complicated patient presentations and provide consensus treatment recommendations. Fellows commonly attend the tumor board corresponding to their continuity clinic and are expected to present patients during tumor board discussions.
Journal Clubs
We typically have at least 1 fellow led journal club per month corresponding to a disease group lecture series to review recent articles and/or conference presentations. These are often less formal discussions and sometimes held off site with an informal gathering feel.
Board review
Interspersed throughout each disease block of lectures, fellows typically have at least 1 board review sessions where a fellow selects a group of questions to discuss with the group. Disease specific attendings commonly attend these sessions to facilitate an understanding of the question and provide context.
Division Grand Rounds
Our Division of Hematology/Oncology conducts a monthly lecture series where either a colleague or an outside guest speaker presents a CME accredited lecture to the faculty and larger division. In addition to our own division grand rounds series, the Department of Medicine hosts a weekly grand rounds and the UVA Cancer Center hosts a weekly seminar series during the academic year.
Division M&M conference
The Division of Hematology/Oncology hosts a monthly M&M conference where fellows typically present a patient from either their inpatient rotations or outpatient clinics. Some of our recent QI projects were developed from M&M discussions, and the conference is viewed as a collaborative effort to improve our care delivery and identify opportunities to improve patient outcomes.
Resources
Fellows receive access to the ASCO Online Fundamentals and ASH Academy. Our program also pays for all fellows to take the annual in-training examinations in both hematology (ASH) and oncology (ASCO) to identify areas of improvement in preparation for the board examinations. Lastly, we also identify resources to allow fellows to attend and/or present at national and even international conferences.
About the Program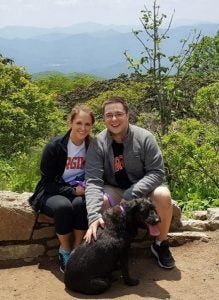 "UVA has been a fantastic place to receive my hematology and medical oncology training! I am grateful for my faculty mentors who are truly invested in helping me achieve my career goals. Our clinical training program has prepared me well to treat a broad array of hematologic and oncologic disorders. Our program provides a manageable balance of inpatient consult/ward services, outpatient clinic blocks and electives, and research time. The program leadership is approachable and receptive to any suggestions for change. I feel supported by my peers and faculty within our department. Please feel free to contact me for any questions about the UVA experience!"
– Carolyn Carrera, MD, 2019 graduate