Equipment
7 Tesla Bruker/Siemens ClinScan small animal MRI

8 receiver channels for phased array imaging
maximum strength 600 mT m-1
maximum rise rate 6000 T m-1 s-1
software from human MRI ports to this instrument
information from Bruker
This instrument was the first installation of it type in the US
In MR4, room 1184
Caliper IVIS Spectrum bioluminescence and fluorescence scanner
Common uses:

firefly and bacterial luciferase
Green Fluorescent Protein
red and near-infrared fluorescent proteins
other luminescent and fluorescent labels
It has 10 excitation filters with 30 nm bandwidth (top or bottom illumination) and 18 emission filters with 20 nm bandwidth
More details from Caliper Life Sciences.
Tomographic fluorescent and luminescence images from the Spectrum scanner can be merged with MRI or CT scans. IVIS Spectrum in MR4 Vivarium.
PET scanning:  3-ring system with 150 mm axial FOV, 80 mm transaxial FOV, 12% sensitivity, 17% energy resolution, and a mouse NECR of 560 kcps at 35 MBq
SPECT scanning has a dual head system with 1,800 cps/MBq sensitivity, 30-400 keV energy range, 25-120 mm variable FOV, and 0.5 mm spatial resolution
CT has X-ray energies of 10-50 kVp, 70 mm x 70 mm FOV, and 90 µm resolution
SA Instruments model 1025 and 1025L physiological monitoring
Animals' heart rate and breathing are monitored using SA Instruments model 1025 for MRI and a model 1025L for PET and SPECT hardware/software systems for monitoring and gating system.
Cyclotron laboratory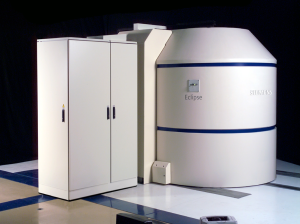 Siemens Eclipse™ HP 11 MeV Cyclotron is in the Life Sciences Annex at Fontaine Research Park. This laboratory produces  curies of short lived PET isotopes, 18F 11C, 13N, and 15O, longer lived PET isotopes 64Cu, 76Br, 124I, gamma isotopes 67Ga, 123I, and 111In and 165Er. It is operated in partnership with Siemens/PETNET.
Chemistry laboratory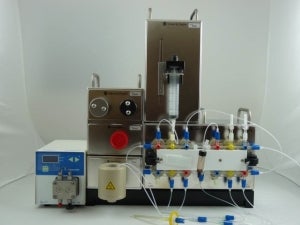 The  radiochemistry lab adjacent to the cyclotron has underground conduits to deliver radioisotopes to the lab. There are six Von Gahlen minicells that are populated with the following:
Eckert & Ziegler (E&Z) Modular Lab [11C] for the production of methyl iodide or methyl triflate
E&Z Modular-Lab PharmTracer system for the production of a variety of radiolabeled biomarkers using 11C methyl iodide/triflate or 18F–;
Siemens Explora GN for general Nucleophilic 18F– reactions;
Siemens Explora CN which can be used for making 11C-HCN;
Siemens Explora LC for preparative liquid chromatography for purification of products
a dose calibrator for measurement of radioactivity of starting material and final products.
Hot Cells
Comecer MIP 1390 Laminar Flow Hot Cell with two manipulator arms – Central Research Laboratories, G-LDC-035-005.
Von Gahlen Double Chemical Enclosure mini hot cells (3 DCEs = 6 cells).
Eckert & Ziegler Modular Lab PharmTracer Dose Dispenser.
Quality control equipment
Shimadzu Prominence LC-20AD HPLC with radiation, UV-VIS and refractive index detectors
Perkin Elmer Clarus 680 gas chromatograph
Eckert & Ziegler AR-2000 Radio-TLC & Imaging Scanner thin layer chromatopgraphy system
Vivarium facilities
Both Snyder Building and MR4 have vivarium facilities.