Equipment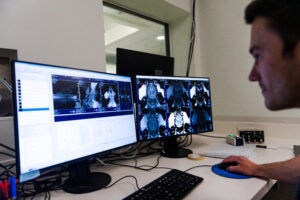 The 9.4 Tesla Bruker BioSpin MRI scanner consists of a 21 cm diameter horizontal bore magnet interfaced to a Bruker Avance III neo console with ParaVision 360 operating software. The system is capable of multinuclear MR imaging and spectroscopy of small animals (rats and mice) and is equipped with 4 receive channels allowing for the use of phased array receive coils.
Capabilities include high-quality, high resolution, anatomical and functional imaging using a wide variety of contrast mechanisms (T1, T2, diffusion, perfusion), together with multi-shot 2D and 3D sequences, single-shot EPI), Ultrashort Echo Time (UTE) sequences, localized NMR spectroscopy and spectroscopic imaging.
Gradient Coil: Bruker B-GA12S gradient coil capable of 660 mT/m (12 cm i.d.)
Radio-Frequency Coils: A wide range of RF transmit/receive volume coils with different inner diameters as well as phased array and surface receive coils are available for use.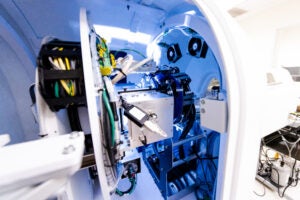 PET scanning:  3-ring system with 150 mm axial FOV, 80 mm transaxial FOV, 12% sensitivity, 17% energy resolution, and a mouse NECR of 560 kcps at 35 MBq
SPECT scanning has a dual head system with 1,800 cps/MBq sensitivity, 30-400 keV energy range, 25-120 mm variable FOV, and 0.5 mm spatial resolution
CT has X-ray energies of 10-50 kVp, 70 mm x 70 mm FOV, and 90 µm resolution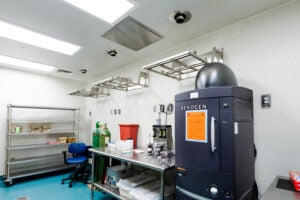 Common uses:
firefly and bacterial luciferase
Green Fluorescent Protein
red and near-infrared fluorescent proteins
other luminescent and fluorescent labels
It has 10 excitation filters with 30 nm bandwidth (top or bottom illumination) and 18 emission filters with 20 nm bandwidth
More details from Caliper Life Sciences.
Tomographic fluorescent and luminescence images from the Spectrum scanner can be merged with MRI or CT scans. IVIS Spectrum in MR4 Vivarium.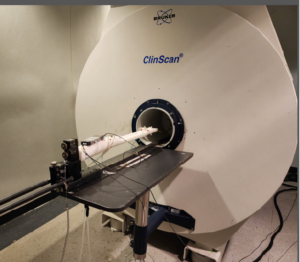 8 receiver channels for phased array imaging
maximum strength 600 mT m-1
maximum rise rate 6000 T m-1 s-1
software from human MRI ports to this instrument
information from Bruker
This instrument, which is in MR4 Building, was the first installation of it type in the USA.
Animals' heart rate and breathing are monitored using SA Instruments model 1025 for MRI and a model 1025L for PET and SPECT hardware/software systems for monitoring and gating system.
Both Snyder Building and MR4 have vivarium facilities.