Didier Portilla, MD Lab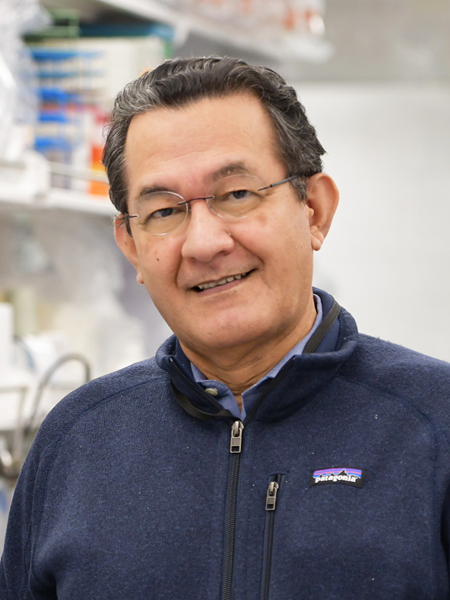 PRIMARY APPOINTMENT:
Professor of Medicine, Nephrology
CONTACT:
UVA Division of Nephrology
P.O. Box 800133
Charlottesville, Virginia 22908
Telephone: 434-243-6648
Fax: 434-924-5848
Email: dp2bs@virginia.edu
EDUCATION AND TRAINING:
M.D., Universidad del Valle Medical School, Cali, Colombia
Internship in Medicine: Charity Hospital of New Orleans, Tulane University School of Medicine New Orleans, Louisiana
Residency in Medicine: Luke's Hospital, Washington University School of Medicine, St. Louis, Missouri
NIH Postdoctoral Research Fellow in Nephrology, Washington University School of Medicine, Barnes Hospital St. Louis, Missouri
FUNDED PROJECTS:
National Institutes of Health 2RO1DK075976 04/01/2013-3/31/2018 Role of PPARalpha in acute kidney injury Role: Principal Investigator
VA Merit Review March 2016- September 2018 Role of PPARalpha in renal fibrosis Role: Principal Investigator
1R01DK104963-01A1 (PI: R. Sharma) NIH/NIDDK Role: Collaborator 10% effort. Regulatory T Cells in Acute Kidney Injury The major goal of this project is to understand the role of PD-1 expressed by regulatory T cells during protection from acute kidney injury; we will also determine the role of the PD-1 ligand PD-L1 and the IL-10 receptor on the target cells during protection from renal injury. 12/15/2015 – 11/30/2020
T32 DK0792922 (PI: Okusa) Role: Associate Director NIH/NIDDK Kidney Disease and Inflammation. The purpose of this grant is to support the training of postdoctoral fellows in the basic and clinical science of kidney disease and inflammation 07/01/2016-06/30/2021
Role of Intracellular complement in kidney fibrosis. Start-up funds
RESEARCH AREAS:
Pathogenesis of acute kidney injury: PPAR alpha's role in AKI and pericytes' role in progressive fibrosis. Role of intracellular complement in kidney fibrosis.
RESEARCH SUMMARY:
My research aims to understand the cellular and molecular mechanisms that contribute to proximal tubule cell death during Acute Kidney Injury (AKI) and progressive kidney disease. Our laboratory has elucidated increased lipotoxicity's role in the pathogenesis of proximal tubule cell death and tubulointerstitial fibrosis. We use both in vivo and in vitro models of ischemia-reperfusion and unilateral ureteral obstruction. Our studies support the notion that PPARalpha, a nuclear receptor transcription factor expressed in the proximal tubule and interstitial pericytes/fibroblasts, is an important metabolic sensor for lipid homeostasis. When stimulated by either a ligand or by using transgenic mice, we find that PPARalpha mediates cytoprotection by reducing inflammation and renal fibrosis. Our work has been funded by an NIH RO1 and by VA Merit Award and examines the role and mechanisms by which PPARa signaling increases mitochondrial fatty acid oxidation, prevents renal fibrosis, and pericyte to myofibroblast transformation. Our lab is currently studying the part of intracellular complement activation in kidney cells leading to increased inflammation during AKI and AKI to CKD models. We have generated C1r null mice to study the function of C1 complex proteases C1r and C1s and currently are using complement receptor C5aR1 GFP reporter mice where we have shown that renal epithelial cells, pericytes, and CD45 F4/80 cell express higher levels of the C5aR1 receptor in animal models of fibrosis. We have used these mice to cross them with FoxD1 Cre and LysM Cre to examine the role of tissue-specific deletion of C5aR1 during kidney fibrosis. We have performed RNAseq analysis of the GFP labeled Macrophages isolated from these C5aR1 GFP reporter mice and shown that they express high levels of genes associated with NABA microsome, metabolic syndrome, iron recycling, cell adhesion, and increased production of inflammatory cytokines.
PUBLICATIONS:
Humphreys BD, Cantaluppi V, Portilla D, Singbartl K, Yang L, Rosner MH, Kellum JA, Ronco C; Targeting Endogenous Repair Pathways after AKI. Acute Dialysis Quality Initiative (ADQI) XIII Work Group. J Am Soc Nephrol. 2015 Nov 18. pii: ASN.2015030286.
Rabb H, Griffin MD, McKay DB, Swaminathan S, Pickkers P, Rosner MH, Kellum JA, Ronco C; Acute Dialysis Quality Initiative Consensus XIII Work Group. Okusa M, Agarwal A, Basile DP, Blantz R, Bonventre JV, Cantaluppi V, Chawla LS, Dong Z, Griffin M, Harris R, Humphreys B, Ince C, Matejovic M, Mehta R, Molitoris B, Murray P, Nangaku M, Portilla D, Singbartl K, Unwin R, Yang L. Inflammation in AKI: Current Understanding, Key Questions, and Knowledge Gaps. J Am Soc Nephrol. 2016 Feb;27(2):371-9. doi: 10.1681/ASN.2015030261. Epub 2015 Nov 11.
Okusa MD1, Rosner MH2, Kellum JA3, Ronco C Agarwal A, Basile DP, Blantz R, Bonventre JV, Cantaluppi V, Chawla LS, Dong Z, Griffin M, Harris R, Humphreys B, Ince C, Matejovic M, McKay D, Mehta R, Molitoris B, Murray P, Nangaku M, Pickkers P, Portilla D, Rabb H, Singbartl K, Swaminathan S, Unwin R, Yang L. Acute Dialysis Quality Initiative XIII Workgroup. Therapeutic Targets of Human AKI: Harmonizing Human and Animal AKI. J Am Soc Nephrol. 2016 Jan;27(1):44-8. doi: 10.1681/ASN.2015030233. Epub 2015 Oct 30.
Basile DP, Bonventre JV, Mehta R, Nangaku M4, Unwin R, Rosner MH, Kellum JA, Ronco C, Okusa M, Agarwal A, Blantz R, Bonventre JV, Cantaluppi V, Chawla LS, Dong Z, Griffin M, Harris R, Humphreys B, Ince C, Matejovic M, McKay D, Molitoris B, Murray P, Pickkers P, Portilla D, Rabb H, Singbartl K, Swaminathan S, Yang L. ADQI XIII Work Group. Progression after AKI: Understanding Maladaptive Repair Processes to Predict and Identify Therapeutic Treatments. J Am Soc Nephrol. 2016 Mar;27(3):687-97. doi: 10.1681/ASN.2015030309. Epub 2015 Oct 30.
Matejovic M, Ince C, Chawla LS, Blantz R, Molitoris BA, Rosner MH, Okusa MD, Kellum JA, Ronco C; Agarwal A, Basile DP, Bonventre JV, Cantaluppi V, Dong Z, Griffin M, Harris R, Humphreys B, McKay D, Mehta R, Murray P, Nangaku M, Pickkers P, Portilla D, Rabb H, Singbartl K, Swaminathan S, Unwin R, Yang LADQI XIII Work Group. Renal Hemodynamics in AKI: In Search of New Treatment Targets. J Am Soc Nephrol. 2016 Jan;27(1):49-58. doi: 10.1681/ASN.2015030234. Epub 2015 Oct 28.
Mas VR, Portilla D, Maluf DG. Biomarkers to detect, monitor, and predict tolerance: A provisional analysis for an unmet need. Transplantation 2016 Apr;100(4):705-6. doi: 10.1097/TP.0000000000001106. No abstract available. PMID: 26950715 2016.
Xavier S, Sahu R, Landes S, Yu J, Taylor RP,, Ayyadevara S, Megyesi J, Duffield JS, Reis E, Lambris JD, Portilla D. Pericytes and immune cells contribute to complement activation and tubulointerstitial fibrosis. Am J Physiol Renal Physiol. 2017 Jan :ajprenal.00604.2016. doi: 10.1152/ajprenal.00604.2016.
Li-Rong Yu, Jinchun Sun, Jaclyn R. Daniels, Zhijun Cao, Laura Schnackenberg, Devasmita Choudhury, Paul M. Palevsky, Jennie Z. Ma, Richard D. Beger, Didier Portilla. Aptamer-based proteomics identifies mortality-associated serum biomarkers in AKI-D patients Kid Int Rep September 2018
Syed F, Lam Q, Maharjan N, Portilla D, Smeds MR, Borja-Cacho D, Diagnosis and successful surgical management of posterior nutcracker syndrome in a patient with loin pain hematuria., 2015; The Journal of the Arkansas Medical Society. 111(12) 254-6. PMID: 25966600
Megyesi J, Tarcsafalvi A, Li S, Hodeify R, Seng NS, Portilla D, Price PM, Increased expression of p21WAF1/CIP1 in kidney proximal tubules mediates fibrosis., 2014; American journal of physiology. Renal physiology. 308(2) F122-30. PMID: 25428126 | PMCID: PMC4340262
Gomez IG, MacKenna DA, Johnson BG, Kaimal V, Roach AM, Ren S, Nakagawa N, Xin C, Newitt R, Pandya S, Xia TH, Liu X, Borza DB, Grafals M, Shankland SJ, Himmelfarb J, Portilla D, Liu S, Chau BN, Duffield JS, Anti-microRNA-21 oligonucleotides prevent Alport nephropathy progression by stimulating metabolic pathways., 2014; The Journal of clinical investigation. 125(1) 141-56. PMID: 25415439 | PMCID: PMC4382246
Charlton JR, Portilla D, Okusa MD, A basic science view of acute kidney injury biomarkers., 2014; Nephrology, dialysis, transplantation: official publication of the European Dialysis and Transplant Association – European Renal Association. 29(7) 1301-11. PMID: 24385545 | PMCID: PMC4081632
Portilla D, Apoptosis, fibrosis and senescence., 2014; Nephron. Clinical practice. 127(1) 65-9. PMID: 25343824
Duffield JS, Grafals M, Portilla D, MicroRNAs are potential therapeutic targets in fibrosing kidney disease: lessons from animal models., 2014; Drug discovery today. Disease models. 10(3) e127-e135. PMID: 25018773 | PMCID: PMC4090701
Gomez IG, Grafals M, Portilla D, Duffield JS, MicroRNAs as potential therapeutic targets in kidney disease., 2013; Journal of the Formosan Medical Association = Taiwan yi zhi. 112(5) 237-43. PMID: 23660218 | PMCID: PMC4017353
Li S, Mariappan N, Megyesi J, Shank B, Kannan K, Theus S, Price PM, Duffield JS, Portilla D, Proximal tubule PPARα attenuates renal fibrosis and inflammation caused by unilateral ureteral obstruction., 2013; American journal of physiology. Renal physiology. 305(5) F618-27. PMID: 23804447 | PMCID: PMC3761210
Portilla D, Hernández-Giraldo C, Moreno B, Quijano F, Hoyos LR, Angarita AM, Madero S, A local hemostatic agent for managing postpartum hemorrhage due to placenta previa and placenta accreta: a cross-sectional study., 2013; Archives of gynecology and obstetrics. 288(3) 543-9. PMID: 23532388
Li S, Nagothu K, Ranganathan G, Ali SM, Shank B, Gokden N, Ayyadevara S, Megyesi J, Olivecrona G, Chugh SS, Kersten S, Portilla D, Reduced kidney lipoprotein lipase and renal tubule triglyceride accumulation in cisplatin-mediated acute kidney injury., 2012; American journal of physiology. Renal physiology. 303(3) F437-48. PMID: 22622461 | PMCID: PMC3433869