Research Facilities
The Division of Nephrology/CIIR will inaugurate new state-of-the-art research laboratory space in early 2020. 9,000 square feet of laboratory research space in Pinn Hall are being renovated to accommodate the expanded research operations of our well-funded investigators in the Division/CIIR. The newly designed plan facility has been customized to the needs of our research group but with flexibility for growth and changing research. The location of the research labs is in close proximity to basic science departments, the Department of Biomedical Engineering, and other research groups within the School of Medicine enabling ease of interactions with colleagues and investigators interested in kidney diseases to facilitate collaborations and growth.
Shared Facilities & Resources in CIIR
Nephrology Clinical Research Center (NCRC) provides clinical space, equipment, standard protocols, on-site biorepository, and professional staff to conduct a host of patient-oriented studies, clinical trials, epidemiologic studies, and outcomes research.
Division of Nephrology-CIIR Research Core
Laboratory provides support services (biorepository, bioanalysis, and small animal microsurgery) for clinical trials and basic research projects.
Shared Equipment and Personnel Contacts for Training and Information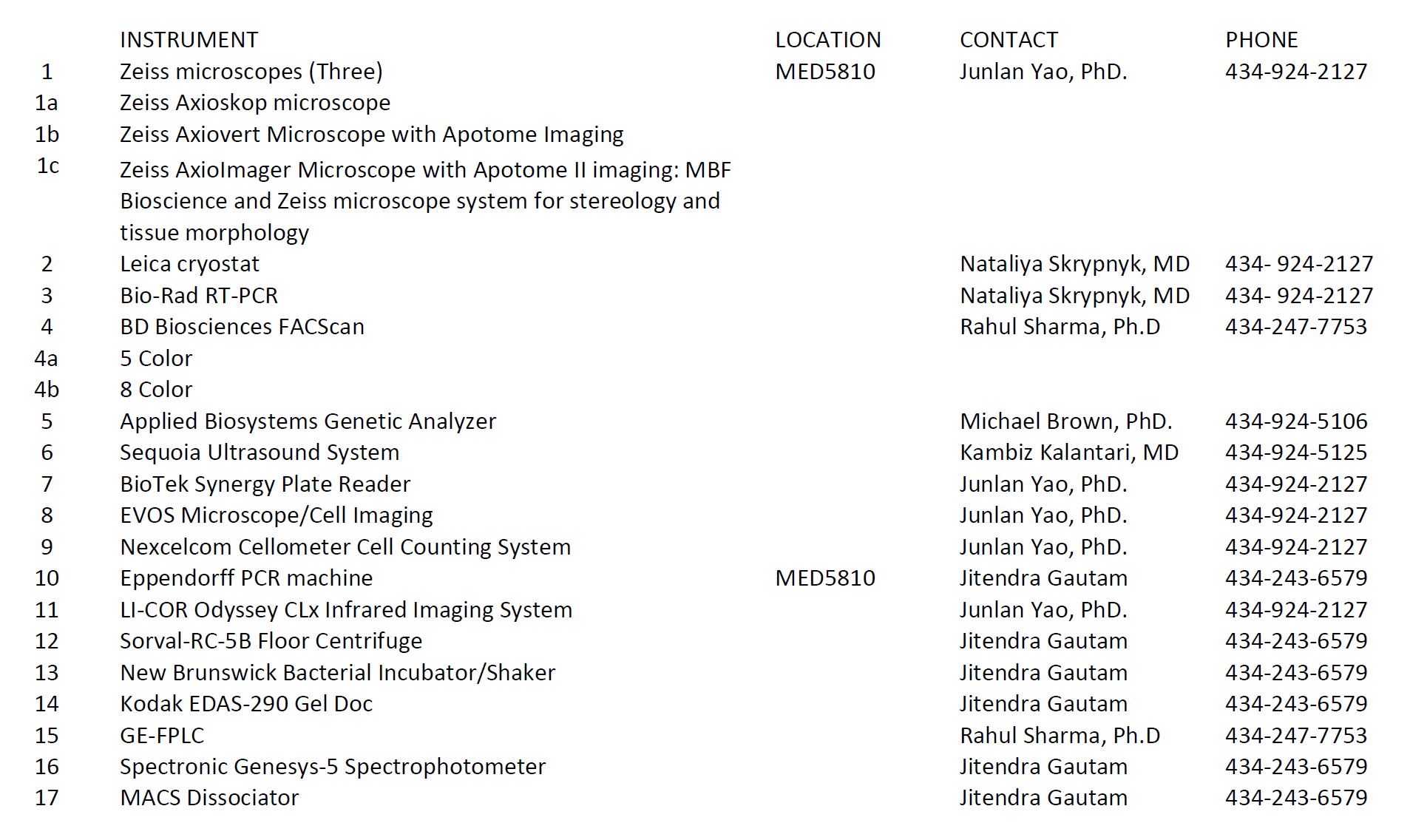 ---
The School of Medicine & Other UVA Core Facilities & Centers
Shared instrumentation facilities and other resources are available to investigators and trainees interested in research.
UVA Office of Research Core Administration
Advanced Microscopy
This facility provides access to electron and light microscopes, training in microscope use and sample preparation, a full range of TEM and SEM preparatory services, and consultation regarding microscopy applications in biomedical investigations.
Beirne B. Carter Center for Immunology Research
This center offers an outstanding Interdisciplinary Training Program in Immunology developed by internationally recognized faculty. Immunology research and training are focused on the areas of allergy/atopic disease, antigen presentation, autoimmunity, host immune response to infection, innate immune mechanisms, lymphocyte development, and tumor immunology.
Bioinformatics Core:
The Bioinformatics Core provides expert and timely bioinformatics consulting and data analysis solutions, including management and analysis of large-scale biological datasets produced by high-throughput genomics experiments.
Biomolecular Analysis Facility (BAF)
The Biomolecular Analysis Facility (BAF) provides a centralized setting for a diverse but interactive suite of services, instrumentation, and expertise in the areas of proteomics, metabolomics, small molecules, and molecular interactions. Some instrumentation is available open access while other services are provided by the staff.
Biomolecular Magnetic Resonance Facility (BMRF)
This facility facilitates and promotes research that utilizes NMR (nuclear magnetic resonance) spectroscopy to examine biologically important molecules, providing information on molecular structure and dynamics at atomic-level resolution.
Biorepository and Tissue Research Facility
This facility is involved in the procurement and processing of human tissue samples.
Biostatistics
The Division of Biostatistics in the Department of Public Health Sciences of the School of Medicine provides collaborative consulting in study design, conduct, analysis, and interpretation.
Center for Biomedical Ethics & Humanities
This center's mission is to advance education, research, and service concerning moral values in health care. The program is devoted to helping those in the public sector who are charged with making decisions to respond to the challenges facing health care systems.
Center for Cell Signaling
This multidisciplinary biomedical research center in the School of Medicine provides a vibrant atmosphere to study cellular and molecular mechanisms of signal transduction.
Center for Comparative Medicine
This center's mission is to support biomedical research and teaching that utilizes laboratory animals. This is done in a manner that promotes the policies set by the Institutional Animal Care and Use Committee (IACUC) whose charge is to oversee compliance by UVA personnel with federal regulations and guidelines.
Exercise Physiology Core Lab:
This core lab supports clinical research involving exercise testing, training, body composition, and metabolism.
Flow Cytometry Facility:
The flow cytometry core provides access to high quality, cost-effective flow cytometry services, including unassisted and assisted sample acquisition, cell sorting, mass cytometry (CyTOF), Luminex cytokine assays, antibody conjugation, and data analysis, as well as the scientific expertise necessary to effectively use this technology.
Genetically Engineered Murine Model Core (GEMM):
The GEMM Core's mission is to support animal model research endeavors, advance genetic and reproductive technologies for model creation and preservation, and serve as a resource for the design, development, and derivation of customized mouse strains.  The core produces and preserves genetically engineered mouse strains for animal model research.
Genomic Analysis and Technology Core:
The Genome Analysis and Technology Core provides high throughput (Next Generation) sequencing services for both novices and experienced users alike, by providing timely assistance in all facets of experimentation from project design/execution to data analysis/reporting.

Integrated Translational Health Research Institute of Virginia (iTHRIV):
UVA's NIH-NCATS-funded Clinical Translational Research Institute combines the expertise of clinical translational biomedical research and data science to create infrastructure and investigator resources for using data to improve health across the Commonwealth of Virginia. Partner sites include UVA, Virginia Tech, Carillion Clinics, and Inova Health System. The program includes a formal junior faculty career development program with a focus on translational research, data science, and commercialization. Additional emphasis is on developing and supporting team science. community engagement and innovation while promoting shared resources and best practices.
W.M. Keck Center for Cellular Imaging:
This center is a state-of-the-art optical imaging facility that provides continuous development and implementation of novel optical imaging methods that interface expertise in biology, optics, and electronic engineering. The center has imaging systems to image from a single molecule to the whole animal, with specialized processing software including FRET and FLIM.
Molecular Electron Microscopy Core:
A state-of-the-art facility dedicated to high-resolution electron cryomicroscopy and electron cryotomography to collect data aimed at high-resolution structural biology projects. It houses three electron microscopes, a 120kV Spirit, a 200kV F20, and a 300kV Titan Krios.
Molecular Imaging Core:
This facility offers the latest advances in imaging/spectroscopy strategies for imaging live animals and excised human and animal organs using techniques such as MRI, ultrasound, bioluminescence, fluorescence, PET, and combined modalities.
Molmart Product Core:
MolMart supplies molecular biology reagents to UVA researchers.
Radiochemistry Core:
Radiochemistry Core provides access to new and existing molecular imaging agents that can be detected by Positron Emission Tomography and synthesizes targeted radio imaging agents that give greater specificity than the widely used fluoro-D-glucose (FDG). Another service is a custom synthesis of small organic molecules for HPLC standards, precursors for radiochemicals, and compounds for other research use.
Research Histology Core
This facility provides high-quality histology services and instruction to all UVA investigators. Services include the preparation of paraffin-embedded and frozen tissue sections for routine histology, special stains, and immunohistological studies. Procurement and processing of human tissue and other biospecimens are coordinated with the Biorepository and Tissue Research Facility.
Stem Cell Core:
The Stem Cell Core provides researchers with high-quality inducible pluripotent stem cells (iPSCs) and iPSC derivatives and offers training for those interesting in learning more about iPSC technology.
Tissue Culture Facility
This core facility is a central source of tissue culture media, reagents, sterile hood space, cell banking, cell culture consultation, and specialized tissue culture cell services. The facility provides services to the UVA research community including cell culture and storage services, transfections, baculovirus transfections, viral titering, mycoplasma testing, and training in tissue culture techniques.
UVA Cancer Center
The UVA Cancer Center is an NCI-designated comprehensive cancer center whose research programs focus on understanding how cancer arises, grows, and spreads and how this knowledge can be used to develop ways to detect, diagnose, treat, and prevent cancer.