Julia Scialla, MD, MHS, FASN Lab
PRIMARY APPOINTMENT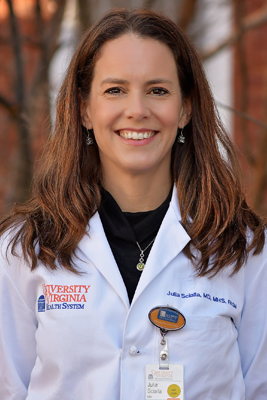 Associate Professor of Medicine and Public Health Sciences
Director of Outcomes Research, Departments of Medicine and Public Health Sciences
Director, Nephrology Clinical Research Center
Contact:
UVA Division of Nephrology
PO Box 800133
Charlottesville, VA 22908
Email: js7rk@hscmail.mcc.virginia.edu
EDUCATION AND TRAINING
MD, University of Pennsylvania School of Medicine
Internal Medicine Residency, Johns Hopkins University School of Medicine
Nephrology Fellowship, Johns Hopkins University School of Medicine
MHS, Johns Hopkins Bloomberg School of Public Health
RESEARCH AREAS
Chronic Kidney Disease Epidemiology
Outcomes Research in Patients with End Stage Kidney Disease
Complications of Chronic Kidney Disease: Bone and Mineral
Metabolism; Metabolic Acidosis
Nutrition in Kidney Disease
Team Members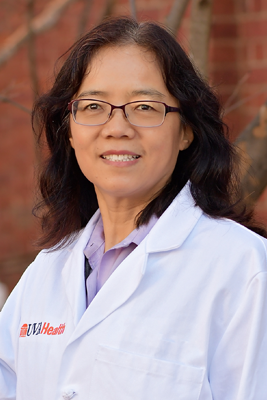 Primary Appointment:
Professor of Biostatistics, Public Health Sciences
Contact:
UVA Division of Nephrology
P.O. Box 800717
Charlottesville, VA 22908
Email: jzm4h@virginia.edu
NEPHROLOGY CLINICAL RESEARCH CENTER
The Nephrology Clinical Research Center (NCRC) provides a home for clinical research in the Division. The NCRC provides 3 dedicated exam rooms, equipment, and laboratory space for clinical research studies. Our Center is fully staffed with a professional team to support clinical research design, study execution, statistical and data needs, grants and contract negotiation, and other administrative tasks. We are located in direct proximity to the Kidney Center, basic laboratories and biorepositories in Nephrology making us easily accessible and available to faculty and trainees working in the Division.
Lab Team Images
RESEARCH SUMMARY
The goal of our research program is to develop approaches to prevent and treat kidney disease and its complications. Chronic kidney disease (CKD) currently affects ~13% of the US population and is influenced by the growing epidemics of diabetes mellitus (DM) and obesity. Our program specifically focuses on new targets for CKD prevention to limit the rising tide in the US and globally; and outcome studies among patients with all stages of CKD to improve cardiovascular outcomes, mortality, and quality of life.
Comparative effectiveness studies of mineral metabolism treatment strategies in end stage kidney disease. In this mixed quantitative and qualitative program of study, we use electronic health record data from a large national dialysis provider linked to USRDS administrative claims, and focused interviews with patients and providers, to understand the optimal approaches for managing hyperphosphatemia and secondary hyperparathyroidism in patients with ESKD. Our ultimate goal is to design and execute a comparative effectiveness clinical trial to clarify management in this challenging area of Nephrology.
Urine organic anions in diabetic kidney disease. In this study we are evaluating metabolites from non-targeted GC/MS metabolomics and a panel of targeted urine organic anions as predictors of kidney outcomes in patients with early stage diabetic kidney disease.
Acid Base Physiology in CKD. In a recently completed physiologic study, we are evaluating the effect of sodium bicarbonate on net acid excretion, 24 hour ambulatory blood pressure and metabolic profiles in patients with and without kidney disease.
Microbiota in Kidney Health and Diabetes. We are evaluating the relationships between diet, gastrointestinal microbiota, systemic metabolism and kidney injury. Pairs of participants from the same residence are participating in our study to understand how microbiota may be a mechanism to 'transmit' chronic diseases.