Peter Lobo, MD Lab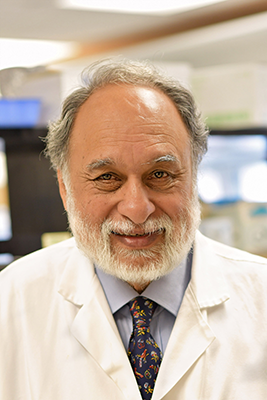 PRIMARY APPOINTMENT:
Professor of Medicine, Medicine: Nephrology
CONTACT:
UVA Division of Nephrology
PO Box 800133
Charlottesville, VA 22908
Telephone: 434-924-5125
Email: pil@hscmail.mcc.virginia.edu
EDUCATION AND TRAINING:
Fellowship, Nephrology, Immunology, Transplantation, University of Virginia
MD, Makerere University
Residency, Makerere University
RESEARCH AREAS:
Basic Transplant Immunology; Role of Naturally occurring IgM antibodies in Acute Kidney Injury and transplant rejection.
CURRENT LABORATORY MEMBERS
CONTACT:
Email: sc9d@virginia.edu
Dr. Sylvia Cechova received her undergraduate degree in Nuclear Chemistry as well as her graduate Ph.D. degree in Radiation Chemistry from Comenius University in Bratislava, Slovakia. She conducted the postdoctoral research in the Department of Anesthesiology and in the Department of Chemistry, University of Virginia, to study the effect of drugs and anesthetics on the threshold for isoflurane anesthesia, and to study the transient release of adenosine and dopamine in rat brain in vivo, using fast-scan voltammetry with carbon-fiber microelectrode, respectively. She joined the Department of Medicine, Division of Nephrology in August 2013 to work with Dr. Thu Le on the project that focused on the identification of genes associated with hypertension. Especially, they were interested in GSTM1 and Collectrin genes, and how the deletion or modification of them will affect the development of hypertension and progression of kidney disease, and its cardiovascular consequences. After the last 2 years in Dr. Swaminatan Lab, where she focused on the roles of hepcidin, ferroptosis, and macrophage iron metabolism in the progression of chronic kidney disease and renal fibrosis, she joined the Dr. Okusa and Dr. Lobo labs in May 2020. The focus of her current research is the contribution of sphingolipid pathway on prevention or attenuation of fibrosis following AKI and the role of natural IgM upregulation in the recovery after AKI.
Lab Team Images
RESEARCH SUMMARY:
My basic research involves investigating the role of naturally occurring IgM autoantibodies that bind to receptors on inflammatory cells and endothelial cells. Thus far, we have shown that these antibodies regulate inflammatory cell functions and downregulate the inflammatory response that occurs after acute ischemic injury to the kidney, as well as after transplantation (i.e. rejection). A subset of normal individuals and patients awaiting transplantation (i.e. kidney, heart) have high levels of these natural antibodies. We and others have noted a strong association between the presence of high IgM anti-leukocyte natural antibodies and protection from rejection.
Currently, our basic research efforts are focused on 1) studying the mechanism by which IgM downregulates the inflammatory response; 2) determining if there is a role of IgM in inducing transplant tolerance, thus decreasing the use of immunosuppressive agents; and 3) evaluating strategies (e.g. vaccines) to increase levels of such antibodies especially in patients awaiting transplantation. Other clinical studies are aimed at determining if there is an association between levels of such antibodies and severity of renal failure (e.g. after cardiac surgery) and severity of glomerular inflammation (e.g. in SLE or IgA nephropathy).
My clinical research involves transplant immunobiology, primarily focusing on B cell regulation, alloantibodies, and desensitizing patients with donor specific antibodies.
SELECTED PUBLICATIONS:
Lobo PI, Brayman KL, Okusa MD, Natural IgM anti-leucocyte autoantibodies (IgM-ALA) regulate inflammation induced by innate and adaptive immune mechanisms., 2014; Journal of clinical immunology. 34() S22-9. PMID: 24711004 | PMCID: PMC4096817
Bajwa A, Huang L, Ye H, Dondeti K, Song S, Rosin DL, Lynch KR, Lobo PI, Li L, Okusa MD, Dendritic cell sphingosine 1-phosphate receptor-3 regulates Th1-Th2 polarity in kidney ischemia-reperfusion injury., 2012; Journal of immunology (Baltimore, Md. : 1950). 189(5) 2584-96. PMID: 22855711 | PMCID: PMC3433235
Kinsey GR, Huang L, Jaworska K, Khutsishvili K, Becker DA, Ye H, Lobo PI, Okusa MD, Autocrine adenosine signaling promotes regulatory T cell-mediated renal protection., 2012; Journal of the American Society of Nephrology : JASN. 23(9) 1528-37. PMID: 22835488 | PMCID: PMC3431416
Chhabra P, Schlegel K, Okusa MD, Lobo PI, Brayman KL, Naturally occurring immunoglobulin M (nIgM) autoantibodies prevent autoimmune diabetes and mitigate inflammation after transplantation., 2012; Annals of surgery. 256(4) 634-41. PMID: 22964733 | PMCID: PMC3875377
Lobo PI, Schlegal KH, Vengal J, Okusa MD, Pei H, Naturally occurring IgM anti-leukocyte autoantibodies inhibit T-cell activation and chemotaxis., 2010; Journal of clinical immunology. 30() S31-6. PMID: 20401525 | PMCID: PMC3518423
Jones DG, Taylor AM, Enkiri SA, Lobo P, Brayman KL, Keeley EC, Lipson LC, Gimple LW, Ragosta M, Extent and severity of coronary disease and mortality in patients with end-stage renal failure evaluated for renal transplantation., 2009; American journal of transplantation : official journal of the American Society of Transplantation and the American Society of Transplant Surgeons. 9(8) 1846-52. PMID: 19538490 | PMCID: PMC2850065