Accolades
Spencer C. Payne, MD received a Certificate of Honor from the AAO-HNS/F for his contributions to the Otolaryngology specialty.  Read more.

Paul A. Levine, MD and Bradley W. Kesser, MD have been named by Castle Connolly Medical Ltd. as one of America's Top Doctors® for this past year, and Dr. Levine was also named by Castle Connolly as one of America's Top Doctors® for Cancer.  This has been a consistent tradition for faculty of the department to be recognized nationally for their dedication to patient care.
Bradley W. Kesser, MD is a recipient of the 2011 Clinical Excellence Award.  The purpose of this award is to honor junior faculty exhibiting clinical excellence and exemplary service to patients.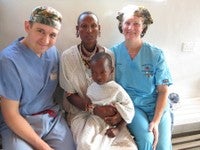 J. Jared Christophel, MD recently returned from a two week surgical trip to Kenya. The surgical team operated on almost 80 children with clefts of the lip and palate. This was done with the support of the Smile Train Foundation.
You can read more about the trip here

AAO-HNSF (Foundation) has approved Bradley W. Kesser, MD as Chair of the Otolaryngology Neurotology Education Committee effective October 1, 2011, and to serve as Chair-Elect prior to the start of the term.
The Department of Otolaryngology-Head and Neck Surgery has been recognized by US News and World Report as a Top-Ranked Hospital for Ear, Nose and Throat for 2011-2012.  "U.S. News surveyed nearly 10,000 specialists and sifted through data for almost 5,000 hospitals to rank the best in 16 adult specialties, from cancer to urology. Death rates, patient safety, and hospital reputation were a few of the factors considered. Only 140 hospitals were nationally ranked in one or more specialties."  Paul A. Levine, MD has also been named by US News and World Report as a Top Doctor.
A. Tucker Gleason, PhD – Commonwealth of Virginia Board of Audiology appointment, 2010
Spencer C. Payne, MD – AAO-HNS Holt Leadership Award, 2009
Press Releases
"Top doctors list includes dozens from UVa" The Daily Progress, May 2012
"Moving On" Vim & Vigor, Spring 2012
"Da Vinci system is weapon in throat cancer battle" The Daily Progress, July 2011
"Skull base surgery: Endonasal Approach Can Provide Better Tumor Access" Physicians Practice, November 2010
"Sinus trouble? UVa balloon treatment might let you breathe" The Daily Progress, August 2010
"U.Va. Research in the Marketplace" Envision, Spring 2010
"Now Hear This!" Albemarle Family, February 2009
"Sound of Silence: Dick Mountjoy on radio, cancer, and life without both" The Hook, October 2007
Faculty Publications
Head and Neck Cancer

Facial Plastic and Reconstructive Surgery

"Outcomes of Patients with Head-and-Neck Cancer of Unknown Primary Origin Treated with Intensity-Modulated Radiotherapy."

Mark Jameson, MD, PhD, James Reibel, MD, David Shonka Jr., MD, Paul Levine, MD

"Intensity-modulated radiotherapy outcomes for oropharyngeal squamous cell carcinoma patients stratified by p16 status."

James Reibel, MD, Paul A. Levine, MD and Mark Jameson, MD, PhD

"Clinical nodal staging of T1-2 tonsillar squamous cell carcinoma stratified by p16 status and implications for ipsilateral neck irradiation."

James Reibel, MD, Paul A. Levine, MD and Mark Jameson, MD, PhD

"Predicting residual neck disease in patients with oropharyngeal squamous cell carcinoma treated with radiation therapy: Utility of p16 status."

David Shonka, Jr., MD, James Reibel, MD, Paul A. Levine, MD and Mark Jameson, MD, PhD

"The midline forehead flap in nasal reconstruction."

Stephen Park, MD

"Osseocartilaginous Rib Graft Rhinoplasty: A Stable, Predictable Technique for Major Dorsal Reconstruction."

J. Jared Christophel, MD

Stephen Park, MD

David Shonka, Jr., MD and Stephen Park, MD

Stephen Park, MD

"Complications with forehead flaps in nasal reconstruction."

Stephen Park, MD

"Complications in rhinoplasty."

J. Jared Christophel, MD and Stephen Park, MD

Rhinology

Otology and Neurotology

"Local class switching in nonallergic rhinitis."

Spencer Payne, MD

"Early outcomes of endoscopic transsphenoidal surgery for adult craniopharyngiomas."

Spencer Payne, MD and Stephen Early, MD

"Pilot study of budesonide inhalant suspension irrigations for chronic eosinophilic sinusitis."

Spencer Payne, MD

"Septal hematoma after balloon dilation of the sphenoid."

David Shonka, Jr., MD and Spencer Payne, MD

"Development and validation of a novel ear simulator to teach pneumatic otoscopy."

Bradley Kesser, MD

"Assessment and management of chronic otitis externa."

Bradley Kesser, MD

"Duplication of the internal auditory canal: radiographic imaging case of the month."

Bradley Kesser, MD and George Hashisaki, MD

"Construct validity of a simulator for myringotomy with ventilation tube insertion."

Bradley Kesser, MD

"Gene therapy and stem cell transplantation: Strategies for hearing restoration."

Bradley Kesser, MD

Laryngology

Atresia

"Laryngeal steroid injection for vocal fold scar."

Melissa Mortensen, MD

"Unilateral combined laryngocoele with recurrent respiratory papillomatosis: case report."

Melissa Mortensen, MD

"Transoral resection of short segment Zenker's diverticulum and cricopharyngeal myotomy: An alternative minimally invasive approach."

Melissa Mortensen, MD

"Superior thyroid cornu syndrome: An unusual cause of cervical dysphagia."

Melissa Mortensen, MD

"Revision aural atresia surgery: indications and outcomes."

David Shonka, Jr., MD and Bradley Kesser, MD

"Malleus bar: An unusual ossicular abnormality in the setting of congenital aural atresia."

Bradley Kesser, MD

"Understanding speech in noise after correction of congenital unilateral aural atresia: Effects of age in the emergence of binaural squelch but not in use of head-shadow."

Bradley Kesser, MD

"The Jahrsdoerfer grading scale in surgery to repair congenital aural atresia."

David Shonka, Jr., MD and Bradley Kesser, MD

Pediatric Otolaryngology

Other

"Diagnostic contributions of videolaryngostroboscopy in the pediatric population."

Melissa Mortensen, MD

"Would Dr. Ogura approve of endoscopic resection of esthesioneuroblastomas? An analysis of endoscopic resection data versus that of craniofacial resection."

Paul A. Levine, MD

"Who will care for me when I get sick?"

Paul A. Levine, MD