Clough Shelton, MD, FACS – March 6, 2013
Clough Shelton, MD, FACS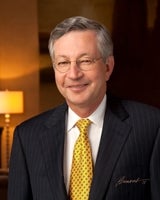 The Jahrsdoerfer Visiting Professor Lectureship is sponsored by an endowment from the Wolff Family – Paul and Carol Wolff.
The Department of Otolaryngology-Head and Neck Surgery hosted  Clough Shelton, MD, FACS as our Jahrsdoerfer Visiting Professor on Wednesday, March 6, 2013.
Recored live, on iPad, during snow storm and power outage.  Dr. Shelton was speaking to group of physicians and medical students — making his presentation from his laptop on a table.
March 7, 2013: 5:30pm. Management of Superior Semicircular Canal Dehiscence Syndrome (streamed live on Ustream)
Dr. Shelton has been associated with the University of Utah since 1994. Prior to that time, he was a partner at the House Ear Clinic in Los Angeles.
He has lectured throughout the world on Neurotology disorders. He has published over 100 articles and edited books on Neurotology. He is an active member of both national and international professional societies.
Currently, he is President of the American Neurotology Society, Past President of the American Otological Society and a Director of the American Board of Otolaryngology.
Originally from Texas, Dr. Shelton enjoys the outdoor recreation of Utah, particularly cycling. He also enjoys traveling and exploring different parts of the world. He and his wife have a son and a daughter.
Please contact Bradley W. Kesser, MD at (434) 924-2040 for more information.