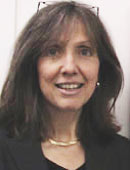 Ruth Gaare Bernheim, J.D., M.P.H. is the William Hobson Professor and Chair of the Department of Public Health Sciences and the Director of the Institute for Practical Ethics and Public Life at the University of Virginia.  She is the founding director of the Master of Public Health Program at the University of Virginia and teaches courses on public health law, ethics and policy. She served recently as chair of the Center for Disease Control and Prevention's (CDC) Ethics Subcommittee; as a member of the CDC Board of Scientific Counselors, Office of Public Health Preparedness and Response (OPHPR), and the National Board of Public Health Examiners; and as president of the Virginia Public Health Association.  Ms. Bernheim currently serves on the 10-member Board of Councilors of the Council of Education for Public Health (CEPH), the official independent agency recognized by the US Department of Education to accredit schools and programs of public health.
Bernheim works on numerous community health projects at the local, state, and national level, and with public health leaders in practice across the country on policy, ethical and legal education, including developing educational modules for the CDC's Public Health Law Program. In addition, she chaired a recent national Expert Panel on Population Health Across Professions for the Association of Schools and Programs of Public Health (ASPPH). Her research experience includes being a co-investigator on a Virginia Department of Health-led project titled, Excellence in State Public Health Law, funded by the Aspen Institute and Robert Wood Johnson Foundation; and a Co-Principal Investigator on a project titled "Public Health Research Ethics," funded by the Office of Research Integrity (HHS), under a cooperative agreement with the Association of American Medical Colleges (AAMC).
Bernheim teaches courses in the medical, law, and engineering schools on public health law and policy and ethics, including in the required fourth-year medical school course on health policy. She is director of the Certificate Program in Public Health Sciences for Graduate Medical Education and led university-wide efforts to develop the undergraduate Global Public Health Minor and Global Public Health Major programs.
Her publications include two books:  Bonnie RJ and Bernheim R Gaare. Public Health Law, Ethics, and Policy: Cases and Materials, Foundation Press, West Academic Publishing (2015) and Bernheim RG, Childress JF, Bonnie RJ and Melnick AL. Essentials of Public Health Ethics, Jones & Bartlett Learning LLC, Burlington MA (2015).
Bernheim's education includes a law degree from the University of Virginia School of Law, a master's of public health degree from Johns Hopkins Bloomberg School of Public Health, certificates in mediation from Boston University and the Harvard School of Public Health, and coursework as a research scholar at the Kennedy Institute of Ethics.
William Hobson Professor and Chair
Department of Public Health Sciences
J.D., University of Virginia School of Law
M.P.H., Johns Hopkins School of Public Health
P.O. Box 800717
Tel: 1-434-243-7340
Fax: 1-434-924-8437
Email: rg3r@virginia.edu
Health System West Complex Room 3189
Expertise:
Public Health Policy, Law, and Ethics
Teaching Responsibilities:
PHS 4050/5050 Public Health Law, Ethics and Policy
PHS 7050 Public Health Law, Ethics and Policy
Research:
Recent Research on Public Health Research Guidelines
Funded through the Office of Research Integrity (ORI) of the Department of Health and Human Services and the Association of American Medical Colleges (AAMC).
In collaboration with the Public Health Leadership Society (PHLS), this project addresses the needs of public health professionals for guidelines and education on the ethics of public health research, particularly focusing on ways to distinguish and clarify the perplexing differences between public health practice and human subjects research.  The project will draw on the Principles of the Ethical Practice of Public Health (Code of Ethics), drafted and disseminated by PHLS members and recently adopted or endorsed by nine public health associations.  One project goal will be to specify and further explicate the Code's Principles and philosophy, particularly as they relate to public health research, in order to provide public health practitioners with a source of ethical guidance that is grounded in the profession's own ethical principles.  Another goal is to promote research integrity in the public health profession, at a time when public trust is critical.  The PHLS, through its Ethics Committee and Ethics Program Director, seeks support for the project's initial phase that features a planning workshop to bring together public health professionals in the field, including leaders from other relevant national public health associations that have either adopted or endorsed the Code, with experts in research ethics and public health ethics.  The workshop has three goals:
Determine how public health activities involving the collection and analysis of un-consented personal or group identifiable data, such as communicable disease surveillance and public health program evaluation data, are commonly used for research activities, including publications.
Assess the adequacy of current guidance on applicable research ethics provided by the Centers for Disease Control and Prevention and others.
Consider the creation of a "Task Force on the Public Health Code of Ethics and Research Integrity" to oversee the development of educational modules and appropriate professional research standards and review processes.
Link to More Information: