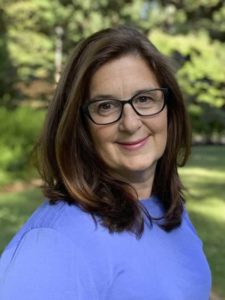 Wendy Cohn, Ph.D. conducts research broadly in public health and consumer health informatics. She develops programs and tools to improve the health of consumers and patients. Current research emphasizes cancer risk assessment, control and survivorship. Wendy is an Associate Professor with specific expertise in evaluation research methods. Her applied work utilizes these methods in program development, evaluation and implementation.
Associate Professor Biomedical Informatics
M.Ed., 1991, Educational Psychology; Ph.D., 1994, Evaluation Research, University of Virginia
P.O. Box 800717
Tel: 1-434-924-8565
Fax: 1-434-924-8437
Email:wfc2r@virginia.edu
Health System West Complex, Room 3217
Expertise:
Program Evaluation Consumer Health Informatics; Biomedical Informatics Survey Research & Qualitative Methods Program Planning & Project Management
Research Interests:
Current Funded Research:
Principal Investigator, Building a Genome-Enabled Electronic Medical Record (GenE EMR). (Co-PIs Cohn & Knaus), funded by the National Cancer Institute. The aims of this project are to : 1) develop a family health history decision support tool that is integrated into an electronic medical record 2) To explore the contextual issues around complexities of sharing electronic health information between family members 3) To conduct two comparative effectiveness studies in high risk cancers and the use of the Health Heritage tool.
Co-Investigator, An Internet Intervention for Insomnia: Efficacy and Dissemination.(PI Ritterband), funded by the National Institute of Mental Health. The aim of this project is to conduct a national trial of the Internet intervention for insomnia (Shuti) while examining issues of cost, disparity, and predictor variables.
Co-Investigator, Telemedicine for High Risk Obstetrics in underserved areas. (PIs Rheuban & Chisolm), funded by HRSA. The aim of this project is to provide and evaluate telemedicine services for high risk obstetrical patients in underserved locations in Virginia.
Teaching Responsibilities:
PHS 5620 – Built Environment & Public Health: Local to Global
PHS January Term – UVA in St. Kitts and Nevis
Recent Publications:
Lyman JA, Cohn WF, Bloomrosen M, Detmer DE. (2010) Clinical Decision Support: progress and opportunities. Journal of the American Medical Informatics Association. Sep-Oct; 17(5): 487-492. PMID. 20819850
Cohn, WF, Ropka, M., Pelletier, S., Barrett, J., Kinzie, M., Harrison, M., Liu, L., Miesfeldt, S., Tucker, A., Worrall, B., Gibson, J., Mullins, I., Elward, K., Franko, J., Guterbock, T., Knaus, W. Health Heritage, a Web-Based Tool for the Collection and Assessment of Family Health History: Initial User Experience and Analytic Validity 2010 Apr 29. [Epub ahead of print] PMID: 20424421
McGarvey EL, Leo-Verdin M, Killos LF, Guterbock T, Cohn WF. (2010 Sept 23) [Epub ahead of print] Health Disparities Between Appalachian and Non-Appalachian Counties in Virginia USA. Journal of Community Health. PMID: 20862529
Cohn W. F., Jones, S. M., & Miesfeldt, S. (2008). Are you at risk for hereditary breast cancer? Development of a personal risk assessment tool for hereditary breast and ovarian cancer. Journal of Genetic Counseling, 17(1), 64-78. PMID: 18181014
Reports:
TEACH Literature Review and Analysis