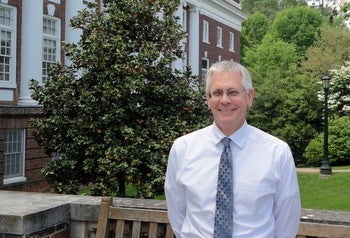 Mark Conaway received his PhD in 1985 in Statistics from the University of Minnesota. Dr. Conaway has been a faculty member in the UVA School of Medicine since 1996 when he was one of the first faculty members hired in the newly formed Department of Health Evaluation Sciences.
During his time at the UVA School of Medicine, Dr. Conaway has established a number of collaborations in basic, clinical and translational research, primarily in the areas of Pediatrics, Neurology, Cardiovascular Medicine and Cancer. Dr. Conaway has done methodological work in developing reference centiles, in methods for handling missing data, and in the design of dose-finding studies in cancer. Dr. Conaway was elected a Fellow of the American Statistical Association in 2012.
Professor
Director of Translational Research
Office of the Chair
Ph.D., Statistics, University of Minnesota, 1985
P.O. Box 800717
Tel: 1-434-924-8510
Fax: 1-434-924-8437
Email: mconaway@virginia.edu
Old Med School, Room 3885
Expertise:
Design and analysis for clinical trials; Statistical methods for animal models; Longitudinal data.
Research Interests:
Dr. Conaway's areas of research interest include: missing data, design of phase I and phase II clinical trials, and developing reference norms.
Teaching Responsibilities:
PHS 7310 Clinical Trials Methodology (secondary instructor)
Recent Publications:
Conaway, M. (2017) Isotonic Designs for Phase I Trials in Partially Ordered Groups. Clinical Trials. Vol 14. 5: 491-498. PMID: 28776422
Conaway MR (2017) A design for phase I trials in completely or partially ordered groups. Statistics in Medicine. 2017. Volume 36, Issue 15, pp 2323-2332 PMID:    PMC5571448
Burns, T., Sadjadi, R., Utsugisawa, K., Gwathmey, K., Joshi, A. , Jones S., Bril V., Barnett C.,  Guptill, J., Sanders D., Hobson-Webb, L.,  Juel, V., Massey, J., Gable, K., Silvestri, N.,  Wolfe, G., Cutter, G.,  Nagane, Y.,  Murai, H., Masuda, M., Farrugia, M., Carmichael C., Birnbaum S., Hogrel J-Y.,  Nafissi, S.,  Fatehi, F.,  Ou,C., Liu, W., and Conaway, M. (2016) An international clinimetric evaluation of the MG-QOL15, resulting in slight revision and subsequent validation of the MG-QOL15.  Muscle and Nerve. Muscle Nerve. 2016 Dec;54(6):1015-1022. PMID: 27220659
Gwathmey, K, Conaway, M., Sadjadi,R.,  Joshi, A. Barnett,C., Bril,V., Ng, E., David, W., Gable, K.,  Guptill, J., Hobson-Webb, L.,  Dineen, J.,  Hehir, M., Brannagan, T., Byun, E., Adler, M., and Burns, T. (2015) Construction and validation of the chronic acquired polyneuropathy patient-reported index, "CAP-PRI:" a disease-specific, health-related quality of life instrument.  Muscle and Nerve. [epub ahead of print]  DOI: 10.1002/mus.24985 PMID: 26600438
Scharf, R. , Stroustrup, A., Conaway, M. and deBoer, M. (2015) Growth and development in children born very low birthweight. Archive of Disease in Childhood –  Fetal and Neonatal Edition.   [epub ahead of print] doi:10.1136/archdischild-2015-309427.   PMID: 26627552
Wages NA, Conaway MR (2013) Specifications of a continual reassessment method design for phase I trials of combined drugs. Pharmaceutical Statistics. 2013 Jul;12(4):217-24 PMID: 23729323. PMCID: PMC3771354
Phillips, E., Conaway, M., Jagger, J. (2012) Percutaneous Injuries before and after the Needlestick Safety and Prevention Act. New England Journal of Medicine. 366: 7, p. 671-672. PMID: 22335760
Burns, T., Conaway, M., Cutter, G., Sanders, D. and the Muscle Study Group. (2008) Construction of an efficient evaluative instrument for myasthenia gravis: the MG composite. Muscle and Nerve 38: 1153-1562. PMID: 19016543
Willson DF, Thomas NJ, Markovitz BP, Bauman LA, DiCarlo JV, Pon S, Jacobs BR, Jefferson LS, Conaway MR, Egan EA, and members of the Pediatric Acute Lung Injury and Sepsis Investigators (PALISI) (2005) "Effect of Exogenous Surfactant (Calfactant) in Pediatric Acute Lung Injury, Journal of the American Medical Association 293 (4): 470-476
Conaway, M., Dunbar, S., and Peddada, S. (2004) "Designs for single or multiple agent phase I trials", Biometrics, 60, 661-669.