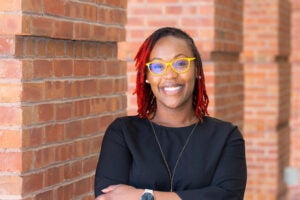 Kelsie D. Kelly, PhD MPH is an Assistant Professor in the Department of Public Health Sciences in the School of Medicine at the University of Virginia.
Dr. Kelly conducts research locally and globally examining health disparities among minority populations in urban and rural communities. She uses qualitative approaches to develop tools and interventions with community partners in her efforts to improve minority population's quality of life and overall well-being. Her current work includes examining racicsm, stress and trauma in public housing residents utilizing principles of CBPR , health education after-school programming in the Westhaven community and is the current Director of the Pathways Scholars Program recruiting minority students from HBCUs in Virginia.
Dr. Kelly holds specific expertise in CBPR and qualitative research methods, teaches methodology courses and advises current MPH students.
Assistant Professor Department of Public Health Sciences
Global Public Health Studies Advisor
Associate Dean for First year and transfer students and Director of Peer Advisors program in the Office of African American Affairs
Education and Training
B.S Psychology, Virginia State University;
MPH University of Virginia;
Ph.D., 2016, Community Health, University of Illinois Urbana-Champaign
Agriculture Safety and Health Traineeship Fellow, UIUC
NIHLBI COMRADE Fellow
P.O Box 800717
Tel:434.297.4659
Fax: 434.297.8437
Email: kdkelly@virginia.edu
West Complex 3rd Floor 3181
Expertise:
Health Behavior and Health Education. Sexual Health Education. Community Based Participatory Research to advance health equity in underrepresented public housing communities. Culturally respectful research implementation in community and global health. Qualitative and mixed-method approaches to community-based issues.
Teaching

PHS 5015/7015
PHS 7610
PHS 7060
Research Interests:
Her research highlights the lived experiences of minority populations as it pertains to the role of culture, housing and health in disparities research.
Recent Publications:

Kelly, K.D. , Oseideko, A., Ibe-Lamberts, K., & Ilunga-Tshiswaka, D. (2020) Exploring perceptions of Stress Factors among Transnational West African Immigrant Women. SN Social Sciences. Springer Publications
Richardson, J. W., & Kelly, K. D. (2020). It's not what you say, it's what you do: A CBPR approach using qualitative interviews. SAGE Research Methods Cases. doi:10.4135/9781529740356
Richardson JW, Kelly K.D, Kumodzi TK, Liburd NS, Laws H (2019) Type 2 Diabetes Prevalence, Distribution and Risk Factors in St. Kitts and Nevis, West Indies. Int J Diabetes Clin Res 6:114. doi. org/10.23937/2377-3634/1410114