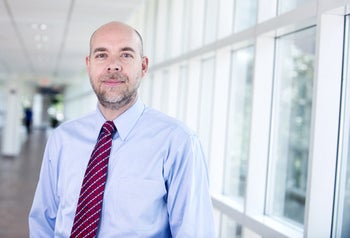 Jason Lyman, MD, MS is an Associate Professor of Biomedical Informatics and currently serves as Associate Chief Medical Information Officer for Informatics for the  UVA Health System.  Dr. Lyman completed his undergraduate medical training at the University of Vermont, followed by an internship in Pediatrics at UC-San Francisco with a subsequent NLM-funded fellowship and master's degree in Medical Informatics at Oregon Health and Science University.  In his current capacity, he provides medical informatics leadership and support for the Medical Center and the School of Medicine, working to develop and implement strategies to optimize the EHR for safe, high quality patient care, while providing physician leadership in data and documentation standardization initiatives to enable re-use of data for quality assessment, research, and education.  As Medical Director of the Clinical Data Repository, he oversees strategic direction of our research data warehouse, which enables secure, appropriate access to clinical and administrative data for biomedical investigators and outcomes researchers.
Associate Professor
Biomedical Informatics
M.D., 1997, University of Vermont
P.O. Box 800717
Tel: 1-434-924-8240
Fax: 1-434-924-8437
Email: jl3de@virginia.edu
Health System West Complex, Room 3181
Expertise:
General clinical informatics; Database design; Project management; Qualitative methods; Role of information technology in patient safety
Research Interests:
Clinical vocabularies; Informatics education; Physician order entry; Clinical data warehousing; Database design; Standards; Use of administrative data for quality assessment; Decision support
Teaching Responsibilities:
PHS 5450 – Health Care Informatics for Quality and Safety
PHS 7450: Database Design and Implementation; Clinical
Epidemiology Small Group Leader (2nd year medical students)
Thesis/Practicum Adviser for PHS students
Member, Executive Committee for NLM Informatics Training Grant
Recent Publications
Lyman JA, Cohn WF, Bloomrosen M, Detmer DE. Clinical Decision Support: Progress and Opportunities. J Am Med Inform Assoc 17(5) 2010.Lyman JA, Schorling J, Nadkarni M, May N, Scully K, Voss J. Development of a Web-based Resident Profiling Tool to Support Training in Practice-Based Learning and Improvement. Journal of General Internal Medicine. 23(4). 2008.
Lyman J, Scully K, Harrison JH. The Development of Healthcare Data Warehouses to Support Data Mining. Clinics in Laboratory Medicine 28(1). 2008.
John D. Voss, MD , Natalie B. May, PhD, John B. Schorling, MD, MPH, Jason A. Lyman, MD, MS, Joel M. Schectman, MD, MPH, Andrew M.D. Wolf, MD, Mohan M. Nadkarni, MD, and Margaret Plews-Ogan, M.D. Changing Conversations: Teaching Safety and Quality in Residency Training. Academic Medicine 83(11) 2008.
Weiner MG, Lyman JA, Murphy S, Weiner M. Electronic health records: high-quality electronic data for higher-quality clinical research. Informatics in Primary Care 2007. 15:121-7.