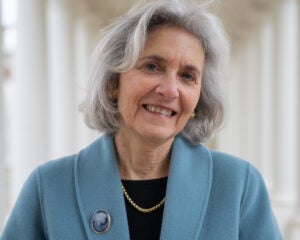 Gina R. Petroni, Ph.D., has been involved in the design, analysis and monitoring of clinical trials for more than 30 years.  Most of her experience has been in cancer clinical trials with work on the national level based with the CALGB cooperative group, now part of The Alliance for Clinical Trials in Oncology and institutional cancer center support grants at Duke University and UVA.  As a faculty member at UVA since 1996 and currently as director of the Division of Translational Research and Applied Statistics she continues to design, analyze and monitor results for clinical and translational studies.
Dr. Petroni was the founding Director of the UVA Cancer Center's Biostatistics Shared Resource and directed the resource from 1996 through the awarding of comprehensive status in 2022.  She has served on the UVA Health System's institutional review board (IRB) and the NCI Central IRB, has been a reviewer for NCI (Subcommittees A & D, CONC, PO1s, Special Emphasis Panels) & NIH either as a committee member or ad hoc, continuously for the last twenty years. Dr. Petroni serves as the statistical member on several DSMBs for multicenter trials, two that are coordinated out of university based networks and another that is coordinated out of NHLBI.  She is a current member of the NCI Investigational Drug Steering Committee (IDSC).
Professor and Director, Division of Translational Research & Applied Statistics
Ph.D., Biostatistics, University of Michigan
P.O. Box 800717
Tel: 1-434-924-8363
Fax: 1-434-243-5999
Email: gpetroni@virginia.edu
Old Med School, Room 3885
Expertise:
Design, analysis and monitoring of  clinical trials, observational and translational research.
Research Interests:
Dr. Petroni's areas of research interest include: early, middle and late phase clinical trial design and implementation.
Recent Publications:
Recent Book Chapters: Conaway MR and Petroni GR, (March 2021) "Dose-Finding and Dose-Ranging Studies" Principles and Practice of Clinical Trials, Editors: Piantadosi S, Meinert CL. Springer Reference.
Links:  A complete list of published works is available at Google Scholar
Conaway MR and Petroni GR. The impact of early phase trial design in the drug development process. Clin Cancer Res. 2019 Jan 15;25(2):819-827. doi: 10.1158/1078-0432.CCR-18-0203. Epub 2018 Oct 16. PMID: 30327310 PMC6335181
Melssen M, Petroni G, Chianese-Bullock K, Wages N, Grosh W, Varhegyi N, Smolkin M, Smith K, Galeassi N, Deacon D, Gaughan E, Slingluff C. A Multipeptide Vaccine Plus Toll-like Receptor Agonists LPS or polyICLC in Combination with Incomplete Freund's Adjuvant in Melanoma Patients. J Immunother Cancer. 2019 Jun 27;7(1):163. doi: 10.1186/s40425-019-0625-x. PMID: 31248461 PMCID: PMC6598303
Wages NA, Slingluff CL, Bullock TN, Petroni GR. Tailoring early‑phase clinical trial design to address multiple research objectives. Cancer Immunol Immunother 2020; 69: 95-102. PMID: 31807879 PMCID: PMC6952569.
Wages NA, Millard TA, Dillon PM, Brenin CM, Petroni GR. Efficient dose-finding for drug combination studies involving a shift in study populations. Contemp Clin Trials Commun. Epub 2020 Jan 7;17:100519. doi: 10.1016/j.conctc.2020.100519. PMID: 31938755 PMCID: PMC6953647
Duska LR, Petroni GR, Varhegyi N, Brown J, Jelovac D, Moore KN, McGuire WP, Darus C, Barroilhet LM, Secord AA. A Randomized Phase II Evaluation of Weekly Gemcitabine Plus Pazopanib Versus Weekly Gemcitabine Alone in the Treatment of Persistent or Recurrent Epithelial Ovarian, Fallopian Tube or Primary Peritoneal Carcinoma. Gynecol Oncol. 2020 Jun;157(3):585-592. PMID: 32247603.
Wages NA, Reed DR, Keng MK, Conaway MR, Petroni GR. Adapting isotonic dose-finding to a dynamic set of drug combinations with application to a phase I leukemia trial. Clin Trials. 2021 Jan 10;1740774520983484. doi: 10.1177/1740774520983484. PMID: 33426919 PMCID: PMC8172388
Slingluff CL Jr, Petroni GR, Chianese-Bullock KA, Wages NA, Olson WC, Smith KT, Haden K, Dengel LT, Dickinson A, Reed C, Gaughan EM, Grosh WW, Kaur V, Varhegyi N, Smolkin M, Galeassi NV, Deacon D, Hall EH. Trial to evaluate the immunogenicity and safety of a melanoma helper peptide vaccine plus incomplete Freund's adjuvant, cyclophosphamide, and polyICLC (Mel63). J Immunother Cancer. 2021 Jan;9(1):e000934. doi: 10.1136/jitc-2020-000934. PMID: 33479025; PMCID: PMC7825263.
Meneveau MO, Petroni GR, Salerno EP, Lynch KT, Smolkin M, Woodson E, Chianese-Bullock KA, Olson WC, Deacon D, Patterson JW, Grosh WW, Slingluff CL. Immunogenicity in humans of a transdermal multipeptide melanoma vaccine administered with or without a TLR7 agonist. J Immunother Cancer. 2021 May;9(5):e002214. doi: 10.1136/jitc-2020-002214. PMID: 34035112; PMCID: PMC8154977.
Reed DR, Petroni GR, West M, Jones C, Alfaraj A, Williams PG, DeGregory K, Grose K, Monson S, Varadarajan I, Volodin L, Donowitz GR, Kindwall-Keller TL, Ballen KK. Prophylactic pretransplant ganciclovir to reduce cytomegalovirus infection after hematopoietic stem cell transplantation. Hematol Oncol Stem Cell Ther. 2023 Jan 12;16(1):61-69. doi: 10.1016/j.hemonc.2021.05.001. PMID: 36634280.
Patel SP, Petroni GR, Roszik J, Olson WC, Wages NA, Chianese-Bullock KA, Smolkin M, Varhegyi N, Gaughan E, Smith KT, Haden K, Hall EH, Gnjatic S, Hwu P, Slingluff CL. Phase I/II trial of a long peptide vaccine (LPV7) plus toll-like receptor (TLR) agonists with or without incomplete Freund's adjuvant (IFA) for resected high-risk melanoma. J Immunother Cancer. 2021 Aug;9(8):e003220. doi: 10.1136/jitc-2021-003220. PMID: 34413169; PMCID: PMC8378357.
Wages NA, Horton BJ, Conaway MR, Petroni GR. Operating characteristics are needed to properly evaluate the scientific validity of phase I protocols. Contemp Clin Trials. 2021 Sep;108:106517. doi: 10.1016/j.cct.2021.106517. Epub 2021 Jul 25. PMID: 34320376; PMCID: PMC8453118.
Vavolizza RD, Petroni GR, Mauldin IS, Chianese-Bullock KA, Olson WC, Smith KT, Dengel LT, Haden K, Grosh WW, Kaur V, Varhegyi N, Gaughan EM and Slingluff Jr CL. Phase I/II clinical trial of a helper peptide vaccine plus PD-1 blockade in PD-1 antibodynaïve and PD-1 antibodyexperienced patients with melanoma (MEL64). J Immunother Cancer. 2022 Sep;10(9):e005424. doi: 10.1136/jitc-2022-005424. PMID: 36100309