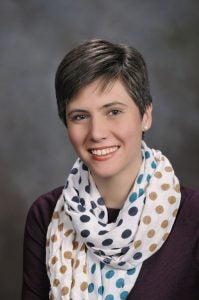 Kathleen Porter is a PhD-trained, registered dietitian whose research focuses on the implementation and effectiveness of evidenced-based health education programs as a means to reduce risk for preventive diseases, including cancer, obesity, and diabetes. She is a Co-I on a NIH/NCI R21-funded type 2 hybrid effectiveness-implementation trial assessing the implementation and effectiveness of SIPsmartER, an evidenced-based intervention to reduce sugar-sweetened beverage intake, when delivered by health department staff. Dr. Porter is also a leading team member on a project to develop and implement a middle-school version of SIPsmartER for rural middle schools. Previously, she was a key staff member on the effectiveness trial of SIPsmartER, where her research focus on the implementation and utility of health and media literacy techniques and on the participant experience in the intervention. Dr. Porter's doctoral work explored the distribution and implementation of nutrition education programs in 614 New York City public elementary schools. She also conducted a number of small, feasibility studies of cooking-focused nutrition education programs in urban afterschool and summer programs during her doctoral training. In addition to her research experience, Dr. Porter has fifteen years of professional experience as a nutrition educator and evaluator.
Assistant Professor of Research
Department of Public Health Sciences
Email: kjporter@virginia.edu
Phone: 434-270-6599
Address: 16 E. Main St. Christiansburg, Virginia 24073
Training:
Post-Doctoral Training, Virginia Tech, Human Nutrition, Foods and Exercise
Ph.D., Teachers College Columbia University, Behavioral Nutrition
M.S., Teachers College Columbia University, Nutrition Education
B.S., University of Connecticut, Dietetics
Research Interests: behavioral interventions targeting obesity-related behaviors; school health; health and media literacy; dissemination and implementation research; mixed-methods research
Current Funding:
SIPsmartER Southwest Virginia: A systems-based approach to disseminate and implement an effective sugar-sweetened beverage reduction intervention
Role:       Co-Investigator
Agency:  National Institutes of Health/ National Cancer Institute
Focus:    To collaboratively develop and execute a SIPsmartER implementation intervention/strategy and describe how four medically-underserved Southwest Virginia Department of Health (VDH) adapt, adopt, and implement SIPsmartER.  Secondary aims include individual-level reach and effectiveness on sugar-sweetened beverage behaviors.
Selected publications:
Porter KJ, Koch PA, Contento IR, Peralta R. Expanding nutrition education programs in New York City public elementary schools: Understanding practice to inform policy. Laurie M. Tisch Center for Food, Education & Policy, Program in Nutrition at Teachers College Columbia University. March 2014.
Porter KJ, Chen Y, Estabrooks P, Noel L, Bailey A, Zoellner J. Using teach back to understand participant behavioral self-monitoring skills across health literacy levels. Journal of Nutrition Education and Behavior. 2016; 48(1): 20-26.
Bailey A, Porter KJ, Lee J, Zoellner JM. Impact of health literacy status on participant satisfaction with different components of SIPsmart Health Education Research. 2016; 31(4):492-508.
Lane H, Porter KJ, Estabrooks PA, Zoellner J. Sugar-sweetened beverage interventions for children and adolescents: A RE-AIM review. Journal of the Academy of Nutrition and Dietetics. 2016; 116(8): 1295-1307. doi: 1016/j.jand.2016.04.015.
Zoellner JM, Hedrick VE, You W, Chen Y, Davy BM, Porter KJ, Bailey A, Lane H, Alexander R, Estabrooks PA. Effects of a behavioral and health literacy intervention to reduce sugar-sweetened beverages: a randomized-control trial. International Journal of Behavioral Nutrition and Physical Activity; 2016; 13:38. doi: 1186/s12966-016-0362-1
Chen YC, Porter KJ, Estabrooks PE, Zoellner JM. Development and evaluation of the Sugar-Sweetened Beverages Media Literacy (SSBML) scale and its relationship with demographic and health literacy characteristics. Health Communication. 2016; e-pub ahead of printing: DOI: 1080/10410236.2016.1220041
Zoellner J, Porter K. "Translational Research: Concepts and Methods in Dissemination and Implementation Research," book chapter in Nutrition in the Prevention and Treatment of Disease, Coultson AM, Boushey CJ editors. 4th edition. (In Press, forthcoming 2017)
Porter KJ, Chen YC, Lane H, Zoellner JM. Utility of counter-ads in adult media literacy education targeting sugar-sweetened beverage intake. Journal of Nutrition Education and Behavior. [Revise & Resubmit January 2017.]
Porter KJ, Koch P, Contento IR. Nutrition education in elementary schools: How and why schools initiate, implement, and institutionalize nutrition education programs from outside organizations. Journal of School Health. [Revise & Resubmit March 2017]