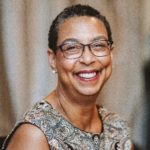 Jeanita W. Richardson is a Professor and Director of Educational Program Enhancement in the Department of Public Health Science (PHS) in the University of Virginia, School of Medicine.
She has over 20 years of expertise in applied qualitative and quantitative strategies designed to assess and advance health equity outcomes through research, teaching and mutually beneficial community partnerships. In collaboration with international ministries of health, federal, state and local educational and health bodies, she offers data-driven recommendations and has earned a reputation as an advocate for optimizing the health of populations.
As Director of  Educational Program Enhancement, she promotes educational excellence through professional development activities for teaching faculty, such as workshops, trainings, skill development, etc. on educational pedagogy; fosters respectful community collaborations, education, and research; and, provides opportunities for teaching faculty to adopt and share innovative strategies to promote student competency proficiency to include sharing their innovations at conferences and in manuscript submissions. She oversees a variety of community-led and community-based initiatives, outreach programs and research projects to foster mutually beneficial solutions to complex problems. Her experience in community engagement and research mentorship make her a highly sought after resource for culturally respectful research and programmatic practices. Research collaborations include but have not been limited to, the W.K Kellogg Foundation, the St. Kitts and Nevis Ministry of Health, the Public Housing Association of Residents (PHAR), the Center for School, Health & Education (APHA) and the Water and Health in Limpopo (WHIL) (SA) collaborative.
Dr. Richardson is recognized internationally for her particular expertise in designing effective strategies to enhance the health of children through public health partnerships with schools.  Her edited book, School-based Health Care: Advancing Both Educational Success & Public Health, has been recognized by the American Public Health Association as the first volume of its kind.
Examples of external funding include, being Co-PI of a five year NIH Minority Health and Health Disparities Training Grant with research sites in South Africa, Uganda and St. Kitts and Nevis; an Association for Prevention Teaching and Research, and Commonwealth of Virginia Public Health Training Grant. Examples of funded initiatives include her creation of the UVA MPH Pathways program and curriculum designed to identify and mentor highly qualified under-represented students of color in the health sciences and the 8-year Ministry of Health collaboration that investigated child asthma and type two diabetes prevalence in St. Kitts and Nevis.
Her scholarship highlights the nexus between health and learning readiness in children and the role of culturally respectful approaches to research. Her work has been published in the American Journal of Public Health, Pedagogy in Health Promotion, the Journal of School Health, the Journal of Interpersonal Violence, Public Health Reports, the Journal of Children and Poverty, the West Indies Medical Journal, the International Journal of Educational Reform, Widening Participation in Lifelong Learning, Education and Urban Society and the Journal of Negro Education.  Books to her credit include: Advancing St. Kitts and Nevis Health through a Global Partnership, School-based Healthcare: Advancing Both Educational Success & Public Health, The Full-Service Community School Movement: Lessons from the James Adams Community School, The Cost of Being Poor, and Suffer the Little Children: National and International Dimensions of Child Poverty.
As an instructional leader, she believes teaching and mentorship to be a dynamic exchange.  While one always has in mind the proficiencies one hopes students will gain, it is critical to assess students' understanding and experience as the starting point. For domestic and international faculty and students she has developed curriculum fostering "Global Commitment & Global Respect".  For community members she designed trainings familiarizing participants with the research process and terminology.  She consistently delivers creative, effective instruction to facilitate student (and mentee) knowledge acquisition while also encouraging students to be politically astute, reflective, culturally respectful, and critical consumers of information.  Her 25+ years of teaching expertise spans the educational continuum from 8th grade public school students to junior faculty colleagues.
Her Ph.D. in Educational Policy with a concentration in special interest group politics and M.Ed. in Curriculum & Instruction were earned from the University of Virginia. In addition to her academic appointments, she has worked as a senior policy and budget analyst for the Commonwealth of Virginia, a consultant to the W.K. Kellogg Foundation and the Center for School Health and Education (APHA), a public school educator, and corporate banker.
P.O. Box 800717
Tel: 1-434-924-8784
Fax: 1-434-924-8437
Email: jwr4f@virginia.edu
Health System West Complex, Room 3215
Expertise:
Qualitative and mixed-method approaches to community-based issues. Culturally respectful research implementation in community and global health. Comprehensive health and educational policy analyses. Provision of technical assistance to community-based organizations seeking to partner with and engage political and corporate entities to advance health equity.
Research Interests:
Her research highlights the needs of populations society devalues particularly as it pertains to the nexus between the health and learning readiness of children and the role of culturally sensitive approaches to research.
Teaching Responsibilities:
PHS 5815/7815 Social Determinants of Child Health
PHS 7015/5015 Qualitative Methods for Community & Global Health
PHS 7610 Health Promotion & Health Behavior
PHS 8125 Qualitative Data Analysis
PHS 8960 Qualitative Practicum
Sample Publications 
Richardson, JW (2020) An Active Learning Approach to Teaching Social Determinants of Health. Pedagogy in Health Promotion. DOI: 10.1177/2373379920933311
Richardson, JW & Kelly, KD (2020) It's not what you say, it's what you do: A CBPR Approach Using Qualitative Interviews SAGE Research Methods Cases: Medicine and Health DOI: https://dx.doi.org/10.4135/9781529740356
Richardson, JW, Kelly, KD, Kumodzi, TK, Slack-Liburd, N, Laws, H (2019) Type 2 Diabetes Prevalence, Distribution and Risk Factors in St. Kitts and Nevis, West Indies. Int J Diabetes Clin Res 6:114  Volume 6 | Issue 4  DOI: 10.23937/2377-3634/1410114
*Richardson, JW, Conn, C. Tchuisseu, YP, Omar, D, Browne, A, King, S, Crawford-Johnson, M, Swaby, N, Wills, A, Herbert, A, OConnor, M, Mills, G.  Determining the Prevalence of Type Two Diabetes and its Risk Factors in Nevis, WI. West Indies Medical Journal.
Yablansky, A., Devers, E., Richardson, JW (2016) Hard is Normal: Military Families' Transitions within the Process of Deployment. Research in Nursing  & Health 36: 42-56.