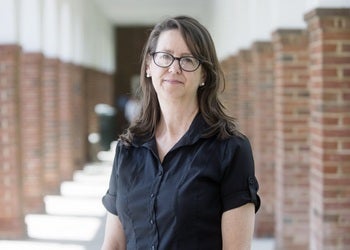 Peter A. Wallenborn, Jr. and Dolly F. Wallenborn Professor of Biomedical Ethics; Professor of Public Health Sciences; Professor of Law
J.D., Yale Law School, 1987
B.A., University of North Carolina, 1984
E-Mail: lls4b@virginia.edu
Lois Shepherd is an expert in the fields of health law and bioethics. Joining the faculty of the University of Virginia in 2008, she has a primary appointment in the School of Medicine's Department of Public Health Sciences and a secondary appointment in the School of Law.  She is based in the Center for Health Humanities and Ethics, where she directs the Center's programs in medicine and law and is a co-director of Studies in Reproductive Ethics and Justice. In 2021, Professor Shepherd became a member of the national Secretary's Advisory Committee on Human Research Protections (SACHRP).
Professor Shepherd's scholarly and teaching interests focus on legal and ethical issues in end-of-life decision-making, reproduction, human subjects research, organ transplantation, disability, professionalism, and theoretical foundations of bioethics.  She is the co-author of Bioethics and the Law (Wolters Kluwer), now in its fourth edition (2019); a symposium issue of the Journal of Law, Medicine, and Ethics on "The Medicalization of Poverty" (2018), and the author of If That Ever Happens to Me:  Making Life and Death Decisions After Terri Schiavo (UNC Press, 2008).  She regularly publishes in law reviews, medical journals, and bioethics journals. Recent work appears in the Journal of Law, Medicine, and Ethics, the American Journal of Bioethics, the Hastings Center Report, and Bioethics.
Recent courses include, among others:  Bioethics and the Law (law); short courses combining law, medical, and other graduate students in Reproductive Ethics and Law and Topics in Law, Medicine, and Society; and a graduate level internship in Bioethics:  Health Policy and Administration.  She also contributes to the Medical School's Undergraduate Medical Education.
Professor Shepherd has served on the UVA Health System's ethics committee and institutional review board for over a decade.  In 2013-2015, she chaired a University task force on non-tenure track faculty that led to the implementation of major policy reforms relating to career advancement, job security, and status for the General Faculty at UVA.
After receiving her law degree from Yale University, where she served as a senior editor of the Yale Law Journal, Professor Shepherd practiced corporate law for six years with the Charlotte, N.C., firm of Robinson, Bradshaw & Hinson, P.A. She began her academic career in 1993 at the Florida State University College of Law. Prior to joining the UVA faculty, Shepherd was the Florida Bar Health Law Section Professor and D'Alemberte Professor of Law at Florida State.
Recent and Select Publications:
Shepherd, L., Pike, C.W., Persily, J.B., Marshall, M.F., "The Case of Hannah Capes: How Much Does Consciousness Matter?" Neuroethics 2022; 15(1): 14-30.
Chen DT, Shepherd L, Taylor J, et al., Who will receive the last ventilator: why COVID-19 policies should not prioritise healthcare workers, Journal of Medical Ethics Published Online First: 25 June 2021. doi: 10.1136/medethics-2021-107248, https://jme.bmj.com/content/early/2021/06/25/medethics-2021-107248.info.
Chen, D., Shepherd, L., Muse, E., Johnston, A., What Medical Students Teach: The Healing Skill of Being a Team Player, Hastings Center Report 2019; 49(5): 38-47.
Shepherd, L. Macklin, R. Erosion of Informed Consent in U.S. Research. Bioethics. 2018: 1-9.
Shepherd, L., Turner, H.D. The Over-medicalization of Abortion and its Effect on Poor Women, Journal of Law, Medicine, and Ethics 46(3): 672-679, 2018.
Monfared, L., Shepherd, L. Organ Procurement Now: Does the U.S. Still Opt In?  2017 University of Illinois Law Review
Shepherd, L. SUPPORT and Comparative Effectiveness Trials: What's at Stake?, Hastings Center Report 2015, 45 (1): 44-45.
Shepherd L. The Hair Stylist, the Corn Merchant, and the Doctor:  Ambiguously Altruistic, Journal of Law, Medicine & Ethics, 2014; 42(4): 509-517.http://onlinelibrary.wiley.com/doi/10.1111/jlme.12172/abstract
Macklin R., Shepherd L. Informed Consent and Standard of Care: What Must Be Disclosed, American Journal of Bioethics, 2013; 13(12): 9-13 (target article).
Macklin R., Shepherd L., Dreger A, et al., OHRP and SUPPORT—Another View, N Engl J Med2013; 369:3 July 11, 2013DOI: 10.1056/NEJMc1308015 (with total of 45 signatories).http://www.nejm.org/doi/full/10.1056/NEJMc1308015