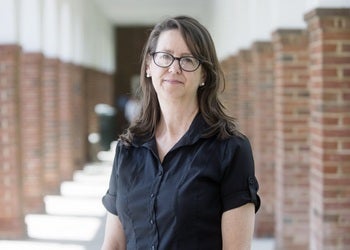 Lois Shepherd
Peter A. Wallenborn, Jr. and Dolly F. Wallenborn Professor of Biomedical Ethics; Professor of Public Health Sciences; Professor of Law
J.D., Yale Law School, 1987
B.A., University of North Carolina, 1984
E-Mail: lls4b@virginia.edu
Lois Shepherd is an expert in the fields of health law and bioethics. Her primary appointment is in the medical school's Center for Biomedical Ethics and Humanities where she directs the center's programs in medicine and law. She teaches courses in health care law and ethics at both the law school and the medical school.
After receiving her law degree from Yale University, where she
served as a senior editor of the Yale Law Journal, Shepherd
practiced corporate law for six years with the Charlotte, N.C.,
firm of Robinson, Bradshaw & Hinson, P.A. She began her academic career in 1993 at the Florida State University College of Law. Prior to joining the UVA faculty, Shepherd was the Florida Bar Health Law Section Professor and D'Alemberte Professor of Law at Florida State.
Within the field of bioethics and law, Shepherd's current
scholarly and teaching interests are focused on legal and ethical issues at the end of life and in human subject research.
Recent Publications:
Shepherd, L. SUPPORT and Comparative Effectiveness Trials: What's at Stake?, Hastings Center Report 2015, 45 (1): 44-45.
Shepherd L. The Hair Stylist, the Corn Merchant, and the Doctor:  Ambiguously Altruistic, Journal of Law, Medicine & Ethics, 2014; 42(4): 509-517.http://onlinelibrary.wiley.com/doi/10.1111/jlme.12172/abstract
Shepherd, L. The End of End-Life Law, 2014, North Carolina Law Review 92: 1693-1748.http://papers.ssrn.com/sol3/papers.cfm?abstract_id=2457152
Macklin R., Shepherd L. Informed Consent and Standard of Care: What Must Be Disclosed,American Journal of Bioethics, 2013; 13(12): 9-13 (target article).
Macklin R., Shepherd L., Dreger A, et al., OHRP and SUPPORT—Another View, N Engl J Med2013; 369:3 July 11, 2013DOI: 10.1056/NEJMc1308015 (with total of 45 signatories).http://www.nejm.org/doi/full/10.1056/NEJMc1308015
Shepherd L. The SUPPORT Study and the Standard of Care, Bioethics Forum (Hastings Center Report), May 17, 2013, http://www.thehastingscenter.org/Bioethicsforum/Post.aspx?id=6358&blogid=140.