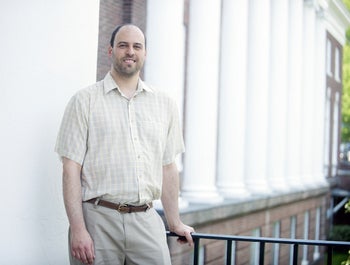 As a senior biostatistician employed by UVA since 2002, Mark works on various statistical projects for the Cancer Center and the Human Immune Therapy Center, and performs other general consulting duties.
Senior Biostatistician
Translational Research & Applied Statistics
M.S., 2002, University of Michigan, Biostatistics
P.O. Box 800717
Tel: 1-434-982-1032
Fax: 1-434-924-8437
Email: mes6r@virginia.edu
Old Med School, Room 3894
Recent Publications:
Slingluff CL Jr, Petroni GR, Olson WC, Smolkin ME, Ross MI, Haas NB, Grosh WW, Boisvert ME, Kirkwood JM, Chianese-Bullock KA. Effect of granulocyte/macrophage colony-stimulating factor on circulating CD8+ and CD4+ T-cell responses to a multipeptide melanoma vaccine: outcome of a multicenter randomized trial. Clinical Cancer Research. 2009 Nov 15;15(22):7036-44.
Jochen T Schaefer, James W Patterson, Donna H Deacon, Mark E Smolkin, Gina R Petroni, Emily M Jackson and Craig L Slingluff Jr. Dynamic changes in cellular infiltrates with repeated cutaneous vaccination: a histologic and immunophenotypic analysis. Journal of Translational Medicine 2010; 8:79.