Dr. Wages is an Associate Professor in the Division of Translational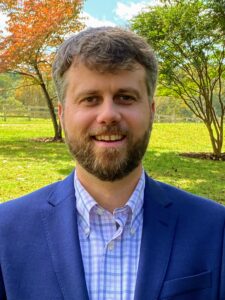 Research & Applied Statistics in the Department of Public Health Sciences and the Co-Director of the Center for Early Phase Trials (CEPT). He is an active member of the UVA Cancer Center Biostatistics Shared Resource. Dr. Wages is part of a national research effort to change the way early-phase clinical trials in oncology are done, not only through the pursuit of novel statistical methods but also by focusing on the successful implementation of developed methods into real studies. He collaborates with cancer center members in tailoring clinical trial designs to meet contemporary research objectives in early drug development. Dr. Wages is the Principal Investigator of current NIH/NCI R01 funding entitled "Dose-finding designs for late-onset toxicities."
Associate Professor
Translational Research & Applied Statistics
Ph.D., Statistics, University of Virginia, 2010
P.O. Box 800717
Tel: 1-434-924-8222
Fax: 1-434-243-5787
Email: nwages@virginia.edu
West Complex Old Med School Room 3890
Research Interests:
Design, monitoring, and analysis of early-phase clinical trials in oncology.
Professional Service:
Associate Editor, Clinical Trials.
Faculty member, ASCO/AACR Methods in Clinical Cancer Research Workshop; Vail, CO.
Reviewer, NIH Clinical Oncology (CONC) Study Section.
Teaching Responsibilities:
PHS 7310 – Clinical Trials Methodology
Additional Resources:
Selected Publications:
Wages NA, Sanders JC, Smith A, Wood S, Anscher MS, Varhegyi N, Krupski TL, Showalter TN. Hypofractionated post-prostatectomy radiotherapy for prostate cancer to reduce toxicity and improve patient convenience: A Phase I/II trial. Int J Radiat Oncol Biol Phys 2021; 109: 1254-1262. PMID: 33227441
Muller DA, Wages NA, Wilson DD, et al.  STAT RAD: A prospective dose escalation clinical trial of single fraction scan-plan-QA-treat SBRT for painful osseous metastases. Pract Radiat Oncol 2020; 10: e444-e451. PMID: 32289551.
Wages NA, Slingluff CL, Jr, Bullock TN, Petroni GR. Tailoring early-phase design to address multiple research objectives. Cancer Immunol Immunother 2020; 69: 95-102. PMID: 31807879.
Melssen MM, Petroni GR, Chianese-Bullock KA, Wages NA, et al. A multipeptide vaccine plus toll-like receptor agonists LPS or polyICLC in combination with incomplete Freund's adjuvant in melanoma patients. J Immunother Cancer 2019; 7: 163. PMID: 31248461 .
Hobbs B, Barata P, Kanjanapan Y, Paller C, Perlmutter J, Pond GR, Prowell T, Rubin E, Seymour L, Wages NA, et al. Seamless designs: current practice and considerations for early phase drug development in oncology. J Natl Cancer Inst 2019; 111: 118-28. PMID: 30561713.
Wages NA, Chiuzan C, Panageas KS. Design considerations for early-phase clinical trials of immune-oncology agents. J Immunother Cancer 2018; 6: 81. PMCID: PMC6103998.
Wages NA, Portell CA, Williams ME, Conaway MR, Petroni GR. Implementation of a model-based design in a phase 1b study of combined targeted agents. Clin Cancer Res 2017; 23: 7158-64. PMCID: PMC5712236.
Wages NA, Slingluff CL, Jr, Petroni GR. Statistical controversies in clinical research. early-phase adaptive design for combination immunotherapies. Ann Oncol 2017; 35: 696-701. PMID: 28011450.
Wages NA, Conaway MR, O'Quigley J. Continual reassessment method for partial ordering. Biometrics 2011; 67: 1555-63. PMCID: PMC3141101.
        A complete list of published work is available at MyBibliography and Google Scholar.