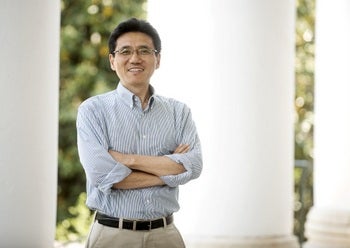 Xin-Qun Wang has been a biostatistician in the University of Virginia School of Medicine since 1997.  As a senior biostatistician, he provides statistical support to basic science, biomedical, clinical, and translational researchers at UVA, including study design, data analysis, and grant and manuscript preparation. His collaborations are primarily in the areas of Addiction, Cardiovascular Disease, Neurology, Infectious Disease, and Cancer.
Senior Biostatistician
M.S., Statistics, Virginia Commonwealth University, 1997
Tel: 1-434-924-8519
Fax: 1-434-924-8437
E-mail: xw9r@virginia.edu
P.O. Box 800717
Old Med School, Room 3883
Expertise:
My main interests are in designing and analyzing clinical trials, comparative effectiveness, and health services and outcome studies, and in statistical consulting.
Publications:
Ani Manichaikul, Lauren Cole Peres, Xin-Qun Wang, Mollie Barnard, Deanna Chyn, Xin Sheng, Zhaohui Du, Jonathan Tyrer, Joseph Dennis, Ann G. Schwartz, Michele L. Cote, Edward Peters, Patricia G. Moorman, Melissa Bondy, Jill S. Barnholtz-Sloan, Paul Terry, Anthony J. Alberg, Elisa V. Bandera, Ellen Funkhouser, Anna H. Wu, Celeste Leigh Pearce, Malcom Pike, Veronica Wendy Setiawan, Christopher A. Haiman, Loic LeMarchand,  Lynne R. Wilkens, Andrew Berchuck, Jennifer A. Doherty, Francesmary Modugno, Roberta Ness, Kirsten Moysich, Beth Y. Karlan, Alice S. Whittemore, Valerie McGuire, Weiva Sieh, Kate Lawrenson, Simon Gayther, Thomas A. Sellers, Paul Pharoah, Joellen M. Schildkraut, on behalf of the African American Cancer Epidemiology Study (AACES) and the Ovarian Cancer Association Consortium (OCAC). Identification of novel epithelial ovarian cancer loci in Women of African Ancestry. Int J Cancer. 2020 Jun 1;146(11):2987-2998. DOI:10.1002/ijc.32653. PMID: 31469419
Christi A. Patten, Xin-Qun Wang, Melissa A. Little, Jon O. Ebbert, Gerald W. Talcott, Ann S. Hryshko-Mullen & Robert Klesges. Influence of gender on initiation of tobacco and nicotine containing product use among U.S. air force trainees. Prev Med Rep. 2020 May 5;19:101104. DOI:10.1016/j.pmedr.2020.101104. PMID:32435579
Grant DJ, Manichaikul A, Alberg AJ, Bandera EV, Barnholtz-Sloan J, Bondy M, Cote ML, Funkhouser E, Moorman PG, Peres LC, Peters ES, Schwartz AG, Terry PD, Wang XQ, Keku TO, Hoyo C, Berchuck A, Sandler DP, Taylor JA, O'Brien KM, Velez Edwards DR, Edwards TL, Beeghly-Fadiel A, Wentzensen N, Pearce CL, Wu AH, Whittemore AS, McGuire V, Sieh W, Rothstein JH, Modugno F, Ness R, Moysich K, Rossing MA, Doherty JA, Sellers TA, Permuth-Way JB, Monteiro AN, Levine DA, Setiawan VW, Haiman CA, LeMarchand L, Wilkens LR, Karlan BY, Menon U, Ramus S, Gayther S, Gentry-Maharaj A, Terry KL, Cramer DW, Goode EL, Larson MC, Kaufmann SH, Cannioto R, Odunsi K, Etter JL, Huang RY, Bernardini MQ, Tone AA, May T, Goodman MT, Thompson PJ, Carney ME, Tworoger SS, Poole EM, Lambrechts D, Vergote I, Vanderstichele A, Van Nieuwenhuysen E, Anton-Culver H, Ziogas A, Brenton JD, Bjorge L, Salvensen HB, Kiemeney LA, Massuger LFAG, Pejovic T, Bruegl A, Moffitt M, Cook L, Le ND, Brooks-Wilson A, Kelemen LE, Pharoah PDP, Song H, Campbell I, Eccles D, DeFazio A, Kennedy CJ, Schildkraut JM. Cancer Med. 2019 May;8(5):2503-2513. PMID:31001917
Patten C, Wang XQ, Ebbert JO, Little MA, Talcott GW, Hryshko-Mullen AS, Klesges RC. Influence of gender and peer tobacco use on tobacco use intentions after a period of involuntary tobacco abstinence among U.S. Air Force trainees. Prev Med Rep. 2019 Jan 20;13:270-276. PMID:30723662
Blevins D, Wang XQ, Sharma S, Ait-Daoud N. Impulsiveness as a predictor of topiramate response for cocaine use disorder. Am J Addict. 2019 Feb;28(2):71-76. PMID:30664303
Manichaikul A, Wang XQ, Li L, Erdmann J, Lettre G, Bis JC, Waterworth D, Cushman M, Jenny NS, Post WS, Palmas W, Tsai MY, Wallentin L, White H, Schunkert H, O'Donnell CJ, Herrington DM, Rich SS, O'Donoghue ML, Rodriguez A. Lp-PLA2, scavenger receptor class B type I gene (SCARB1) rs10846744 variant, and cardiovascular disease. PLoS One. 2018 Oct 5;13(10):e0204352. PMID:30289950
Wyss AB, Sofer T, Lee MK, Terzikhan N, Nguyen JN, Lahousse L, Latourelle JC, Smith AV, Bartz TM, Feitosa MF, Gao W, Ahluwalia TS, Tang W, Oldmeadow C, Duan Q, de Jong K, Wojczynski MK, Wang XQ, Noordam R, Hartwig FP, Jackson VE, Wang T, Obeidat M, Hobbs BD, Huan T, Gui H, Parker MM, Hu D, Mogil LS, Kichaev G, Jin J, Graff M, Harris TB, Kalhan R, Heckbert SR, Paternoster L, Burkart KM, Liu Y, Holliday EG, Wilson JG, Vonk JM, Sanders JL, Barr RG, de Mutsert R, Menezes AMB, Adams HHH, van den Berge M, Joehanes R, Levin AM, Liberto J, Launer LJ, Morrison AC, Sitlani CM, Celedón JC, Kritchevsky SB, Scott RJ, Christensen K, Rotter JI, Bonten TN, Wehrmeister FC, Bossé Y, Xiao S, Oh S, Franceschini N, Brody JA, Kaplan RC, Lohman K, McEvoy M, Province MA, Rosendaal FR, Taylor KD, Nickle DC, Williams LK, Burchard EG, Wheeler HE, Sin DD, Gudnason V, North KE, Fornage M, Psaty BM, Myers RH, O'Connor G, Hansen T, Laurie CC, Cassano PA, Sung J, Kim WJ, Attia JR, Lange L, Boezen HM, Thyagarajan B, Rich SS, Mook-Kanamori DO, Horta BL, Uitterlinden AG, Im HK, Cho MH, Brusselle GG, Gharib SA, Dupuis J, Manichaikul A, London SJ. Multiethnic meta-analysis identifies ancestry-specific and cross-ancestry loci for pulmonary function. Nat Commun. 2018 Jul 30;9(1):2976.PMID:30061609
Bond AE, Shah BB, Huss DS, Dallapiazza RF, Warren A, Harrison MB, Sperling SA, Wang XQ, Gwinn R, Witt J, Ro S, Elias WJ. Safety and Efficacy of Focused Ultrasound Thalamotomy for Patients With Medication-Refractory, Tremor-Dominant Parkinson Disease: A Randomized Clinical Trial. JAMA Neurol. 2017 Dec 1;74(12):1412-1418. PMID:29084313
Ebers AM, Alkabab Y, Wispelwey B, Dillingham R, Wang XQ, Schexnayder J, Heysell SK. Efficacy of raltegravir, etravirine and darunavir/ritonavir for treatment-experienced HIV patients from a non-urban clinic population in the United States. Ther Adv Infect Dis. 2017 Sep;4(5):135-142. PMID:28959444
Rannikmäe K, Sivakumaran V, Millar H, Malik R, Anderson CD, Chong M, Dave T, Falcone GJ, Fernandez-Cadenas I, Jimenez-Conde J, Lindgren A, Montaner J, O'Donnell M, Paré G, Radmanesh F, Rost NS, Slowik A, Söderholm M, Traylor M, Pulit SL, Seshadri S, Worrall BB, Woo D, Markus HS, Mitchell BD, Dichgans M, Rosand J, Sudlow CLM; Stroke Genetics Network (SiGN), METASTROKE Collaboration, and International Stroke Genetics Consortium (ISGC). COL4A2 is associated with lacunar ischemic stroke and deep ICH: Meta-analyses among 21,500 cases and 40.600 controls. 2017 Oct 24;89(17):1829-1839. PMID:28954878
Raphael J, Collins SR, Wang XQ, Scalzo DC, Singla P, Lau CL, Kozower BD, Durieux ME, Blank RS. Perioperative statin use is associated with decreased incidence of primary graft dysfunction after lung transplantation. J Heart Lung Transplant. 2017 Sep;36(9):948-956. PMID:28552627
Manichaikul A, Wang XQ, Sun L, Dupuis J, Borczuk AC, Nguyen JN, Raghu G, Hoffman EA, Onengut-Gumuscu S, Farber EA, Kaufman JD, Rabinowitz D, Stukovsky KDH, Kawut SM, Hunninghake GM, Washko GR, O'Connor GT, Rich SS, Barr RG, Lederer DJ. Genome-wide association study of subclinical interstitial lung disease in MESA. Respir Res. 2017 May 18;18(1):97. PMID:28521775
Hobbs BD, de Jong K, Lamontagne M, Bossé Y, Shrine N, Artigas MS, Wain LV, Hall IP, Jackson VE, Wyss AB, London SJ, North KE, Franceschini N, Strachan DP, Beaty TH, Hokanson JE, Crapo JD, Castaldi PJ, Chase RP, Bartz TM, Heckbert SR, Psaty BM, Gharib SA, Zanen P, Lammers JW, Oudkerk M, Groen HJ, Locantore N, Tal-Singer R, Rennard SI, Vestbo J, Timens W, Paré PD, Latourelle JC, Dupuis J, O'Connor GT, Wilk JB, Kim WJ, Lee MK, Oh YM, Vonk JM, de Koning HJ, Leng S, Belinsky SA, Tesfaigzi Y, Manichaikul A, Wang XQ, Rich SS, Barr RG, Sparrow D, Litonjua AA, Bakke P, Gulsvik A, Lahousse L, Brusselle GG, Stricker BH, Uitterlinden AG, Ampleford EJ, Bleecker ER, Woodruff PG, Meyers DA, Qiao D, Lomas DA, Yim JJ, Kim DK, Hawrylkiewicz I, Sliwinski P, Hardin M, Fingerlin TE, Schwartz DA, Postma DS, MacNee W, Tobin MD, Silverman EK, Boezen HM, Cho MH; COPDGene Investigators; ECLIPSE Investigators; LifeLines Investigators; SPIROMICS Research Group; International COPD Genetics Network Investigators; UK BiLEVE Investigators; International COPD Genetics Consortium. Genetic loci associated with chronic obstructive pulmonary disease overlap with loci for lung function and pulmonary fibrosis. Nat Genet. 2017 Mar;49(3):426-432.  PMID:28166215
Golden D, Kolmakova A, Sura S, Vella AT, Manichaikul A, Wang XQ, Bielinski SJ, Taylor KD, Chen YI, Rich SS, Rodriguez A. Lymphocyte activation gene 3 and coronary artery disease. JCI Insight. 2016 Oct 20;1(17):e88628. PMID:27777974
Pannone AF, Wang XQ, Archbald-Pannone LR. Peripheral Inflammation and Functional Decline in the National Health and Nutrition Examination Survey Elderly Population. J Am Geriatr Soc. 2016 Mar;64(3):654-6. PMID:27000345
Vargas JD, Manichaikul A, Wang XQ, Rich SS, Rotter JI, Post WS, Polak JF, Budoff MJ, Bluemke DA. Detailed analysis of association between common single nucleotide polymorphisms and subclinical atherosclerosis: The Multi-ethnic Study of Atherosclerosis. Data Brief. 2016 Feb 15;7:229-42. PMID:26958643
Vargas JD, Manichaikul A, Wang XQ, Rich SS, Rotter JI, Post WS, Polak JF, Budoff MJ, Bluemke DA. Common genetic variants and subcliical atherosclerosis: The Multi-Ethnic Study of Atherosclerosis (MESA). 2016 Feb;245:230-6. PMID:26789557
Below JE, Parra EJ, Gamazon ER, Torres J, Krithika S, Candille S, Lu Y, Manichakul A, Peralta-Romero J, Duan Q, Li Y, Morris AP, Gottesman O, Bottinger E, Wang XQ, Taylor KD, Ida Chen YD, Rotter JI, Rich SS, Loos RJ, Tang H, Cox NJ, Cruz M, Hanis CL, Valladares-Salgado A. Meta-analysis of lipid-traits in Hispanics identifies novel loci, population-specific effects, and tissue-specific enrichment of eQTLs. Sci Rep. 2016 Jan 19;6:19429. PMID:26780889
Manichaikul A, Wang XQ, Zhao W, Wojcznski MK, Siebenthall K, Stamatoyannopoulos JA, Saleheen D, Borecki IB, Reilly MP, Rich SS, Bornfeldt KE. Genetic association of long-chain acyl-CoA synthetase 1 variants with fasting glucose, diabetes and subclinical atherosclerosis. J Lipid Res. 2015 Dec 28. Pii.jlr.M064592. PMID:26711138
Hou J, Seneviratne C, Su X, Taylor J, Johnson B, Wang XQ, Zhang H, Kranzler HR, Kang J, Liu L. Subgroup Identification in Personalized Treatment of Alcohol Dependence. Alcohol Clin Exp Res. 2015 Jul;39(7): 1253-9. PMID: 26031187
Evans EE, Wang XQ, Moore CC. Distance from care predicts in-hospital mortality in HIV-infected patients with severe sepsis from rural and semi-rural Virginia, USA. Int J STD AIDS. 2015 Apr 29. PMID: 25931237
Ndusilo ND, Heysell SK, Mpagama SG, Gratz J, Segesela FH, Pazia SJ, Wang XQ, Houpt ER, Kibiki GS. Improvement in plasma drug activity during the early treatment interval among Tanzanian patients with multidrug-resistant tuberculosis. PLos One. 2015 Mar 27;10(3):e0122769. PMID: 25816161
Manichaikul A, Wang XQ, Musani SK, Herrington DM, Post WS, Wilson JG, Rich SS, Rodriguez A. Association of the Lipoprotein Receptor SCARB1 Common Missense Variant rs4238001 with Incident Coronary Heart Disease. PLos One. 2015 May 20;10(5):e0125497. PMID: 25993026
Marozkina NV, Wang XQ, Stsiapura V, Fitzpatrick A, Carraro S, Hawkins GA, Bleecker E, Meyers D, Jarjour N, Fain SB, Wenzel S, Busse W, Castro M, Panettieri RA Jr, Moore W, Lewis SJ, Palmer LA, Altes T, de Lange EE, Erzurum S, Teague WG, Gaston B. Phenotype of asthmatics with increased airway S-nitrosoglutathione reductase activity. Eur Respir J. 2015 Jan;45(1):87-97. PMID:25359343
Loth DW, Artigas MS, Gharib SA, Wain LV, Franceschini N, Koch B, Pottinger TD, Smith AV, Duan Q, Oldmeadow C, Lee MK, Strachan DP, James AL, Huffman JE, Vitart V, Ramasamy A, Wareham NJ, Kaprio J, Wang XQ, Trochet H, Kähönen M, Flexeder C, Albrecht E, Lopez LM, de Jong K, Thyagarajan B, Alves AC, Enroth S, Omenaas E, Joshi PK, Fall T, Viñuela A, Launer LJ, Loehr LR, Fornage M, Li G, Wilk JB, Tang W, Manichaikul A, Lahousse L, Harris TB, North KE, Rudnicka AR, Hui J, Gu X, Lumley T, Wright AF, Hastie ND, Campbell S, Kumar R, Pin I, Scott RA, Pietiläinen KH, Surakka I, Liu Y, Holliday EG, Schulz H, Heinrich J, Davies G, Vonk JM, Wojczynski M, Pouta A, Johansson A, Wild SH, Ingelsson E, Rivadeneira F, Völzke H, Hysi PG, Eiriksdottir G, Morrison AC, Rotter JI, Gao W, Postma DS, White WB, Rich SS, Hofman A, Aspelund T, Couper D, Smith LJ, Psaty BM, Lohman K, Burchard EG, Uitterlinden AG, Garcia M, Joubert BR, McArdle WL, Musk AB, Hansel N, Heckbert SR, Zgaga L, van Meurs JB, Navarro P, Rudan I, Oh YM, Redline S, Jarvis DL, Zhao JH, Rantanen T, O'Connor GT, Ripatti S, Scott RJ, Karrasch S, Grallert H, Gaddis NC, Starr JM, Wijmenga C, Minster RL, Lederer DJ, Pekkanen J, Gyllensten U, Campbell H, Morris AP, Gläser S, Hammond CJ, Burkart KM, Beilby J, Kritchevsky SB, Gudnason V, Hancock DB, Williams OD, Polasek O, Zemunik T, Kolcic I, Petrini MF, Wjst M, Kim WJ, Porteous DJ, Scotland G, Smith BH, Viljanen A, Heliövaara M, Attia JR, Sayers I, Hampel R, Gieger C, Deary IJ, Boezen HM, Newman A, Jarvelin MR, Wilson JF, Lind L, Stricker BH, Teumer A, Spector TD, Melén E, Peters MJ, Lange LA, Barr RG, Bracke KR, Verhamme FM, Sung J, Hiemstra PS, Cassano PA, Sood A, Hayward C, Dupuis J, Hall IP, Brusselle GG, Tobin MD, London SJ. Genetics-wide association analysis identifies six new loci associated with forced vital capacity. Nat Genet. 2014 Jul;46(7):669-77. PMID: 24929828
Bankole A. Johnson, Nassima Ait-Daoud, Xin-Qun Wang, J. Kim Penberthy, Martin A. Javors, Chamindi Seneviratne, and Lei Liu: Topiramate for the Treatment of Cocaine Addiction. JAMA Psychiatry. 2013 Dec 1; 70(12): 1338-46. PMID: 24132249
Mami Taniuchi, Shihab U. Sobuz, Sharmin Begum, James A. Platts-Mills, Jie Liu, Zhengyu Yang, Xin-Qun Wang, William A. Petri, Jr., Rashidul Haque, Eric Houpt: Etiology of Diarrhea in Bangladeshi Infants in the First Year of Life Using Molecular Methods. The Journal of Infectious Diseases. 2013 Dec 1;208(11):1794-802. PMID: 24041797
Bankole A. Johnson, Chamindi Seneviratne, Xin-Qun Wang, Nassima Ait-Daoud, and Ming D. Li: Determination of genotype combinations that can predict the outcome of the treatment of alcohol dependence using the 5-HT3 antagonist, ondansetron. Am J Psychiatry. 2013 Sep 1;170(9):1020-31. PMID 23897038
Johnson, B.A., Roache, J.D., Ait-Daoud, N., Gunderson, E.W., Haughey, H.M., Wang, X.-Q., Liu, L.: Topiramate's effects on cocaine-induced subjective mood, craving, and preference for money over drug taking. Addiction Biology. 2013 May;18(3):405-16. PMID: 23039088
Chen, J.,Johnson, B., Wang, X. Q., O'Quigley, J., Isaac M, and Liu, L. Trajectory analyses in alcohol treatment research. Alcoholism: Clinical and Experimental Research 2012 Aug;36(8):1442-8. PMID 22525000
Nassima Ait-Daoud, Chamindi Seneviratne, Justin B Smith, John D Roache, Michael A Dawes, Lei Liu, Xin-Qun Wang, Bankole A Johnson: Preliminary Evidence for cue-induced Alcohol Craving Modulated by Serotonin Transporter Gene Polymorphism rs1042173. Frontier Psychiatry. 2012 Feb 16;3:6. PMID 22355291
Randal S Blank, Christoph Hucklenbruch, Kelly K Gurka, David C Scalzo, Xin-Qun Wang, David R Jones, Stephen R Tanner and James M Jaeger. Intraoperative factors and the risk of respiratory complications after pneumonectomy. Ann Thorac Surg 92 (4): 1188-94 1 Oct 2011 PMID 21958762
Johnson, B.A., Ait-Daoud, N., Seneviratne, C, Roache, J.D., Javors, M.A., Wang, X.-Q., Liu, L., Penberthy, J.K., DiClemente, C., Li, M.D.: Pharmacogenetic Approach at the Serotonin Transporter Gene as a Method of Reducing the Severity of Alcohol Drinking. Am J Psychiatry 168:1, January 2011. PMCID: PMC3063997
Bankole A Johnson, Ahmed M Elkashef, Nassima Ait-Daoud, Chamindi Seneviratne, Roberta C Kahn, Shou-Hua Li, Daniel A Bloch, Tyson Holmes, Xin-Qun Wang, Ming D Li, Francis J Vocci, Jr.: Association between genotype of the serotonin transporter-linked polymorphic region of the serotonin transporter gene and age of onset of methamphetamine use: a preliminary analysis: Frontiers in addictive Disorders 2010 Oct. PMCID: PMC3059661
Daniel Falk, Xin Qun Wang, Lei Liu, Joanne Fertig, Margaret Mattson, Megan Ryan, Mark Willenbring, Bankole Johnson, Robert Stout, and Raye Z. Litten: Percentage of Subjects with No Heavy Drinking Days: Evaluation as an Efficacy Endpoint for Alcohol Clinical Trials. Alcoholism: Clinical and Experimental Research. Vol. 34, No. 11, November 2010: pp 1-13. PMID 20659066
Erik W. Gunderson, Xin-Qun Wang, David A. Fiellin, Benjamin Bryan, Frances R. Levin: Unobserved versus observed office buprenorphine/nalonxone induction: A pilot randomized clinical trial. Addictive Behaviors 35;573 (2010). PMCID: PMC2830372
Wendy M. Novicoff, Khaled J Saleh, William M Mihalko, Xin-Qun Wang and Hanns-Peter Knaebel: Primary total knee arthroplasty: a comparison of computer-assisted and manual techniques. Instr Couse Lect 59:109 (2010). PMID 20415374
Nancy J. Payne, Elizabeth J. Bradley, Evan B. Heald, Karen L. Maughan, Veronica E. Michaelsen, Xin-Qun Wang, Eugene C. Corbett, Jr. Sharpening the Eye of the OSCE: The Critical Action. Academic Medicine, 2008 Oct; 83 (10): 900-5. PMID: 18820517
Eugene C. Corbett Jr, MD, Nancy J. Payne, MD, Elizabeth B. Bradley, PhD, Karen L Maughan, MD, Evan B. Heald, MD, and Xin Qun Wang, MS. Enhancing Clinical Skills Education: University of Virginia School of Medicine's Clerkship Clinical Skills Workshop Program. Academic Medicine, Vol. 82, No. 7/July 2007. PMID: 17595568
Johnston, Karen C., Wagner, Douglas, Wang, Xin-Qun, Newman, George C. Thijs, Vincent, Sen, Souvik, Warach, Steven, for the GAIN, Citicoline, and ASAP investigators. Validation of an Acute Ischemic Stroke Model: Does Diffusion-Weighted Imaging Lesion Vlume Offer a Clinically Significant Improvement in Prediction of Outcome? Stroke. 38(6): 1820-1825, June 2007. PMID: 17446427
Johnson, B.A., Wells, L.T., Roache, J.D., Wallace, C.L., Ait-Daoud, N., Dawes, M.A., Liu, L., Wang, X.-Q., Javors, M.A.: Kinetic and cardiovascular effects of acute topiramate dosing among non-treatment-seeking, methamphetamine-dependent individuals. Progress in Neuro-Psychopharmacology and Biological Psychiatry 31 (2): 455-461, 2007. PMCID: 1847340
Johnson, B.A., Roache, J.D., Ait-Daoud, N., Wells, L.T., Wallace, C.L., Dawes, M.A., Liu, L., Wang, X.-Q.: Effects of topiramate on methamphetamine-induced changes in attentional and perceptual-motor skills of cognition in recently abstinent methamphetamine-dependent individuals. Progress in Neuro-Psychopharmacology and Biological Psychiatry 31 (1): 123-130, 2007. PMCID: 1810424
Joshua J. Fischer, MD, Xin-Qun Wang, MS, Habib Samady, MD, Ian J. Sarembock, MD, Eric R. Powers, MD, Lawrence W. Gimple, MD, Michael Ragosta, MD Outcome of patients with acute coronary syndromes and moderate coronary lesions undergoing deferral of revascularization based on fractional flow reserve assessment. Catheterization and Cardiovascular Interventions 68:544-548 (2006). PMID: 16969847
Johnson, B.A., Roache, J.D., Ait-Daoud, N., Wells, L.T., Wallace, C.L., Dawes, M.A., Liu, L., Wang, X.-Q.: Effects of acute topiramate dosing on methamphetamine-induced subjective mood. The International Journal of Neuropsychopharmacology 10 (1): 85-98, 2007. PMID: 16448579
Kevin Wei, Khim Leng Tong, Todd Belcik, Patrick Rafter, Michael Ragosta, Xin-Qun Wang, Sajiv Kaul. Detection of Coronary Stenoses at Rest With Myocardial Contrast Echocardiography. Circulation. 2005;112:1154-1160. PMID: 16103241
Khim Leng Tong, Sanjiv Kaul, Xin-Qun Wang, Diana Rinkevich, Saul Kalvaitis, Todd Belcik, Wolfgang Lepper, William A. Foster, Kevin Wei. Myocardial Contrast Echocardiography Versus Thrombolysis in Myocardial Infarction Score in Patients Presenting to the Emergency Department with Chest Pain and a Nondiagnostic Electrocardiogram. J Am Coll Cardiol 2005;46:920-7. PMID: 16139144
Diana Rinkevich, Sanjiv Kaul, Xin-Qun Wang, Khim Leng Tong, Todd Belcik, Saul Kalvaitis, Wolfgang Lepper, William A. Foster, Kevin Wei (2005). Regional Left Ventricular Perfusion and Function in Patients Presenting to the Emergency Department with Chest Pain and no ST Segment Elevation. European Heart Journal. May 25, 2005. PMID: 15917277
Zequan Yang, MD, PhD, Yuan-Ji Day, Day, MD, PhD, Marie-Claire Toufektsian, PhD, Xin-Qun Wang, S., Suan I. Ramos, BS, Melissa Marshall, BS, Brent A French, PhD, Joel Linden, PhD (2005). The Infarct-Sparing Effect of A2A-Adenosine Receptor Activation is Primarily Due to Its Action on Lymphocytes. Circulation. 2005;111:2190-2197. PMID: 15851591
Leong-Poi H. Coggins MP. Sklenar J. Jayaweera AR. Wang XQ. Kaul S. (2005). Role of Collateral Blood Flow in the Apparent Disparity Between the Extent Abnormal Wall Thickening and Perfusion Defect Size During Acute Myocardial Infarction and Demand Ischemia. Journal of the American College of Cardiology. 45(4):565-72, 2005 Feb 15.
Sanjiv Kaul, Roxy Senior, Christian Firschke, Xin-Qun Wang, Jonathan Lindner, Flordeliza S. Villanueva, Soroosh Firozan, Michael C. Kontos, Allen Taylor, John M. Dent, Denny D. Watson, Frank E. Harrell (2004). Incremental value of cardiac imaging in patients presenting to the emergency department with chest pain and without ST-segment elevation: A Multicenter US-Europe Study.  American Heart Journal 2004; 148: 129-36.
Ann Gill Taylor, Daniel I. Galper, Peyton Taylor, Laurel W. Rice, Willie Andersen, William Irvin, Xin-Qun Wang, and Frank E. Harrell (2003). Effects of Adjunctive Swedish Massage and Vibration Therapy on Short-Term Postoperative Outcomes: A Randomized, Controlled Trial. The Journal of Alternative and Complementary Medicine. Volume 9, Number 1, 2003, pp. 77-89
J. Mancini, A.F. Connors Jr., X.-Q. Wang, S. Nock, C. Spencer, C. McCullough, P. Lobo and R. Isaacs, (2002). HLA matching for simultaneous pancres-kidney transplantation in the United States: a multivariable analysis of the UNOS data.  Clinical Nephrology, Vol. 57 – No.1: 27-37
George R. Parkerson, Jr., MD, MPH, Frank E. Harrell, Jr., PhD, William E. Hammond, PhD, and Xin-Qun Wang, MS, (2001). Characteristics of Adult Primary Care Patients as Predictors of Future Health Services Charges.  Medical Care, 39, #11, 1170-1181
Johnston, K.C., Connors, Jr., A.F., Wagner, D.P., Knaus, W.A., Wang, X-Q., Haley, Jr., E.C., for the Randomized Trial of Tirilazad Mesylate in Acute Stroke (RANITAS) Investigators, (2000). A Predictive Risk Model for Outcomes of Ischemic Stroke.  Stroke, 31,(2):448-455.
Isaacs, R.B., Nock, S.L., Spencer, B.A., Connors, Jr., A.F., Wang, Xin-Qun, Sawyer, R., Lobo, P.I., (1999). Racial Disparities in Renal Transplant Outcome.  American Journal of Kidney Diseases, 34, #4, 706-712.