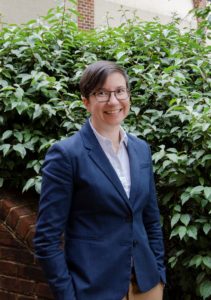 Heather Zelle, J.D., Ph.D., is an Assistant Professor of Research with the UVA Department of Public Health Sciences and a clinical psychologist with the UVA Institute of Law, Psychiatry, and Public Policy. She holds a juris doctorate from Villanova University School of Law, and a doctorate in clinical psychology with a forensic concentration from Drexel University.  She is licensed as an attorney in Pennsylvania (voluntary inactive status) and as a clinical psychologist in Virginia.
Dr. Zelle's current research and policy work focus on the public mental health system and mental health policy in Virginia. She is a core member of the Mental Health Policy Research Program. She also serves on state work groups studying topics such as involuntary civil commitment procedures and mental health dockets in Virginia courts. Previously, Dr. Zelle coordinated the research and implementation efforts regarding the integration of Advance Directives with Instructions for Mental Health Care into routine care in Virginia. Dr. Zelle's policy and research experience include work with Dr. Patty Griffin for the Philadelphia Department of Behavioral Health and Intellectual disABILITY Services, including CIT training for Philadelphia law enforcement, assessment of specialty courts, and Cross Systems Mapping activities.
P.O. Box 800660
Tel: 1-434-924-8321
Email: zelle@virginia.edu
Instructor: Integrative Learning Experience; Health Policy Analysis with Secondary Data; Mental Health Law and Policy
Click here to view Dr. Zelle's CV.
Filed Under: Faculty