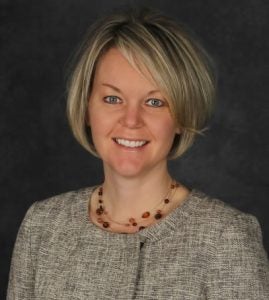 Dr. Jamie Zoellner is an Associate Professor and Registered Dietitian in the Department of Public Health Sciences at the University of Virginia where she provides leadership for community-based health equity and obesity reduction initiatives.  She also serves as the Associate Director of UVA Cancer Center without Walls and is working to expand the Cancer Center's community-based research program and outreach efforts in southwest and southside Virginia. Her research includes engaging medically underserved areas in community-based participatory research (CBPR) and discovering solutions to the causes and consequences of limited health literacy.  She focuses on lifestyle risk factors (i.e., diet and physical activity) that have direct relevance to obesity and cancer prevention efforts.  She is an active member of the Academy of Nutrition & Dietetics and serves on the journal's Board of Editors, the Research Committee, and STATS Committee.
Dr. Zoellner has successfully lead the development and evaluation of SIPsmartER, a health literacy and behavioral intervention that has proven effective at reducing sugar-sweetened beverage consumption among adults in rural Appalachia.  She is currently working in collaboration with four Virginia Department of Health Districts in Appalachia to test the adoption and implementation of the evidence-based SIPsmartER intervention into routine practice.  She also provides leadership for advancing childhood obesity reduction initiatives in the Dan River Region.  She has co-lead the development, implementation, and evaluation of an evidence- and family-based childhood obesity treatment program.  She is now leading a partnership with health and community organizations in the Dan River Region on a comparative effectiveness trial of two childhood obesity treatment programs. This research involves developing the capacity of health and community systems in the region to adopt and sustain evidence-based programs.
Associate Professor of Public Health Sciences
Ph.D., Colorado State University, Food Science & Human Nutrition;
M.S., The Chicago Medical School, Nutrition;
B.S., University of Missouri, Columbia, Food Science & Human Nutrition/Medical Dietetics
Department of Public Health Sciences
P.O. Box 800717
Charlottesville, VA 22908-0717
Cancer Center without Walls at the UVA Cancer Center
16 East Main Street
Christiansburg, VA 24073
Tel: 434-962-4488
Email: jz9q@virginia.edu

Expertise:  Obesity and related behaviors; Community-based participatory research; Health literacy; Health equity and disparities
Research Interests: Lifestyle interventions targeting obesity-related behaviors; Effectiveness trials targeting medically under severed areas; Dissemination and implementation research; Translational research
Current Funding:
Multiple Principal Investigator, A randomized-controlled trial to compare the reach, effectiveness and maintenance of two family-based childhood obesity treatment programs in a medically under-served region.
Agency: Patient Centered Outcomes Research Institute (PCORI)
Overall goal:  To determine the relative effectiveness in child BMI z-scores at 3, 6, and 12-months post baseline of iChoose+ versus Family Connections. Secondary aims are to determine (1) ongoing reach, fidelity, and implementation costs, (2) community capacity for implementation and sustainability, (3) relative impact on family eating/physical activity and parental weight, and (4) relative adherence and potential dose response relationships.
Principal Investigator, SIPsmartER Southwest Virginia: A systems-based approach to disseminate and implement an effective sugar-sweetened beverage reduction intervention
Agency: National Institutes of Health/ National Cancer Institute
Overall goal: To collaboratively develop and execute a SIPsmartER implementation intervention/strategy and describe how four medically-underserved Southwest Virginia Department of Health (VDH) adapt, adopt, and implement SIPsmartER.  Secondary aims include individual-level reach and effectiveness on sugar-sweetened beverage behaviors.
Selected recent publications:
Zoellner J, Porter K. "Translational Research: Concepts and Methods in Dissemination and Implementation Research," book chapter in Nutrition in the Prevention and Treatment of Disease, Coultson AM, Boushey CJ editors. 4th edition. (In Press, forthcoming 2017)
Zoellner J, Harris J. Mixed Methods Research in Nutrition and Dietetics. Journal of Academy of Nutrition in Dietetics, (In Press, forthcoming 2017).
Zoellner J, Hill J, Brock D, Barlow M, Alexander R*, Brito F, Price B, Jones C, Marshall R, Estabrooks P. One-Year Mixed-Methods Case Study of a Community-Academic Advisory Board addressing Childhood Obesity. Health Promotion and Practice, (In Press, on-line first Feb 2017).
Zoellner J, Porter K*, Chen Y, Hedrick V, You W, Tyhurst M*, Estabrooks P. Predicting Sugar-Sweetened Behaviors with Theory of Planned Behavior Constructs: Outcome and Process Results from the SIPsmartER Behavioral Intervention. Psychology and Health, 6:1-20, 2017.
Estabrooks PA, You W, Hedrick VE*, Reinhold M*, Krzeski E*, Zoellner J. A pragmatic examination of active and passive recruitment methods in improving reach in community lifestyle programs: The Talking Health Trial. International Journal of Behavioral Nutrition and Physical Activity, 14:7, 2017.
Zoellner J, Hedrick V, You W, Chen Y, Porter K, Davy B, Bailey A, Lane H, Alexander R, Estabrooks P. Effects of a behavioral and health literacy intervention to reduce sugar-sweetened beverages: a randomized trial. International Journal of Behavioral Nutrition and Physical Activity 13(38), 2016.
Zoellner J, You W, Almeida F, Allen KCA*, Harden S, Glasgow RE, Linnan L, Hill J, Estabrooks P. The influence of health literacy on reach, retention, and success in a worksite weight loss program.  American Journal of Health Promotion, 30(4):279-82, 2016. (Featured as a webinar in "Worksite Weight Loss, Outcomes-Based Incentives and Physical Activity Based Programs" in Sept 2016); Awarded the 2016 American Journal of Health Promotion, Michael P. O'Donnell Paper of the Year.
Lane H*, Porter K*, Estabrooks P, Zoellner J. A systematic review to assess sugar-sweetened beverage interventions across the socioecological model. Journal of the Academy of Nutrition and Dietetics, 116(8): 1295-1307, 2016. (Featured as a continuing education article).
Zoellner J, VanHorn L, Gleason P, Boushey CJ. What is translational research? Concepts and application in nutrition and dietetics. Journal of Academy of Nutrition and Dietetics, 115(7):1057-71, 2015.