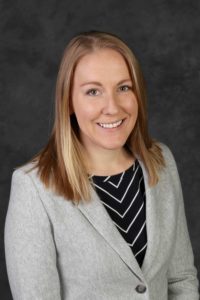 Annie Reid is a registered dietitian nutritionist with a background in public health. Annie works with Dr. Jamie Zoellner's lab out of Christiansburg. She serves as a program coordinator for the NIH funded iSIPsmarter trial (R01MD015033) and the Kids SIPsmartER trial (R01MD012603) .
Research Specialist Senior, Department of Public Health Sciences
Education:
MPH, Health Education, Virginia Tech, 2017
BS, Human Nutrition, Foods and Exercise, Virginia Tech, 2014
Tel: 540-240-1241
Email: aml8ap@virginia.edu
16 E. Main St.
Christiansburg, VA 24073
Research Interests: Health behavior theory; health and media literacy; digital behavioral health interventions; adolescent and school health; community-based participatory research; rural health; Appalachian health
Recent Publications:
Zoellner J, Reid A, Porter K, Frederick C, Hilgart M, Ritterband L. Development of a digital behavioral intervention to reduce the consumption of sugar-sweetened beverages among rural Appalachian adults: Multiphased, human-centered design approach. JMIR Human Factors. 2023.
Zoellner J, Porter K, You W, Reid A, Frederick C, Hilgart M, Brock D, Tate D, Ritterband L. Study protocol for iSIPsmarter: A randomized-controlled trial to evaluate the efficacy, reach, and engagement of a technology-based behavioral intervention to reduce sugary beverages among rural Appalachian adults. Contemporary Clinical Trials, 110, 2021.
Reid AL, Porter KJ, You W, Kirkpatrick BM, Yuhas M, Vaught SS, Zoellner JM. Low Health Literacy is Associated with Energy-Balance Related Behaviors, Quality of Life, and BMI Among Rural Appalachian Middle School Students: A Cross-Sectional Study. Journal of School Health. 2021. doi: 10.1111/josh.13051. Epub 2021 Jun 6. PMID: 34096052.
Porter KJ, You W, Kirkpatrick B, Thatcher E, Reid A, Yuhas M, Zoellner J. Factors influencing the sugar-sweetened beverage intake of caregivers of adolescents in Appalachia. J Nut Educ Behav. 2022. doi: 10.1016/j.jneb.2021.09.010. Epub 2021 Dec 23.
McCormick, BA, Porter, KJ, You, W, Yuhas, M, Reid, AL, Thatcher, EJ, Zoellner, JM. Applying the socio-ecological model to understand factors associated with sugar-sweetened beverage behaviors among rural Appalachian adolescents. Public Health Nutrition.  2021. 1-11. doi:10.1017/S1368980021000069
Zoellner J, Porter K, You W, Chow P, Ritterband L, Yuhas M, Loyd A, McCormick B, Brock D. Kids SIPsmartER, a cluster randomized controlled trial and multi-level intervention to improve sugar-sweetened beverages behaviors among Appalachian middle-school students: Rationale, design & methods. Contemporary Clinical Trials. 2019;83:64-80.
Yuhas M, Porter KJ, Brock DP, Loyd A, McCormick BA, Zoellner JM. Development and pilot testing of text messages to help reduce sugar-sweetened beverage intake among rural caregivers and adolescents: Mixed methods study. JMIR Mhealth Uhealth. 2019;7(7):e14785. doi: 10.2196/14785.