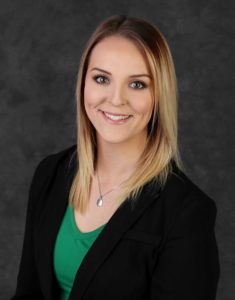 Dr. Brittany McCormick Kirkpatrick is a Research Scientist within the Department of Public Health Sciences at the University of Virginia's School of Medicine. Dr. Kirkpatrick has a diverse background in public health, adolescent behavioral health, and healthcare management. Dr. Kirkpatrick currently works within Dr. Jamie Zoellner's lab as a program coordinator and educator on Dr. Zoellner's R01 NIH: "Kids SipSmartER: A multi-level behavioral and health literacy intervention to reduce sugar-sweetened beverages among Appalachian middle-school students." Dr. Kirkpatrick graduated from Radford University Carilion with a Doctorate in Health Sciences with concentrations in Administration and Education and is currently completing research on obesity and obesogenic factors impacting rural populations.
Research Scientist, School of Medicine: Department of Public Health Sciences
Education:
DHSc, Health Sciences – Administration and Education; Radford University Carilion, 2019
MPH, Public Health – Nutrition; Liberty University, 2017
B.S., Biochemistry, Minors in Chemistry and Mathematics; Virginia Tech, 2015
Department of Public Health Sciences
P.O. Box 800717
Charlottesville, VA 22908-0717
Tel: 540-251-3175
Email: bam6vk@virginia.edu
Cancer Center without Walls at the UVA Cancer Center
16 E Main Street
Christiansburg, VA 24073
Research Interests:
Whole person health with a specific focus on the interaction and associations of nutrition, physical activity, and mental health on the prevention of various health conditions; Cancer Epidemiology and prevention; Obesity intervention strategies focused on prevention and reduction; Risk factors and outcomes of Diabetes; Healthcare disparities; Ethics in Healthcare; Success factors for change implementation in Healthcare; Educational effectiveness and development
Recent Publications:
McCormick, B. A., Porter, K. J., You, W., Yuhas, M., Reid, A. L., Thatcher, E. J., & Zoellner, J. M. (2021). Applying the socio-ecological model to understand factors associated with sugar-sweetened beverage behaviours among rural Appalachian adolescents. Public Health Nutrition, 1-11.
Reid AL, Porter KJ, You W, Kirkpatrick BM, Yuhas M, Vaught SS, Zoellner JM. Low Health Literacy is Associated with Energy-Balance Related Behaviors and Body Mass Index among Rural Appalachian Students. Journal of School Health. (Accepted, 2020).
Yuhas, M., Loyd, A., McCormick, B. A., Porter, K. J., Ritterband, L. M., Chow, P., … & Zoellner, J. (2020, May). Response Patterns and Prelimiary Effects of a Care-Giver Text Message Intervention Targeting Sugary Beverage in Rural School. In Annals of Behavioral Medicine (Vol. 54, pp. S311-S311). Journals Dept, 2001 Evans Rd, Cary, NC 27513 USA: Oxford Univ Press Inc.
Zoellner, J. M., Porter, K., You, W., Chow, P., Ritterband, L., Yuhas, M., Loyd, A., McCormick, B., & Brock, D. (2019). Kids SIPsmartER, a cluster randomized controlled trial and multi-level intervention to improve sugar-sweetened beverages behaviors among Appalachian middle-school students: Rationale, design & methods. Contemporary clinical trials. DOI: 10.1016/j.cct.2019.06.011.
Yuhas, M., Porter, K. J., Brock, D. J. P., Loyd, A., McCormick, B. A., Zoellner, J. M. (2019). Development and pilot testing of text messages to help reduce sugar-sweetened beverage intake among rural caregivers and adolescents: Mixed methods study. JMIR Mhealth Uhealth 2019;7(7):e14785. DOI: 10.2196/14785.
Links to More Information:
https://www.linkedin.com/in/drbamkirkpatrick/