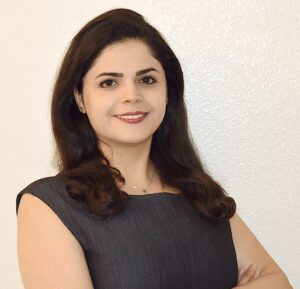 Dr. Pilehvari's research centers on unraveling the causality behind health disparities, particularly within the realm of cancer prevention, surveillance, and survivorship. Employing econometrics and advanced statistical methodologies, she explores large scale national surveys and claims data. Her research not only uncovers hidden disparities but also highlights the pivotal contributing factors, thereby providing evidence for designing tailored interventions aimed at mitigating preventable health disparities. Currently, Dr. Pilehvari's investigations focus on disparities in smoking prevalence, treatment disparities in metastatic breast cancer, and the financial burdens of cancer care.
Current Appointment:
Assistant Professor of Public Health Sciences
Technical Director, Population Health and Cancer Outcomes Core, UVA Cancer Center
Education:
Postdoctoral Research Associate , Department of Public Health Sciences & Biocomplexity Institute, University  of Virginia,  2021-2022
Ph.D., Virginia Tech, Economics, 2021
M.A., Virginia Tech, Economics, 2017
M.Sc., Sharif University of Technology, S
ocio-Economic Systems Engineering
, 2015
B.Sc.,
Amirkabir University of Technology, Applied Mathematics
, 2012
Contact Information: 
Email: Asal at virginia dot edu
Research Interests:
Health Economics; Applied Econometrics; Health Policy Evaluation, Cancer Disparities, Machine Learning
Selected Publications:
 

Pilehvari, A.

, You, W., Krukowski, R. A., Little, M. A. (2023). Examining Smoking Preva-




lence Disparities in Virginia Counties by Rurality, Appalachian Status, and Social Vulnera-




bility, 2011–2019. American Journal of Public Health, (0), e1-e4

Pilehvari, A.

, Kimmick, G., You, W., Bonilla, G., Anderson, R. T. (2023),The real-world




modeling of benefits demonstrated in major clinical trials on 2 HR+/HER2 metastatic breast




cancer treatment with CDK4/6 inhibitor in the US: PALOMA-2 and MONALEESA-3. ASCO




e13070-e13070.

 

Pilehvari, A.

, You, W., Lin, X. (2023).

Retirement's impact on health:

what role does




social network play?. European Journal of Ageing, 20(1), 1-20.