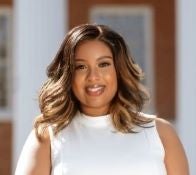 Bréanna Foreman is a Research Specialist in Dr. Jamie Zoellner's lab located in Christiansburg, VA.  She works with Dr. Kathleen Porter on the weSurvive Cancer Survivorship program, funded by the American Cancer Society.
She graduated from the University of Mississippi with a Master of Public Health in Community Health, where she served as a lab member for the Epidemiology and Translational (EAT) Research Lab conducting a study on college students experiencing food insecurity.  She also worked for the Center for Inclusion and Cross-Cultural Engagement, under the Division for Diversity and Community Engagement, where she served as a Graduate Assistant to develop and implement a peer mentoring program funded and evaluated by the Woodward Hines Education Foundation to improve retention, persistence, and completion of at-risk students. In addition, Bréanna completed a few projects and worked for the Institute of Child Nutrition, which is funded by the USDA.  Her employment thus far spans across the non-profit, private, and public sectors supporting various programs dedicated to public health and wellness initiatives.
Research Specialist, Department of Public Health Sciences
Education:
MPH in Community Health, University of Mississippi, 2022
BS, Human Services, Minors in Exercise Science and Health and Wellness, Old Dominion University, 2018
Email: zvg5up@virginia.edu
Cancer Center without Walls at the UVA Cancer Center
16 E Main Street, Suite 101
Christiansburg, VA 24073
Research Interests:
Health Equity, Racial Disparities, SDOH, Chronic Disease Prevention and Management, Child Nutrition, Qualitative Research, Urban Planning and Built Environment, and Quality of Care.
Links to More Information:
https://www.linkedin.com/in/breannaforeman