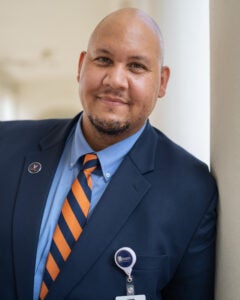 Keith L. Keene, PhD  has nearly 20 years of experience in Precision Health and Genomics research, with a longstanding commitment to research focused on health disparities and health equity.  Dr. Keene's research experience includes using -Omics based approaches (e.g. genetic, epigenetic, metabolomics), statistical, and molecular biology methodologies, to identify heritable risk variants contributing to complex diseases. Dr. Keene is particularly interested in performing integrative -Omics analyses utilizing biospecimens from underserved and marginalized populations, with hopes of alleviating the disparate burden of disease in those populations.
Professor of Public Health Sciences
Founding Director, Center for Health Equity and Precision Public Health (CHEPPH)
Education:
Ph.D., 2007, Molecular Medicine, Wake Forest University School of Medicine
B.S., 2003, Biology, North Carolina A&T State University
Contact Information:
P.O. Box 800717
Charlottesville, VA 22908
Tel: (434) 243-5395
Fax: (434) 982-1815
Email: klk4a@virginia.edu
Fontaine Research Park, Building 560
Expertise: 
Multi-Omics, Complex diseases, stroke, Sudden Infant Death Syndrome, diabetes, health equity
Research Interests:
Ongoing Research Support
North Carolina GlaxoSmithKline Foundation      Keene and Graham (Multiple PI)         07/01/2022-06/30/2027
Title: Growing a Diverse Public Health Workforce for Rural North Carolina through Graduate School Pathways
The goal of this proposal is to build pathways to recruit a diverse graduate student population through the development of a summer research immersion pathway program and providing graduate student scholarships.
Role: PI (Lead) at East Carolina University
National Science Foundation                         Moysey (PI)                                       08/01/2021-07/31/2026
Title: NRT-HDR: Finding Signal in the Noise to Enable Science-Based Community Response to Change in Coastal Region
The goal of the Coastal Community Environmental Data Scholars (CCEDS) NRT program is to train the next generation of scientists to take a convergent approach to data science, sensing, and modeling to understand how coastal change is driven by interrelationships between ecosystems and communities.
Role: Senior Personnel (at East Carolina University)
1 R01 HD101518-01        Hauck, Mychaleckyj, Keene (Multiple PI)                                            09/01/2020-08/31/2024
NIH/NICHHD
Title: Using Integrative Omics as Biomarkers and Diagnostic Tools for SIDS
The goal of this proposal is to comprehensively evaluate genetic and epigenetic determinates of SIDS and together with metabolomic profiles, identify novel clinical diagnostic tools to enable molecular autopsies, and ultimately, biomarkers to proactively identify and intervene in infants at greater risk of death from SIDS.
Role: PI
1R01HL150003-01         Annex and McClung (Multiple PI)                                                              12/01/2019 – 11/30/2024
NIH/NHLBI
Title: Clinical Phenotyping and Disease Specific Sampling to Identify Non-coding RNAs for Human Therapeutics in PAD
The goal of this proposal is to identify micro-RNA and lncRNAs that are altered in ischemic muscle and peripheral blood of patients with peripheral arterial disease (PAD) to determine how they contribute to the disease phenotype and whether they can be developed into biomarkers for diagnosis of PAD.
Role: Co-Investigator
Completed Research Support 
Bristol Myers Squibb                                      Keene (PI)                                         12/15/2021 – 06/30/2022
Title: East Carolina University Health Disparities Virtual Roundtable
The goal of this proposal is to organize and design a Health Disparities Virtual Roundtable event, hosted by the ECU Center for Health Disparities. This event would bring together health disparities/equity experts from across the country to discuss ways to alleviate disparities, form partnerships with academic, healthcare and state agencies, and help influence policies that address health disparities/equity.
Role: PI
Bristol Myers Squibb       C. Ellis, M. Jacobs, K. Keene (Multiple PI)                     12/15/2020 – 06/30/2021
Title: Racial Disparities in Stroke Outcomes
The goal of this proposal is to examine the presence/strength/satisfaction of social networks on stroke outcomes in African American and White stroke survivors residing in the eastern NC stroke belt.
Role: PI
CARES ACT Funding     Clay, Kearney (Multiple PI)                                                 08/01/2020 – 12/31/2020
Title: "Ethics Protocol for Vaccine Distribution" and "Eastern North Carolina COVID Mapping"
The goals of this project were: 1) Create an ethical framework and protocol distribution plan for COVID-19 vaccine(s); 2) Define and assess high risk, vulnerable populations for equitable vaccine distribution; 3) Detect emerging COVID-19 hotspot areas and prevention of spread in eastern NC.
Role:  Co-Investigator and administrative lead
1 R15 NS095115-01A1                     Keene and Brewer (Multiple PI)                             09/30/16 – 08/31/19
NIH/NINDS
Title: Genetic evaluation of two novel loci associated with recurrent stroke
Role: PI (Administrative)
The goal of this proposal is to use cutting edge next generation DNA sequencing to identify genetic variants contributing to recurrent stroke risk at two novel loci.
Recent Publications: (select, student authors underlined)
Mishra A, Malik R, Hachiya T, Jürgenson T, Namba S, Posner DC, Kamanu FK, Koido M, Le Grand Q, Shi M, He Y, Georgakis MK, Caro I, Krebs K, Liaw YC, Vaura FC, Lin K, Winsvold BS, Srinivasasainagendra V, Parodi L, Bae HJ, Chauhan G, Chong MR, Tomppo L, Akinyemi R, Roshchupkin GV, Habib N, Jee YH, Thomassen JQ, Abedi V, Cárcel-Márquez J, Nygaard M, Leonard HL, Yang C, Yonova-Doing E, Knol MJ, Lewis AJ, Judy RL, Ago T, Amouyel P, Armstrong ND, Bakker MK, Bartz TM, Bennett DA, Bis JC, Bordes C, Børte S, Cain A, Ridker PM, Cho K, Chen Z, Cruchaga C, Cole JW, de Jager PL, de Cid R, Endres M, Ferreira LE, Geerlings MI, Gasca NC, Gudnason V, Hata J, He J, Heath AK, Ho YL, Havulinna AS, Hopewell JC, Hyacinth HI, Inouye M, Jacob MA, Jeon CE, Jern C, Kamouchi M, Keene KL, Kitazono T, Kittner SJ, Konuma T, Kumar A, Lacaze P, Launer LJ, Lee KJ, Lepik K, Li J, Li L, Manichaikul A, Markus HS, Marston NA, Meitinger T, Mitchell BD, Montellano FA, Morisaki T, Mosley TH, Nalls MA, Nordestgaard BG, O'Donnell MJ, Okada Y, Onland-Moret NC, Ovbiagele B, Peters A, Psaty BM, Rich SS, Rosand J, Sabatine MS, Sacco RL, Saleheen D, Sandset EC, Salomaa V, Sargurupremraj M, Sasaki M, Satizabal CL, Schmidt CO, Shimizu A, Smith NL, Sloane KL, Sutoh Y, Sun YV, Tanno K, Tiedt S, Tatlisumak T, Torres-Aguila NP, Tiwari HK, Trégouët DA, Trompet S, Tuladhar AM, Tybjærg-Hansen A, van Vugt M, Vibo R, Verma SS, Wiggins KL, Wennberg P, Woo D, Wilson PWF, Xu H, Yang Q, Yoon K; COMPASS Consortium; INVENT Consortium; Dutch Parelsnoer Initiative (PSI) Cerebrovascular Disease Study Group; Estonian Biobank; PRECISEQ Consortium; FinnGen Consortium; NINDS Stroke Genetics Network (SiGN); MEGASTROKE Consortium; SIREN Consortium; China Kadoorie Biobank Collaborative Group; VA Million Veteran Program; International Stroke Genetics Consortium (ISGC); Biobank Japan; CHARGE Consortium; GIGASTROKE Consortium, Millwood IY, Gieger C, Ninomiya T, Grabe HJ, Jukema JW, Rissanen IL, Strbian D, Kim YJ, Chen PH, Mayerhofer E, Howson JMM, Irvin MR, Adams H, Wassertheil-Smoller S, Christensen K, Ikram MA, Rundek T, Worrall BB, Lathrop GM, Riaz M, Simonsick EM, Kõrv J, França PHC, Zand R, Prasad K, Frikke-Schmidt R, de Leeuw FE, Liman T, Haeusler KG, Ruigrok YM, Heuschmann PU, Longstreth WT, Jung KJ, Bastarache L, Paré G, Damrauer SM, Chasman DI, Rotter JI, Anderson CD, Zwart JA, Niiranen TJ, Fornage M, Liaw YP, Seshadri S, Fernández-Cadenas I, Walters RG, Ruff CT, Owolabi MO, Huffman JE, Milani L, Kamatani Y, Dichgans M, Debette S. Stroke genetics informs drug discovery and risk prediction across ancestries. Nature. 2022 Sep 30:1–15. doi: 10.1038/s41586-022-05165-3. PMID: 36180795; PMCID: PMC9524349.
Davis Armstrong NM, Chen WM, Hsu FC, Brewer MS, Cullell N, Fernandez-Cadenas I, Williams SR, Sale MM, Worrall BB, Keene KL. DNA methylation analyses identify an intronic ZDHHC6 locus associated with time to recurrent stroke in the Vitamin Intervention for Stroke Prevention (VISP) clinical trial. PLoS One. 2021 Jul 12;16(7):e0254562. doi: 10.1371/journal.pone.0254562. eCollection 2021.PMID: 34252155 PMCID: PMC8274879.
Fatumo S, Karhunen V, Chikowore T, Sounkou T, Udosen B, Ezenwa C, Nakabuye M, Soremekun O, Daghlas I, Ryan DK, Taylor A, Mason AM, Damrauer SM, Vujkovic M, Keene KL, Fornage M, Jarvelin MR, Burgess S, Gill D. Metabolic traits and stroke risk in individuals of African ancestry: Mendelian randomization analysis. Stroke. 2021 Aug;52(8):2680-2684. doi: 10.1161/STROKEAHA.121.034747. Epub 2021 Jun 3. PMID: 34078102. PMCID: PMC8312569.
Zimmerman KD, Schurr TG, Chen WM, Nayak U, Mychaleckyj JC, Quet Q, Moultrie LH, Divers J, Keene KL, Kamen DL, Gilkeson GS, Hunt KJ, Spruill IJ, Fernandes JK, Aldrich MC, Reich D, Garvey WT, Langefeld CD, Sale MM, Ramos PS. Genetic Landscape of Gullah African Americans. Am J Phys Anthropol. 2021 Aug;175(4):905-919. doi: 10.1002/ajpa.24333. Epub 2021 May 19. PMID: 34008864.
Tumin D, Brewer KL, Cummings DM, Keene KL, Campbell KM. Estimating clinical research project duration from idea to publication. J Investig Med. 2021 May 14:jim-2021-001915. doi: 10.1136/jim-2021-001915. Online ahead of print. PMID: 33990370. PMCID: PMC8127282.
Davis Armstrong NM, Spragley KJ, Chen WM, Hsu FC, Brewer MS, Horn PJ, Williams SR, Sale MM, Worrall BB, Keene KL. Multi-omic analysis of stroke recurrence in African Americans from the Vitamin Intervention for Stroke Prevention (VISP) clinical trial. PLoS One. 2021 Mar 4;16(3):e0247257. doi: 10.1371/journal.pone.0247257. eCollection 2021. PMID: 33661917. PMCID: PMC7932724.
Ellis C, Jacobs M, Keene KL, Grubaugh AL. The impact of COVID-19 on racial-ethnic health disparities in the US: Now is the time to address the problem. J Natl Med Assoc. 2020. Sep 8:S0027-9684(20)30173-5. doi: 10.1016/j.jnma.2020.08.008. PMID:32917409.
Keene KL*, Hyacinth HI, Bis JC, Kittner SJ, Mitchell BD, Cheng YC, Pare G, Chong M, O'Donnell M, Meschia JF, Chen WM, Sale MM, Rich SS, Nalls MA, Zonderman AB, Evans MK, Wilson JG, Correa A, Markus HS, Traylor M, Lewis CM, Carty CL, Reiner A, Haessler J, Langefeld CD, Gottesman R, Mosley TH, Woo D, Yaffe K, Liu YM, Longstreth WT, Psaty BM, Kooperberg C, Lange LA, Sacco R, Rundek T, Lee JM, Cruchaga C, Furie KL, Arnett DK, Benavente OR, Grewal RP, Peddareddygari LR, Dichgans M, Malik R, Worrall BB, Fornage M, on behalf of the COMPASS, SiGN and METASTROKE Consortia. A GWAS Meta-Analysis of Stroke in 22,000 individuals of African descent identifies novel associations with stroke. Stroke. 2020 Aug;51(8):2454-2463. doi: 10.1161/STROKEAHA.120.029123. PMID:32693751. PMCID: PMC7387190. *Corresponding author.
Ellis C, Jacobs M, Keene K, Bell R, Dickerson D. COVID-19 and the Potential Devastation of Rural Communities: Concern from the Southeastern Belts. Annals of Family Medicine. 2020. Available at: https://deepblue.lib.umich.edu/handle/2027.42/154715.
Green IE, Williams SR, Sale MM, Keene KL, Worrall BB, Southerland AM. Differential expression of PHACTR1 in atheromatous versus normal carotid artery tissue. J Clin Neurosci. 2020;74:265-267. doi: 10.1016/j.jocn.2020.01.018. PMID: 31980275.
Davis Armstrong NM, Chen WM, Brewer MS, Williams SR, Sale MM, Worrall BB, Keene KL. Epigenome-Wide Analyses Identify Two Novel Associations With Recurrent Stroke in the Vitamin Intervention for Stroke Prevention Clinical Trial. Front Genet. 2018 Sep 6;9:358. doi: 10.3389/fgene.2018.00358. eCollection 2018. PMID: 30237808; PMCID: PMC6135883.
Malik R, Chauhan G, Traylor M, Sargurupremraj M, Okada Y, Mishra A, Rutten-Jacobs L, Giese AK, van der Laan SW, Gretarsdottir S, Anderson CD, Chong M, Adams HHH, Ago T, Almgren P, Amouyel P, Ay H, Bartz TM, Benavente OR, Bevan S, Boncoraglio GB, Brown RD Jr, Butterworth AS, Carrera C, Carty CL, Chasman DI, Chen WM, Cole JW, Correa A, Cotlarciuc I, Cruchaga C, Danesh J, de Bakker PIW, DeStefano AL, Hoed MD, Duan Q, Engelter ST, Falcone GJ, Gottesman RF, Grewal RP, Gudnason V, Gustafsson S, Haessler J, Harris TB, Hassan A, Havulinna AS, Heckbert SR, Holliday EG, Howard G, Hsu FC, Hyacinth HI, Ikram MA, Ingelsson E, Irvin MR, Jian X, Jiménez-Conde J, Johnson JA, Jukema JW, Kanai M, Keene KL, Kissela BM, Kleindorfer DO, Kooperberg C, Kubo M, Lange LA, Langefeld CD, Langenberg C, Launer LJ, Lee JM, Lemmens R, Leys D, Lewis CM, Lin WY, Lindgren AG, Lorentzen E, Magnusson PK, Maguire J, Manichaikul A, McArdle PF, Meschia JF, Mitchell BD, Mosley TH, Nalls MA, Ninomiya T, O'Donnell MJ, Psaty BM, Pulit SL, Rannikmäe K, Reiner AP, Rexrode KM, Rice K, Rich SS, Ridker PM, Rost NS, Rothwell PM, Rotter JI, Rundek T, Sacco RL, Sakaue S, Sale MM, Salomaa V, Sapkota BR, Schmidt R, Schmidt CO, Schminke U, Sharma P, Slowik A, Sudlow CLM, Tanislav C, Tatlisumak T, Taylor KD, Thijs VNS, Thorleifsson G, Thorsteinsdottir U, Tiedt S, Trompet S, Tzourio C, van Duijn CM, Walters M, Wareham NJ, Wassertheil-Smoller S, Wilson JG, Wiggins KL, Yang Q, Yusuf S, Amin N, Aparicio HS, Arnett DK, Attia J, Beiser AS, Berr C, Buring JE, Bustamante M, Caso V, Cheng YC, Choi SH, Chowhan A, Cullell N, Dartigues JF, Delavaran H, Delgado P, Dörr M, Engström G, Ford I, Gurpreet WS, Hamsten A, Heitsch L, Hozawa A, Ibanez L, Ilinca A, Ingelsson M, Iwasaki M, Jackson RD, Jood K, Jousilahti P, Kaffashian S, Kalra L, Kamouchi M, Kitazono T, Kjartansson O, Kloss M, Koudstaal PJ, Krupinski J, Labovitz DL, Laurie CC, Levi CR, Li L, Lind L, Lindgren CM, Lioutas V, Liu YM, Lopez OL, Makoto H, Martinez-Majander N, Matsuda K, Minegishi N, Montaner J, Morris AP, Muiño E, Müller-Nurasyid M, Norrving B, Ogishima S, Parati EA, Peddareddygari LR, Pedersen NL, Pera J, Perola M, Pezzini A, Pileggi S, Rabionet R, Riba-Llena I, Ribasés M, Romero JR, Roquer J, Rudd AG, Sarin AP, Sarju R, Sarnowski C, Sasaki M, Satizabal CL, Satoh M, Sattar N, Sawada N, Sibolt G, Sigurdsson Á, Smith A, Sobue K, Soriano-Tárraga C, Stanne T, Stine OC, Stott DJ, Strauch K, Takai T, Tanaka H, Tanno K, Teumer A, Tomppo L, Torres-Aguila NP, Touze E, Tsugane S, Uitterlinden AG, Valdimarsson EM, van der Lee SJ, Völzke H, Wakai K, Weir D, Williams SR, Wolfe CDA, Wong Q, Xu H, Yamaji T, Sanghera DK, Melander O, Jern C, Strbian D, Fernandez-Cadenas I, Longstreth WT Jr, Rolfs A, Hata J, Woo D, Rosand J, Pare G, Hopewell JC, Saleheen D, Stefansson K, Worrall BB, Kittner SJ, Seshadri S, Fornage M, Markus HS, Howson JMM, Kamatani Y, Debette S, Dichgans M; AFGen Consortium; Cohorts for Heart and Aging Research in Genomic Epidemiology (CHARGE) Consortium; International Genomics of Blood Pressure (iGEN-BP) Consortium; INVENT Consortium; STARNET; BioBank Japan Cooperative Hospital Group; COMPASS Consortium; EPIC-CVD Consortium; EPIC-InterAct Consortium; International Stroke Genetics Consortium (ISGC); METASTROKE Consortium; Neurology Working Group of the CHARGE Consortium; NINDS Stroke Genetics Network (SiGN); UK Young Lacunar DNA Study; MEGASTROKE Consortium; MEGASTROKE Consortium:. Multi-ancestry genome-wide association study of 520,000 subjects identifies 32 loci associated with stroke and stroke subtypes. Nature Genet. 2018 Apr;50(4):524-537. doi: 10.1038/s41588-018-0058-3. PMID: 29531354; PMCID: PMC5968830.
Complete List of Published Work:
https://pubmed.ncbi.nlm.nih.gov/?term=28411264%5Buid%5D+OR+22363065%5Buid%5D+OR+keene+kl