MPH Candidate Jorge Gonzalez Mejia Pursues Latin American Public Health Issues with a Passion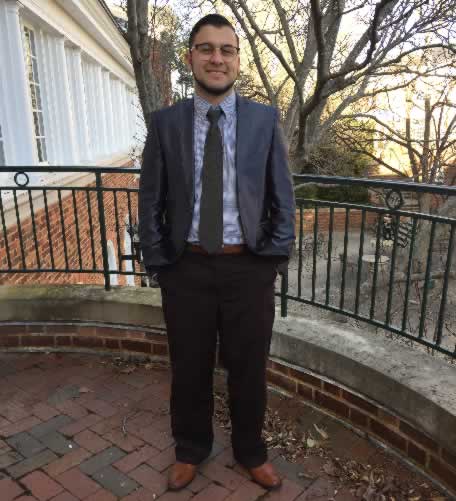 For many students, summer is a time to get away from classrooms and books, avoid studying, and enjoy life outside of academics. For MPH-candidate Jorge Antonio Gonzalez Mejia, however, this summer will be a time to continue studying a subject about which he is quite passionate. Gonzalez Mejia plans to attend a summer internship in Colombia for an interdisciplinary study of public health issues after he gains his Master of Public Health degree in May 2019.
"Studying public health in a foreign country has always been a dream of mine. As someone who aspires to become a neurologist who works for global health organizations like Doctors Without Borders, I have always wanted to get a first-hand experience of public health and global health in a foreign country," Gonzalez Mejia says. "As a Hispanic individual who grew up in El Salvador, I have seen the lack of resources that many countries have and the limitations that prevent them from improving their public health systems. For many governments, investing in social medicine and social determinants of health is not of great value because it does not produce the results they want in a timely manner. As a result, this program will allow me to have wonderful discussions about how Colombia is addressing their limitations, and how they are hoping to improve their current healthcare system."
The program is a month-long immersive experience at the Institute of Public Health at Pontificia Universidad Javeriana in Bogota, Colombia, where experts from a wide range of disciplines lead the students via lecture, case studies, and field experiences in an in-depth analysis of the history, current status, and future possibilities and plans for public health in Colombia.
Gonzalez Mejia didn't apply to any other programs of this type. What about this program captured his interest?
"Hispanic heritage is the flame that empowers me to go above and beyond. It is my identity and what I live for. As a result, the Public Health in Colombia program will not only provide me with a great insight of the public health practices that I will someday perform, but it will also provide me with the opportunity to work with my main population of interest," Gonzalez Mejia relates. "For a long time, Hispanic populations' health outcomes have been understudied and overlooked. We have been underrepresented and marginalized. Ultimately, this program will not only allow me to grow intellectually but it will also allow me to gain new knowledge that I will pass on to future colleagues in the United States and Latin America."
"The timing is perfect," says Gonzalez Mejia. "With the large influx of people coming from Venezuela, it will be interesting to see how public health officials in Colombia would allocate their resources so that both Colombian and Venezuelan citizens are safe financially, physically and mentally."
"The current political climate and relationships between Venezuela and Colombia are of great interest to me, as they set up a great stage for public health interventions and programs," agrees Gonzalez Mejia. "During Colombia's civil war, Venezuela received a large influx of Colombian immigrants, and the government welcomed them with international aid and programs tailored to their needs. As a result, I am interested in how Colombia will tailor public health interventions specific to the needs of Venezuelan immigrants, as they are now "paying them back" for what they did for them before. I am hoping to learn more about the current challenges that the public health department faces in Colombia and how they will utilize their community assets, capacities, and systems to confront their challenges."