Contact
Sheri VanHoose A.S. MLT (NCA)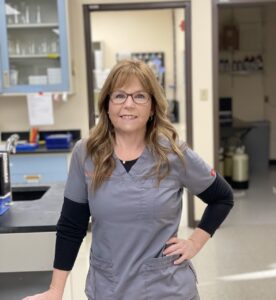 Director
slv4e@virginia.edu
(434) 924-9205
Lisa Vohwinkel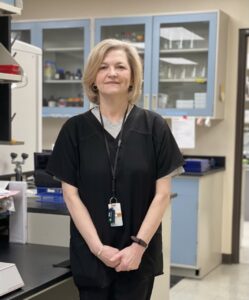 Laboratory Technician
lcv2c@virginia.edu
Directions
MR4 building, room 1035
See map, or use Google maps or enter "Medical Research Lab" on the University of Virginia interactive map.
Entrance to MR4 is controlled. To your left is a keypad for a phone to call the lab. Press 6 repeatedly to scroll up to Research Histology Core, then press * to make the phone call. When someone answers, they will unlock the door.
If you needed to use the phone system to get in, ask to have access to MR4 added to your id badge; this usually is completed within 24 hours.
After entering MR4, turn to the right, pass through the doors for the Digestive Health Center and head towards the back of the building; room 1035 is on your left.