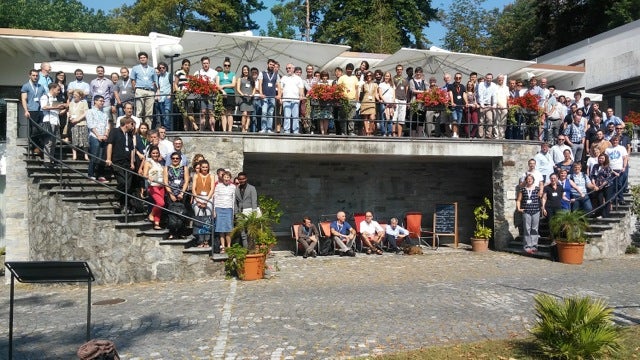 Co-organized by Dr. Lukas Tamm, the Biophysical Society meeting in Ascona, Switzerland was well attended by many UVA scientists.
Liposomes, Exosomes, and Virosomes: From Modeling Complex Membrane Processes to Medical Diagnostics and Drug Delivery
The meeting took place September 11-16, 2016 covering recent developments for investigating biochemical reactions and networks at, in, and across membranes of artificial and cell membrane-derived vesicles. Themes included: imaging membrane proteins and their biochemical reactions by light- and electron-optical and force microscopy at small ensemble and single molecule levels; vesicles in cellular trafficking and processes; lipid and protein micro-/nano-domains in membranes; transmembrane signalling in cell-derived vesicles; modeling in-plane and trans-membrane reactions; vesicles as ultrasmall containers for (bio-)chemical reactions; vesicles as artificial cells and for synthetic and systems biology; extracellular vesicles (exosomes) as diagnostic biomarkers; viral envelopes (virosomes) and vesicles for targeted drug delivery; and membrane networks and tissue engineering.
The meeting brought together experts in membrane biophysics, cell biology, synthetic biology, diagnostics, pharmacology, and pharmaceutical formulation, appealing to academic scientists and researchers in pharmaceutical industry. Bringing together different approaches to this multidisciplinary topic allowed an intense scientific exchange of ideas and highlighted the field from different views. The meeting provided a basis for a molecular understanding of central questions about the use of cell-derived and model membranes, delivered the newest technical approaches, and stimulated further developments as well as future collaborations.