Goals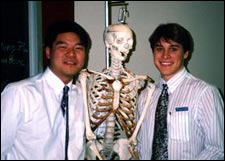 The Healer's Art course will encourage students to:
Identify, strengthen and cultivate the human dimensions of the practice of medicine
Recognize the commonality of personal concerns among their peers and gain support for personal development from peers and faculty
Accept the universality of loss and pain
Recognize grief as a self-care strategy for physicians, and identify strategies and tools of grieving
Recognize the importance of community for the healing of grief
Trust the power of listening and presence to heal others
Recognize that who they are is as important to their patients as what they know
Recognize and respond to the dimension of Mystery in the experience of illness
Strengthen and clarify a personal commitment to medicine as a life's work
Develop greater comfort with death and the death beliefs of patients
Recognize the legitimacy of awe in medicine, and develop the capacity for awe
Seen on the right is Dr. Bryce Kellams as a medical student at UCSF.  Dr. Kellams was a student in Dr. Remen's first Healer's Art course.  He will be one of the mentors for our course!