Dancing with Black Widow Spiders
9/20/2013
New York Times contributor Jack Landers shares his personal encounter with a black widow spider and the University of Virginia toxicologist who cared for him in the hospital.
Proctor & Gamble Changes Packaging in Response to Injuries
7/12/2013
In response to numerous injuries to young children, Proctor and Gamble announced changes to containers of their concentrated laundry detergent pods. The changes are designed to make it difficult to see the contents, which are very attractive to young children.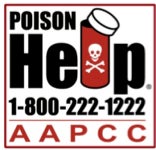 4/11/2013
Charlottesville This Week with host Melissa Neely Featuring: Blue Ridge Poison Center Educator Kristin Wenger Segment 1 -  Talks about: 24/7 Service, Free, Confidential, How are we funded, Areas and…
4/10/2013
Segment 2: Same Toll-Free Number 800-222-1222, Accidental Poisonings, Common Calls to Poison Center, Child Resistant Containers, Pesticides. This is from a radio show called Charlottesville This Week with host Melissa Neely. This show featured Blue Ridge Poison Center Educator Kristin Wenger. April 3, 2011
4/5/2013
Charlottesville This Week with host Melissa Neely Featuring: Blue Ridge Poison Center Educator Kristin Wenger Segment 3 -  Talks about: Outdoor Poison Dangers, Black Widow Spiders, Typical Results, 90 Percent…