Wellness & Work-Life Balance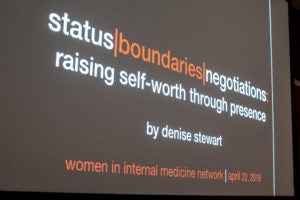 WIMN was founded to nurture professional growth as well as personal growth

The principles of this subcommittee are:
To promote the importance of personal wellness and a healthy, balanced life for all faculty
To support work-life integration
To advocate for programs or policies that can improve work-life balance
Past events:
WIMN Kick-Off – July 2019
Status, Boundaries, Negotiations: Raising Self-worth Through Presence with Denise Stewart – April 2019
Galentines: Friends and Waffles – February 2019
Work Life Balance Panel Discussion – December 2018
March Mixer at Kardinal Hall – March 2017
MR4 Lactation Room Renovation – November 2016
Avoiding Burnout with Christina Surawicz, MD – June 2016
Willing to be Wounded, Willing to Bounceback: The Importance of Vulnerability and Resilience in Self-Care with Denise Stewart – June 2016
Community Corner
We have created our Community Corner in order to better serve the members of our network. We want to celebrate: accomplishments, new life, or birthdays. And to share in sorrow: deaths in the family, personal hardships, etc. Whether it is a good word needed, or a helping hand, we'd love to hear what you (or your colleagues) have going on in life.