People
Principal Investigator
Hervé Agaisse, PhD
Professor
Email: hfa5y@virginia.edu

Hervé received his PhD at the Pasteur Institute in Paris working on the regulation of toxin gene expression in the entomopathogen Bacillus thuriengiensis. He conducted his post-doctoral training at the Harvard Medical School studying the innate immune response to bacterial infection in Drosophila melonogaster and developed high-throughput RNAi-based genomic approaches for identifying host genes supporting intracellular infection. He started his laboratory in 2005 at Yale University where his group applied the RNAi methodology combined with high-throughput microscopy to systematically identify host genes supporting the dissemination of intracellular pathogens, including Listeria monocytogenes, Shigella flexneri and vaccinia virus.  Hervé joined UVa in 2015 where he is currently conducting a research program centered on the molecular and cellular mechanisms supporting Shigella flexneri infection in tissue culture systems and newly developed small-animal models of Bacillary dysentery.
Postdoctoral Research Associates
Niti B. Jadeja, PhD
Email: ugn4wy@virginia.edu

Niti has a doctorate in Molecular Biology from India where she worked extensively with the Central and State Governments as well as Water industries. She studied Microbiomes using Microbial, Molecular, and Metagenomic approaches. More specifically, she is driven by the questions of gene transmissions, genetic adaptations, evolution, and microbial stress response. Her research aims at understanding the ever-evolving microbial community structure and ecosystem functions. Her work finds application in the subject of drug discovery, communicable diseases, bioenergy, environmental sustainability, and OneHealth.
Currently, she is using her expertise in Molecular Biology and Bioinformatics at the Agaisse Lab to study the evolution and pathogenesis of Shigella species using in-vivo models, integrated 'omics, and wet lab strategies. Her work focuses on finding biological markers and identifying cell type enriched in host-pathogen interactions.
Volkan K. Köseoğlu, PhD

Volkan received his PhD at the University of Wyoming studying the food-borne, intracellular pathogen Listeria monocytogenes. During his studies, he identified a new exopolysaccharide regulated by c-di-GMP and demonstrated its role in L. monocytogenes's environmental persistence. In September 2015, Volkan joined the Agaisse Lab. Currently, he researches Shigella flexneri pathogenesis in the context of cell-to-cell spread and biofilm formation.
Céline Michard, PhD

Céline received her PhD in host-pathogen interactions from the University of Lyon in France. While there, she discovered one of the targets of the LegK2 protein kinase, a Legionella pneumophila effector protein. In October 2016, Céline joined the Agaisse Lab as a postdoctoral research associate to work on Shigella flexnerihost-pathogen interaction. On the host side, she characterizes an essential mammalian protein involved in Shigella cell-to-cell spread. On the bacterial side, she focuses on a Shigella effector, determining its role in the mechanism of Shigella propagation as well as its host target.
Steven Rolland, PhD
Email: yhj2jn@virginia.edu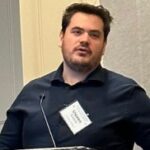 Steven received his PhD in cellular microbiology from the University of Poitiers (France), where he studied the physiology of the free-living amoeba Acanthamoeba castellanii during its encystment and its interaction with the intracellular bacterium Legionella pneumophila. Owing to his interest in host-pathogen interactions, he joined the Agaisse lab in September 2020 to study host factors involved in the cell-to-cell spread of Shigella flexneri. Outside of the lab, Steven enjoys hiking, baking, and visiting new places.
Graduate Students
Erin Weddle
PhD Candidate

Erin received her B.S. in Biology from Shenandoah University in Winchester, VA in 2016. Her undergraduate research focused on characterizing the expression of an antibiotic resistance gene in patient-isolated bacterial strains. Additionally, she studied the role of focal adhesion turnover in epithelial cell migration. Erin joined the UVA Biomedical Sciences program in 2016 and became a member of the Agaisse lab in 2017. For her PhD, she studies the role of a bacterial secreted effector protein during Shigella flexneri cell-to-cell spread. Outside of lab, she enjoys spending time outside, weightlifting, and horseback riding.
Chelsea Hall

Chelsea received her B.S. in Biology from the University of Richmond in Richmond, Virginia. During her undergraduate research, she investigated the evolution of conserved gene regulatory networks in the freshwater sponge model system. Chelsea joined the Agaisse lab in 2017 as a BIMS graduate student. For her PhD, she is going to work on characterizing the host innate immune response during Shigella flexneri infection. She will also investigate the modulation of host cell signaling by Shigella effector proteins. Outside of the lab, she enjoys spending time with her Aussie, Ollie.
Lab Technicians
Eric Devairakkam
Email: ead8jy@virginia.edu
Eric graduated from the University of Virginia with a B.A. in biology. His undergraduate research focused on the role of miRNA in the event of brain metastasis. His projects involve categorizing compounds, found by screening large scale compound libraries that inhibit Shigella flexneri cell to cell spread. Some of his passions are hiking, reading, and skiing.
Zachary Lifschin
Email: zl3sa@virginia.edu

Zack began working in the lab as an undergraduate researcher and then transitioned to the role of a lab technician upon his graduation from UVa in the Spring of 2022. His project aims to further elucidate the regulation of the essential virulence factor IcsA. In addition to his project, Zack is extensively involved in microbiological experiments for in vivo infections and histological analysis.
Undergraduate Student Researchers
Peyton Beylous
Peyton is an undergraduate student from Smithfield, VA. She is double majoring in Global Public Health and French, while preparing for a career in medicine. In the Agaisse Lab, she works on creating Shigella flexneri mutant strains, in order to determine the roles of specific proteins during infection. Outside of the lab, she enjoys cooking, reading, and caring of her growing collection of houseplants.
Todd Kirks

Todd is an undergraduate student double majoring in Speech Communication Disorders and French. He is also a Rotunda Student Ambassador and as a Curry Student Ambassador, representing the University of Virginia. In 2018, Todd joined the Agaisse Lab and is responsible for the husbandry of rabbit mothers and their kits. After graduation, he hopes to study veterinarian medicine and work in the United States Army Veterinary Corps as a DVM. In his spare time, Todd enjoys learning new languages and volunteering at the SPCA.
Healy Rosenberg

Healy is an undergraduate student majoring in Biology at the University of Virginia. After graduation, she hopes to attend Veterinary school and study zoonotic disease. Specifically, she wants to adapt human oriented treatment to the veterinary medical field. In the Agaisse lab, she is an animal handler and cares for mother rabbits and their infant kits. In her spare time she enjoys playing softball, sculpting, and spending time with her pets.
Former Members
Lauren K. Yum – Lab Specialist 2015-2019
Current position: Research Associate at Walter Reed Army Institute of Research (WRAIR) Military HIV Research Program (MHRP)