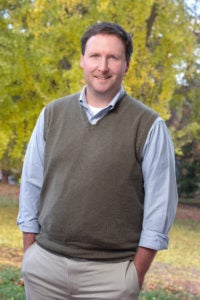 Dr. Justin Mutter will become Section Chief for the section of Geriatrics beginning September 1, 2019.
Dr. Mutter received his Undergraduate Degree from UVA followed by Rhodes Scholarship. He graduated from UVA School of Medicine where he was an active student leader, followed by residency at MAHEC/ University of North Carolina in Asheville. He then completed a fellowship in Geriatrics here at UVA. Since joining our faculty 2 years ago, Justin has been actively developing the Virginia at Home program for chronically ill geriatric patients with cognitive challenges, in addition to building a geriatric practice at JABA, a new interdisciplinary Polypharmacy clinic and a specialty practice in conjunction with the neurology team at the Memory Disorders clinic. He is the recent recipient of a HRSA geriatrics based GACA K award to develop interdisciplinary teaching and care around the Virginia at Home and other programs. Dr. Mutter is highly invested in developing and teaching Value Based Models of Care. He is married to Dr. Kathryn Mutter and has two kids. We are delighted he will leading the geriatrics team to further enhance the clinical services, education and scholarship they excel in.
Please join me in welcoming Dr Mutter as section chief.