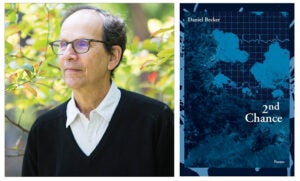 Dr. Becker's 2nd Chance
The Center congratulates former director, Dr. Daniel Becker, on the publication of his debut book of poetry, 2nd Chance. A nod to his first chapbook length collection, entitled Chance, 2nd Chance won the New Issues 2019 Poetry Prize, judged by former Pulitzer Prize winning poet Jericho Brown.
Becker, a general internist and primary care physician at UVA from 1985 to 2018, began writing birthday and holiday poems to staff. "When you're in academics of any kind, you have to do a lot of writing," Becker states. "There's always word and page limits. Scientific writing has to be clear, direct, and say a lot in a small space. Poetry is an inversion of scientific writing. I would say that poetry is a complement to it."
Describing himself as an "almost English major," Becker as a UVA faculty member audited a class by Pulitzer Prize winner and U.S. Poet Laureate Charles Wright. The class left him feeling encouraged, but he also heeded Wright's advice: "Don't quit your day job." Becker says his work in medicine has enriched his poetry, just as poetry has enriched his medical career. "English has the most words of any language when you include the scientific and biomedical," says Becker. "Poetry made me a better doctor."
Poetry can be meditative, and Becker recognizes the power it gives us to explore some of medicine's hardest moments: "When something terrible happens in our lives, like death or calamity, that's where you find poetry. There are elegies in the graveyard; the King James Bible is all poetry. We want elevated language for the most profound moments in our lives. William Butler Yeats said, 'Poetry is an argument with yourself.' I'm trying to work it out on the page. I'm trying to avoid being superficial or sentimental. If you truly care about someone's loss or suffering, it takes a while to say that."
When asked what he hopes people will take away from his book, Becker chuckled before saying, "I'd be disappointed if people pick up 2nd Chance and aren't entertained."
Dr. Becker's book is available on Amazon, Barnes & Noble, and IndieBound. Copies can be found at the New Dominion Bookshop or the UVA Bookstore under faculty books.