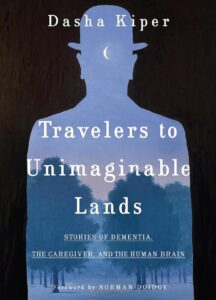 A partner presentation by UVA's Center for Health Humanities & Ethics and The Center at Belvedere
Dasha Kiper's new book, Travelers to Unimaginable Lands: Stories of Dementia, the Caregiver, and the Human Brain, blends science and storytelling to illuminate the complex relationship between the mind of someone with dementia and the mind of the person caring for them. In this special edition of The Medical Center Hour, she joins medical humanities scholar Dr. Justin Mutter and caregiver and counselor Dominique McLaughlin to discuss how the workings of the "healthy" brain prevent us from adapting to and truly understanding the cognitively impaired one.
"Travelers to Unimaginable Lands is a work of exceptional compassion. Kiper attempts to show caregivers that their reactions – of anger, frustration, disbelief, isolation, immense sadness – are not merely understandable but a function of their own brain's operations. It is also a deeply imaginative response to that 'unimaginable' territory which must, somehow, be navigated." —The Guardian
Dasha Kiper is the former consulting clinical director of support groups at CaringKind (formerly Alzheimer's Association, New York City Chapter) and holds an MA in clinical psychology from Columbia University. She works with dementia patients and caregivers.
Justin Mutter, MD, MSc, University of Virginia School of Medicine, is a primary care and consultative geriatrician who serves as section head of Geriatrics. In addition to his clinical work, Dr. Mutter directs the UVA Center for Health Humanities and Ethics.
Dominique McLaughlin, has been a caregiver for many years runs a caregiver support group for UVA employees.
To attend the event in person, please register here
To attend the Zoom webinar, click here: https://us02web.zoom.us/j/84251645196  (No registration necessary)
Open to all.