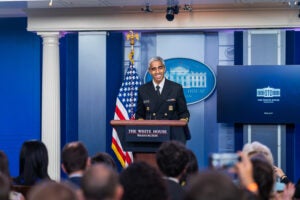 A program of the Center for Health Humanities and Ethics
University of Virginia School of Medicine
Provided by the University of Virginia School of Medicine and School of Nursing
Thursday, October 26, 2023 12:00-1:00 p.m. (EST)
Old Cabell Hall Auditorium
Sponsored by UVA Compassionate Care Initiative and UVA Medical Center Hour
Introduced by Pam Cipriano, President of the International Council of Nurses and Moderated by Corey Feist, Co-Founder & CEO of the Dr. Lorna Breen Heroes' Foundation
Brought to you by the UVA Compassionate Care Initiative, join us for a very special UVA Medical Center Hour and a fireside chat with Dr. Vivek Murthy, moderated by Corey Feist, co-founder and CEO of the Dr. Lorna Breen Heroes' Foundation.  Pam Cipriano, current President of the International Council of Nurses will introduce our speakers.
Lives are at stake in healthcare. Not only the lives of patients, families, and communities, but also health workers themselves.  Prompted by the pandemic's visible strain, the US Surgeon General, Dr. Vivek Murthy, issued a May 2022 advisory on Health Worker Burnout.  This advisory set a national priority for supporting the wellbeing and mental health of health workers.
Now more than ever, the mission and vision of UVA's Compassionate Care Initiative are relevant, compelling, and urgent.  To grow safe and high-functioning healthcare environments where all staff embody compassion in their work, we must equip individuals, teams, and organizations with the skills of wellbeing, collaboration, and leadership.  Overcoming the healthcare challenges will require "me" and "we" solutions.