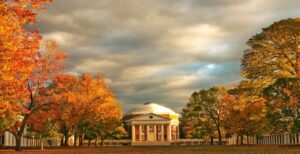 Join us October 27 through October 30, 2023 in beautiful Charlottesville, Virginia for our 11th annual Healthcare Ethics and Moral Distress Consultation Intensive Training Seminar. Nestled in the foothills of the Blue Ridge Mountains, the grounds and gardens of the University of Virginia are the perfect setting for an immersive weekend spent developing or deepening your consultation knowledge and skills.
The number of participants is limited to ensure a personalized learning environment, so register now. The registration form is at the bottom of this page.
This in-person, intensive 4-day training program is designed for multidisciplinary practicing healthcare professionals who wish to develop or deepen their healthcare ethics and moral distress consultation knowledge and skills and prepare for the healthcare ethics consultation certification exam. The training is grounded in the ASBH core competencies for healthcare ethics consultation and will emphasize the four content domains for certification determined by the American Society for Bioethics and Humanities. It is the only program in the United States to offer training in Moral Distress consultation, building on 17 years of experience at UVA Health. Participants will receive a certificate upon course completion.
FORMAT: This interactive and multidisciplinary seminar combines didactic sessions with case discussions and hands-on exercises. The course culminates with attendance at UVA's weekly Healthcare Ethics and Moral Distress Consult Services meeting.
SCHEDULE: The program begins at noon Friday, October 27 and ends at 2 pm on Monday, October 30. Friday, Saturday, and Monday are dedicated to healthcare ethics consultation. Sunday focuses solely on moral distress consultation and can be attended independent of the rest of the program.
PREREQUISITES: Participants will be expected to obtain and read Core Competencies for Ethics Consultation prior to the training (available at www.asbh.org).
REGISTRATION: The cost is $1,500/person for the complete course (Friday through Monday) or $500/person for the Moral Distress Consultation sessions only (Sunday, October 29). Pre-registration is required. Please see the registration form below. Questions: PLEASE CONTACT: Charlene Kaufman @ cmk2b@hscmail.mcc.virginia.edu
MEALS: Breakfast: Saturday, Sunday, and Monday
Lunch: Friday and Monday
LODGING: A block of rooms has been reserved at the Courtyard by Marriot (434-977-1700) next to the Medical Center and at the Colonnade Club (434-243-9710) adjacent to the Rotunda. Please reference the HEC Intensive Training Course when you reserve your room.
THINGS TO DO IN AND AROUND CHARLOTTESVILLE:Charlottesville is vibrant small town with lots to do. It's a foodie haven with museums, theaters, and an active music scene. Outdoor opportunities include exploring the Historic Downtown Mall (pedestrian-only with 120 shops and 30 restaurants), hiking the Blue Ridge Mountains, enjoying the fall foliage on the Skyline Drive, touring the University grounds and gardens (including Edgar Allan Poe's room on the Range), visiting Monticello (and dining at nearby historic Michie Tavern), picnicking at Carter Mountain Orchard (apple cider donuts!), and sampling the goods at a plethora of local wineries, cideries, and distilleries.
COURSE FACULTY:
The training will be co-led by:
Mary Faith Marshall, PhD, HEC-C, FCCM: Course Co-Director; Kornfeld Professor of Bioethics
and Director, Center for Health Humanities and Ethics, School of Medicine and Professor, School of Nursing; Director, Ethics Consult Service; member Moral Distress Consult Service; Co-chair Medical Center Ethics Committee
Beth Epstein, PhD, RN, HEC-C, FAAN: Course Co-Director; Associate Dean for Academic Programs and Professor School of Nursing; Core Faculty, Center for Health Humanities and Ethics; Director Moral Distress Consult Service; member Ethics Consult Service; member, Medical Center Ethics Committee
Faculty:
Susan Aronhalt, MSW, LCSW, Member, Ethics Consult Service
Dawn Bourne, DNP, FNP-C, HEC-C: Family Nurse Practitioner, Student Health and Wellness; member Ethics and Moral Distress Consult Services
Robert Boyle, MD: Professor Emeritus of Pediatrics; Core Faculty, Center for Health Humanities and Ethics; member Ethics Consult Service; former Chair, Medical Center Ethics Committee and former Director, Ethics Consult Service
Donna Chen, MD, MPh: Professor of Public Health Sciences and Psychiatry and Neurobehavioral Sciences; member; Ethics Consult Service; member, Medical Center Ethics Committee
James F. Childress, PhD: Hollingsworth Professor Emeritus of Religious Studies; Core Faculty, Center for Health Humanities and Ethics; member, Medical Center Ethics Committee
Ashley Hurst, JD, MDiv, MA: Associate Professor, School of Nursing; member Ethics and Moral Distress Consult Services; member, Medical Center Ethics Committee
Dea Mahanes, DNP, RN, CCNS, CNRN, CCRN, FNCS, HEC-C: Clinical Nurse Specialist, Neurancy Neuroscience Intensive and Intermediate Care Units; member Ethics and Moral Distress Consult Services; member, Medical Center Ethics Committee; Chair, Medical Center Organ Transplant Committee
Peter Murray, MD, MSM: Associate Professor of Pediatrics; member Ethics and Moral Distress Consult Services; member, Medical Center Ethics Committee
Julia Taylor, MD, MA, HEC-C: Associate Professor of Pediatrics; Core Faculty, Center for Health Humanities and Ethics; Chair Medical Center Ethics Committee; member Ethics and Moral Distress Consult Services
Phyllis Whitehead, PhD, RN, APRN, ACHPN, PMGT-BC, HEC-C: CNS Palliative Medicine and Supportive Care; member Ethics and Moral Distress Consult Services, Carilion Roanoke Memorial Hospital, President-Elect, National Association of Clinical Nurse Specialists
Health Care Ethics Consultation: Intensive Training
Registration form