31 January 2018—12:00-1:15 pm, Claude Moore Medical Education Building, 3rd floor auditorium
Medical Education Grand Rounds
ADDRESSING HEALTH DISPARITIES: CAN EQUITY PEDAGOGY HELP?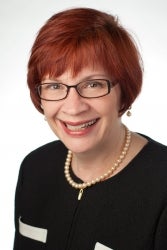 Catherine R. Lucey MD, Executive Vice Dean, Vice Dean for Education,
Faustino and Martha Molina Bernadett Presidential Chair in Medical Education,
and Professor of Medicine, University of California, San Francisco, CA
In the spotlight for years now, health care that is truly equitable and patient-centered and delivered by a diverse, well-integrated team remains a goal—in most sites, it's not yet everyday reality. Individuals and institutions—including health professional schools as well as centers of clinical practice—continue to work toward this goal. But this effort cannot depend just on recruiting more diverse learners, reorganizing clinical environments, or deploying didactics aimed at eliminating biased attitudes and behaviors. Rather, it's a matter of redesigning health professional education—curriculum, assessment strategies, learning environments—to prepare a thoroughly diverse workforce ready to counter health disparities. To actually realize diversity's benefits, we must eschew a colorblind philosophy and embrace principles of equity pedagogy.
In this Medical Center Hour, Dr. Catherine Lucey explores equity pedagogy and how it may help to counter the structural racism and inequitable learning environments of traditional medical school. Such a fundamental change in our pedagogy may be necessary to improve health outcomes for patients of all cultures, colors, creeds, and means and, along the way, establish work environments where clinicians, teachers, and scientists of many backgrounds and professional preparations can all flourish.
Co-presented with the Office of Medical Education
The entrance to Claude Moore Medical Education Bldg is unlocked 11:45-12:15 pm for public access.
Event Categories: Medical Center Hour, Upcoming Events