BMG Retreat 2017
2017_BMG_Department_Retreat_final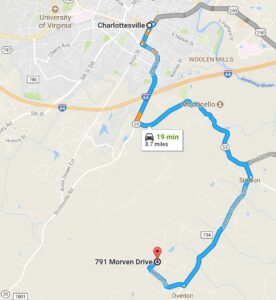 Please find below the schedule for the BMG retreat, to be held on Thursday 30th November at Morven Farms. The day kicks off at 8.30 am with breakfast, talks beginning at 9 am and concluding around 5.15 pm after a faculty-sponsored reception and student entertainment. Please plan to attend, all are welcome.
Posters: As a reminder all BMG graduate students are required to present a poster and/or a talk. The poster boards are eight (8) feet high by four (4) feet wide. All other trainees and lab staff are also welcome to present posters. Please contact Patrick if you plan to do so.
Location (Map attached): The retreat will take place at the Meeting Barn at Morven Farms, a 2913 acre UVA Foundation property located in South Eastern Albemarle County near Monticello and Ash-Lawn Highland. The location is 791 Morven Drive, Charlottesville, VA 22902. From Charlottesville take Route 20S/Monitcello Avenue. After passing PVCC turn left onto Route 53E heading towards Monticello. Take 53E for 7.2miles and turn right onto Morven Drive. Note 53E becomes Route 795/James Monroe Parkway after passing Monticello. You will be directed to the Meeting Barn from the attendant at the Gatehouse. Please car pool if possible, as parking is limited.
Welcome to the 2017-2018 Departmental Retreat
The Department of Biochemistry and Molecular Genetics
Morven Farms, November 30, 2017
9:00 – 9:05 : Welcome & Opening Remarks
BMG Chair, Prof. Anindya Dutta
9:05 – 10:25 : Research Talks
9:05 – 9:30: Prof. Anindya Dutta
A deubiquitinase as important as the E6AP ubiquitin ligase in cancers  induced by human papilloma virus
9:30 – 9:55: Prof. Golam Mohi
Molecular Pathogenesis of Myeloproliferative Neoplasms
9:55 -10:10: Ricky Baylis
IL1 signaling in SMC is critical for maintenance of an atheroprotective fibrous cap during late-stage murine atherosclerosis
10:10 -10:25: Mouadh Benamar
Downregulation of E2F1-dependent transcriptional activation prevents DNA rereplication in non-transformed primary epithelial cells
10:25 – 10:45 : Coffee Break
10:45 – 12:05 : Research Talks
10:45 -11:10: Assistant Prof. Mazhar Adli
Recurrent mutations in Estrogen Receptor binding sites alter chromatin topology and distal gene expression in breast cancer
11:10 -11:35: Assistant Prof. Francine Garrett-Bakelman
Genomic and Epigenomic contributions to disease pathogenesis in Acute Myeloid Leukemia
11:35 -11:50: Avik Dutta
Hmga2 promotes the development of myelofibrosis in Jak2V617F knock-in mice by enhancing TGF-β1 and Cxcl12 pathways
11:50 -12:05: Assistant Professor Pankaj Kumar
Recent advances in TRFs
12:05 – 1:30 : Lunch + Poster Session I
1:30 – 2:35 : Research Talks
1:30 – 1:55: Prof. Todd Stukenberg
Liquid demixing by the CPC underlies mitotic heterochromatin regulation
1:55 – 2:10: Yue Yang
Loss of EZH2 cooperates with JAK2V617F in the development of myelofibrosis
2:10 – 2:35: Associate Prof. Hui Li
UBA1-CDK16, a female biased chimeric RNA
2:35 – 3:55 : Coffee Break + Poster Session II
4:00 –  Wine and Cheese Reception begins
4:15 – 4:50 : Student Entertainment
4:50 – 5:15 : Awards and Closing remarks