Educator Resources
As a teacher, community leader, or health educator we know you feel an obligation to protect others from poisoning injuries. Our Teachers Toolkit below contains some free resources to help you. If you don't see something that addresses your unique audience, please contact us.

PLANNING A COMMUNITY HEALTH FAIR? Order some magnets, stickers, or wallet cards to give away. Request a couple of posters to decorate your table. Print out some copies of our fact sheets, flyers, or our newsletter to stuff in participant goodie bags.

NEED A SPEAKER? When our schedule permits, we are happy to come address your group of adults or seniors. This is a free service. We do ask that you allow a minimum of 45 minutes for a presentation, and are expecting at least 20 attendees. >>Request a speaker

See our  VIDEOS AND WEBINARS . Feel free to share.
TEACHERS TOOLKIT (PreK through 12th grade)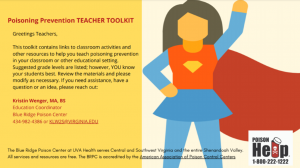 EDUCATORS TOOLKIT (college students/young adults, working-aged adults, senior adults)