Humanitarian Services
Overview
Humanitarian Collaboration:
Rheumatic Heart Disease in the Dominican Republic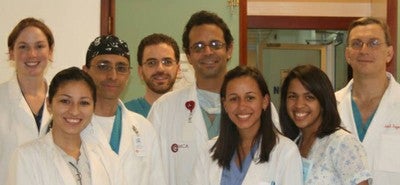 The University of Virgina Cardiovascular Fellowship program, in collaboration with Cedimat Hospital in Santo Domingo, Dominican Republic, provides free treatment for mitral stenosis to hundreds of people a year who would otherwise not receive medical attention. UVa faculty (a noninvasive and an interventional cardiologist) and fellows (both noninvasive and interventional) work with cardiology teams in several field clinics to screen clients and provide life-saving therapy.
Despite a decreasing incidence in the United States, rheumatic heart disease remains a major cause of morbidity and premature death and imposes a substantial burden on health care systems in poor and developing nations. Rheumatic mitral stenosis presents at a much younger age, frequently in the late teen and young adult years. Symptoms may begin with an episode of atrial fibrillation or may be triggered by pregnancy or other stress on the body such as infection or other cardiac disorders. Mitral valvuloplasty is a minimally invasive therapeutic procedure that dilates the valve using a balloon. Skills used to treat those living in poverty in the Dominican Republic are transferrable to non-rheumatic mitral stenosis in later practice.
The program provides transportation, lodging, and an unusually satisfying educational opportunity for participating fellows. You agree to provide charity care for rheumatic heart disease in the future to other impoverished populations and to repay the program's investment of $2500 within 5 years of graduation (< 1% of an average U.S. cardiologist's earnings) to the UVa-Cedimat Charity (503b charity status; tax deductible).