Faculty, Fellows & Staff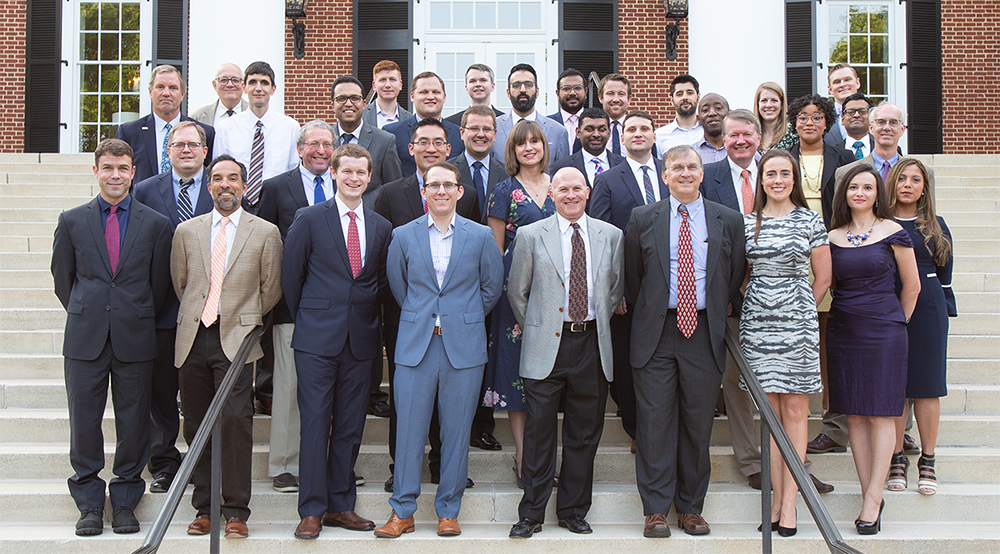 ---
UVA Division of Cardiovascular Medicine faculty and fellows are commited to excellence in patient care, teaching, and clinical and basic research.
Cardiovascular Medicine Faculty
Click on faculty members' names to go to their profile in the UVA Health System Find A Doctor Directory. Use the back button to return to the Cardiovascular Medicine website.
Faculty who conduct research also have a link to their research profile in the School of Medicine Research Faculty Directory.
---
Mohammad Abuannadi, MD
Assistant Professor of Medicine
Heart Failure
Research Profile
Robert W. Battle, MD
Professor of Medicine and Pediatrics
Congenital and Sports Medicine
Research Profile
James D. Bergin, MD
Professor of Medicine
Medical Director, Heart Failure Cardiac Transplantation Program;
Director, Heart Failure & Transplant Cardiology Fellowship Program
Heart Failure
Research Profile
Kenneth C. Bilchick, MD
Associate Professor of Medicine
Electrophysiology
Research Profile
Jamieson M. Bourque, MD
Associate Professor of Medicine
Director, Nuclear Cardiology
Imaging
Research Profile
Andrew J. Buda, MD
Professor of Medicine
General and Heart Failure
Research Profile
Andrew E. Darby, MD
Associate Professor of Medicine
Director, CCEP Fellowship Program
Electrophysiology
Research Profile
Jaime Escanellas, MD
Associate Professor of Medicine
General Medicine
Robert S. Gibson, MD, MACP
Lockhart B. McGuire Professor of Medicine
General Medicine
Research Profile
Lawrence W. Gimple, MD
Donald C. Barnes Professor of Cardiology
Director, Clinical Cardiology
Co-director, Heart and Vascular Center
Interventional
Research Profile
Alexander Klibanov
Associate Professor
Research Profile
Christopher M. Kramer, MD
George A. Beller, MD/Lantheus Medical Imaging
Distinguished Professor of Cardiovascular Medicine
Chief, Division of Cardiovascular Medicine
Professor of Radiology
Research Profile
Hema Kothari
Assistant Professor
Doug Lake
Professor
Research Profile
D. Scott Lim, MD
Associate Professor of Pediatrics and Medicine
Director, Cardiac Valve Fellowship Program
Structural Interventional
Lewis C. Lipson, MD
Associate Professor of Clinical Internal Medicine
Director, ECG Lab
Interventional
Research Profile
Max A. Luna, MD
Associate Professor of Medicine
General Medicine
Research Profile
Rohit Malhotra, MD
Associate Professor of Medicine
Electrophysiology
Research Profile
James Michael Mangrum, MD
Associate Professor of Medicine
Electrophysiology
Research Profile
Pamela K. Mason, MD
Associate Professor of Medicine
Director, Cardiovascular Fellowship Program
Electrophysiology
Research Profile
Sula Mazimba, MD
Assistant Professor of Medicine
Heart Failure
Research Profile
George M. McDaniel, MD, MS
Assistant Professor of Pediatrics
Pediatric Electrophysiology
Research Profile
Coleen McNamara, MD
Professor
Research Profile
Nishaki Mehta, MD
Assistant Professor of Medicine
Electrophysiology
Oliver Monfredi, MD, PhD
Assistant Professor of Medicine
Electrophysiology
J. Randall Moorman, MD
Professor of Medicine
Electrophysiology
Research Profile
Mohamed Morsy, MD
Associate Professor of Medicine
General Medicine
Brandy Patterson, MD
Assistant Professor of Medicine
General Medicine
Randy Ramcharitar, MD
Assistant Professor of Medicine
Vascular
Michael Ragosta, III, MD
Albert M., Kate L., and Peter R. Kaplan Professor of Cardiology
Director, Interventional Cardiology Fellowship Program
Director, Cardiac Catheterization Laboratories
Interventional
Research Profile
Christopher M. Rembold, MD
Professor of Medicine and Physiology
Prevention
Research Profile
Patricia Rodriguez Lozano, MD
Assistant Professor of Medicine
General Medicine
Michael Salerno, MD, PhD
Associate Professor of Medicine, Radiology & Biomedical Engineering
Imaging
Research Profile
Soichi Sano
Assistant Professor
Aditya M. Sharma, MBBS
Assistant Professor of Clinical Internal Medicine
Director, Vascular Medicine Fellowship Program
Vascular
Research Profile
David Shisler, MD
Assistant Professor of Medicine
Heart Failure
Kanwar P. Singh, MD
Associate Professor of Clinical Internal Medicine
Interventional
Nishtha Sodhi, MD
Assistant Professor of Medicine
Structural Interventional
Victor Soukoulis, MD, PhD
Assistant Professor of Medicine
General Medicine
Angela M. Taylor, MD
Associate Professor of Medicine
Co-Director, Diabetes Cardiovascular Clinic
Interventional Women's Heart Health
Research Profile
Todd C. Villines, MD
Professor of Medicine
Imaging/General Medicine
Ken Walsh, MDProfessor
Matthew J. Wolf, MD, PhD
Associate Professor of Medicine
General Medicine
Research Profile
Zhen Yan, PhD
Professor
Research Profile
John H. Zadrozny, MD
Associate Professor of Medicine
General Medicine
Research Profile
2019-20 Fellows in Basic Cardiovascular Disease
Chiefs: Xu Gao, MD, and Saad Ghumman, MD
---
General Fellows
Idil Aktan, MD
PIC#: 8161
Service: Clinical 3/3
Residency: University of Virginia Medical Center
Andrew Brown, MD
PIC#: 3679
Service: Clinical 1/3
Residency: Baylor College of Medicine
LeAnn Denlinger, MD
PIC#: 7690
Service: Clinical 2/3
Residency: University of Virginia Medical Center
Xu Gao, MD (Chief)
PIC#: 8378
Service: Clinical 2/3
Residency: Ohio State
Saad Ghumman, MD (Chief)
PIC#: 8379
Service: Clinical 2/3
Residency: University of Texas, San Antonio
Christopher Hanson, MD
PIC#: 8188
Service: Clinical 3/3
Residency: University of Michigan Health System
Brittney Heard, MD
PIC#: 8191
Service: Clinical 3/3
Residency: University of Tennessee Health Science Center
Milan Kahanda, MD
PIC#: 8195
Service: Clinical 3/3
Residency: Washington University in St. Louis
George Mawardi, MD
PIC#: 4120
Service: Clinical 1/3
Medical University of South Carolina
Steve Noutong Njapo, MD
PIC#: 8334
Service: Clinical 2/3
Residency: University of Florida
Paras Patel, MD
PIC#: 7547
Service: Clinical 1/3
University of Virginia
Toral Patel, MD
PIC#: 8338
Service: Clinical 2/3
Residency: Case Western
Edward Rojas-Pena, MD
PIC#: 6128
Service: Clinical 1/3
Residency: Rutgers Uniniversity
Benjamin Ruth, MD
PIC#: 7678
Service: Clinical 2/3
Residency: University of Virginia Medical Center
David Zhuo, MD
PIC#: 3633
Service: Clinical 3/3
Residency: University of Virginia Medical Center
Michael Zimmerman, MD
PIC#: 7161
Service: Clinical 1/3
/Tulane University
---
2019-20 Advanced Fellows in:
---
Vascular Medicine
Cherisse Baldeo, MD
PIC#: 3642
Service: Clinical 1/1
Residency: University of Florida at Jacksonville
---
Advanced Heart Failure and Transplant
Robert Donovan, MD
PIC#: 3811
Service: Clinical 1/1
CV Fellowship: Pennsylvania State
---
Clinical Cardiac Electrophysiology (CCEP)
Abdullah Omar
PIC#: 8336
Service: CCEP 2/2
David Kim, MD
PIC#: 4061
Service: Clinical 1/2
CV Fellowship: Carilion
Gautam Verma, MD
PIC#: 7142
Service: Clinical 1/2
CV Fellowship: New York Presbyterian
---
Advanced Imaging
Austin Robinson, MD
PIC#: 6119
Service: Clinical 2/2
Residency: Yale University
CV Fellowship: University of Virginia
Elona Rrapo Kaso, MD
PIC#: 6124
Service: Clinical 1/2
Residency: Tufts Medical Center
CV Fellowship: University of Virginia
Christopher Schumann, MD
PIC#: 6131
Service: Clinical 2/2
Residency: Ohio State University
CV Fellowship: University of Virginia
---
Interventional Fellowship
Mary C. Shields, MD
PIC#: 6135
Service: Clinical 1/1
Residency: Pennsylvania Hospital, University of Pennsylvania
CV Fellowship: University of Virginia
Mercedes Armstrong
Donna Charlebois
Morgan Hoggard, RN, MS, FNP, APRN, B-C
Steven Thomas
Ashley Viars, AG-ACNP
Christie Vivian, MSN, AGACNP-BC, CCRN
Cardiovascular Magnetic Resonance

Jayne Missel, RN,

CCRC


CMR Research Coordinator
Phone: 434-243-7195

Jennifer Kay, RN,

BNS,CCRC, CCRP


Cardiovascular Clinical Research Coordinator
Phone: 434-243-9937

Center for Interventional Cardiology
UVA Health System
Hospital Drive, Room 2480
Charlottesville, VA 22908
Phone: 434-982-1058 Fax: 434-243-2625

Linda Bailes, RN, CCRC
CIC Research Manager

Shelly Brunk, RN, CCRC

Robyn McKenzie, RN, CCRC

Jessica Morris

Douglas Spaulding, RN, CCRC

Nicole (Niki) Sprouse, RN
CIC Regulatory IRB Coordinator
Electrophysiology
Hollis Phillips, CCRC
UVa Health System
Hospital Drive, Room 2480
Charlottesville, VA 22908-0158

Surgical Therapeutic Advancement Center
Sandra Burks, BSN, CCRC
P.O. Box 801370
Charlottesville, VA 22908
Phone: 434-243-0315 // Fax 434-243-0318

Brian H. Annex, MD
Professor of Medicine, Emeritus
Research Profile
Carlos Ayres, MD
Professor of Medicine, Emeritus
George A. Beller, MD
Professor of Medicine, Emeritus
General Medicine
Publications
John P. DiMarco, MD, PhD
Professor of Medicine, Emeritus
Electrophysiology
Research Profile
John M. Dent, MD, MS
Professor of Medicine, Emeritus
Research Profile