Our Division
The Division of Cardiovascular Medicine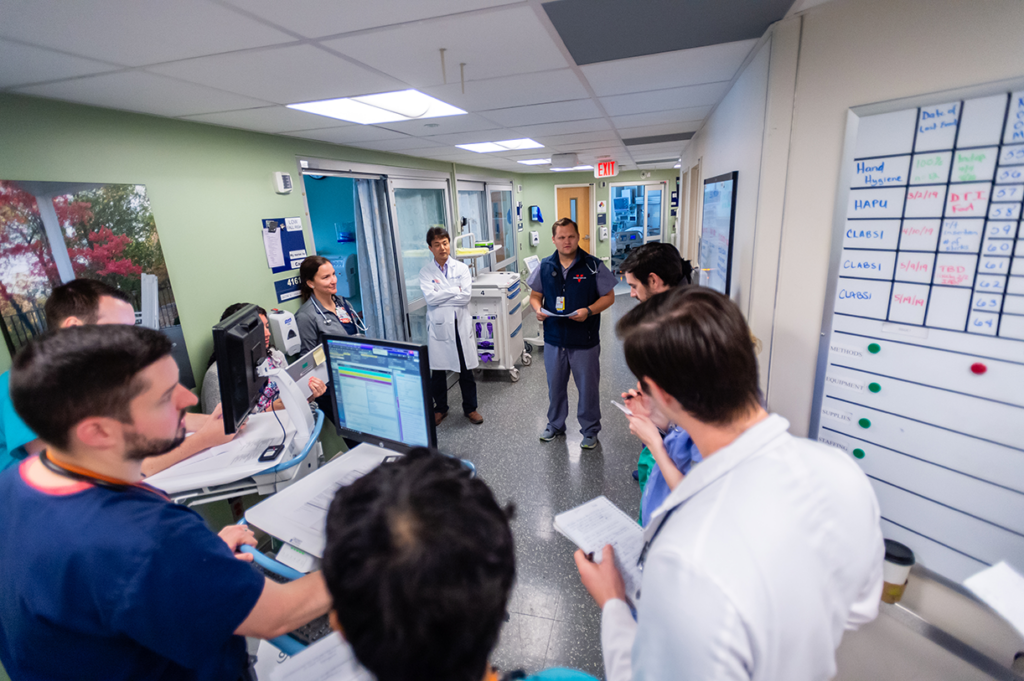 University of Virginia's Division of Cardiovascular Medicine, led by Christopher M. Kramer, MD, is nationally recognized for excellence in clinical care, research, and teaching. Faculty members provide expert, comprehensive care for all forms of cardiovascular disease through the UVA Heart and Vascular Center.
The division's clinical practice covers a wide range of disciplines, including general cardiovascular disease and prevention, cardiac imaging, diagnostic and interventional electrophysiology, cardiac catheterization, valvular heart disease, peripheral vascular disease, and basic and advanced heart failure, mechanical support, congenital heart disease, and vascular-related diseases.
The collaborative approach the division takes to patient care brings together specialists from cardiovascular medicine, pediatric cardiology, congenital cardiac surgery, thoracic and vascular surgery, and interventional radiology to optimize treatment for each individual patient.
Mailing address
UVA Division of Cardiovascular Medicine
PO Box 800158
1215 Lee St.
Charlottesville, VA 22908-0158
Phone: 434.982.0853
Fax: 434.982.1998
UVA Division of Cardiovascular Medicine Administrative Offices are located on the 4th floor of the Hospital Expansion Building, which is connected via a pedestrian link to UVA Hospital. MAP
ADMINISTRATIVE PERSONNEL
Division Chief
434.982.0853
Executive Assistant to the Chief
434.982.0853
Division Administrator
434.982.3355
Operations Manager
434.243.4861
Financial & Research Manager
434.982.3366
Fellowship Program Coordinator
434.924.9001
VASCULAR MEDICINE PROGRAM FACULTY
BASIC CARDIOVASCULAR DISEASE FELLOWSHIP PROGRAM
434.243.1000
434.924.2125
ADVANCED FELLOWSHIP PROGRAMS
434.924.9119
434.243.0736
434.924.2465
434.982.4247
434.924.2420
434.924.2134
ADDITIONAL PROGRAMS
After receiving his A.B. from Harvard and his M.D. from UCSF, Dr. Christopher Kramer completed residency and chief residency in internal medicine and fellowship in cardiology at the University of Pennsylvania. His first faculty appointment was at Allegheny General Hospital, MCP/Hahnemann School of Medicine where he directed the cardiology fellowship program. In 1999, he moved to the University of Virginia where he is now the George A. Beller/Lantheus Medical Imaging Distinguished Professor of Cardiovascular Medicine and Chief of the Cardiovascular Division.
Dr. Kramer's principal research interest has been in the application of cardiovascular magnetic resonance (CMR) to the cardiovascular system in studies ranging from mice to large animals to man and he has published over 260 peer-reviewed publications, 4 books, and over 100 book chapters, editorials, and reviews in the area of left ventricular remodeling and myocardial viability, atherosclerotic plaque imaging, peripheral arterial disease (PAD), and hypertrophic cardiomyopathy (HCM).
In addition to NIH R01 funding in CMR of PAD, he is co-principal investigator of a 2755 patient, 44-site, NHLBI-funded U01 international registry study of HCM. He directs an NIBIB-funded cardiovascular imaging T32 fellowship training program. He is presently Treasurer of the American College of Cardiology (ACC). He has served as President of the Society for Cardiovascular Magnetic Resonance (SCMR), Chair of the Imaging Council of the ACC, and member and chair of the Clinical and Integrative Cardiovascular Sciences NIH study section. He is presently Associate Editor for Imaging at JACC, a member of the editorial boards of Circulation, Circulation Cardiovascular Imaging, and Vascular Medicine, and was, until recently, Executive Editor of JACC Cardiovascular Imaging. He is also a member of the American Society for Clinical Investigation and the Association of University Cardiologists in 2015 won the Gold Medal of the SCMR, and in 2021 was named the ACC Distinguished Mentor.
Cardiovascular research holds enormous promise for bringing innovative strategies to the diagnosis and treatment of cardiovascular disease. Physicians and scientists in UVA's Division of Cardiovascular Medicine are seeking a better understanding of the cellular and genetic underpinnings of cardiovascular disease, while actively participating in clinical trials to evaluate new treatment modalities.
The division is training the cardiologists and researchers of tomorrow through a highly ranked fellowship program — one of the largest at UVA. We offer training in basic cardiovascular disease and six advanced specialties, with more than 20 fellows enrolled in our programs in any given year.
Give to the Division
Your gift will help support the division's vital research, educational and clinical missions.
GIVE HERE
For more information on supporting the Division of Cardiovascular Medicine, contact the UVa Health System Development Office at 800-297-0102, or 434-982-1929.