Patient Care Services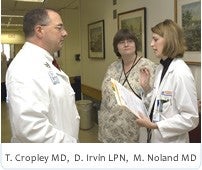 The University of Virginia Department of Dermatology provides patient care services through outpatient clinic appointments, inpatient consultation, and admission of patients to the University Medical Center.
If you would like to see a Dermatologist or refer a patient:
Appointments and Referrals »
For more information about any of our services: please call us at 434-924-5115.
Choose UVA Dermatology
autoimmune blistering diseases
connective tissue diseases
congenital or heritable skin diseases of childhood
skin malignancies
Mohs Surgery & Dermatologic Surgery
Mohs Surgery Appropriate Use Criteria
UVA Dermatology has a unit dedicated to outpatient dermatologic surgery.
Procedures performed include:
Mohs Micrographic Surgery
Biopsy and Excision of Benign and Malignant Skin Lesions
Superficial and Medium Depth Chemical Peels
Rhinophyma Repair
Nail Surgery
The faculty and staff of UVA Dermatology have expertise in managing all types of skin disorders and systemic diseases with cutaneous manifestations. Our physicians have special expertise in the diagnosis and management of complex disorders such as:
View Patient Education Video
Mohs Surgery
© American College of Mohs Surgery
Pulse Dye Laser Clinic
Our clinic has a V Beam laser, the newest version of the pulsed dye laser (595 nm), used to treat benign vascular lesions of the skin. With V Beam laser technology, we can eradicate or greatly reduce unwanted blood vessels in the skin, usually without causing a scar.
The laser is safe to use in patients of all ages, including infants.
Types of lesions treated include:
telangiectasias
spider angiomas
red scars
Some skin lesions may require multiple treatments.Learn More:
Rosacea.org
Phototherapy
Our Phototherapy Unit offers both narrowband UVB and PUVA photo therapy (light therapy) to treat a variety of skin diseases.
Some diseases for which phototherapy is helpful include:
psoriasis
eczema
cutaneous T-cell lymphoma
vitiligo
pruritus