Mohs Surgery and Dermatologic Surgery
Mohs Surgery Appropriate Use Criteria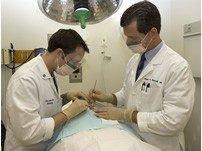 UVA Dermatology has a unit dedicated to outpatient dermatologic surgery.
Procedures performed include:
Mohs Micrographic Surgery
Biopsy and Excision of Benign and Malignant Skin Lesions
Superficial and Medium Depth Chemical Peels
Rhinophyma Repair
Nail Surgery
Mohs Micrographic Surgery (MMS) for non-melanoma skin cancer is performed by fellowship-trained, board-certified dermatologists. This highly specialized outpatient surgical procedure, performed under local anesthesia, is used to treat skin cancers at high risk for recurrence and skin cancers that have recurred after previous treatment.
The advantages of MMS include a low recurrence rate and maximal preservation of normal skin. Various methods of post-surgical wound management are available.
Learn More:
American College of Mohs Surgery
Skin Cancer Foundation
[Mohs Surgery © American College of Mohs Surgery]